Who is Announcing the 2020 Super Bowl? Here is The 'A' Team From Fox's NFL Broadcast for Sunday
Super Bowl LIV will be played in Miami on Sunday, and the Fox network will carry the game. This is the ninth Super Bowl that Fox will broadcast, and it's the sixth time by its No. 1 team in the booth.
Joe Buck and Troy Aikman will call Sunday's Super Bowl between the Kansas City Chiefs and the San Francisco 49ers at Hard Rock Stadium in Miami Gardens. This will be the sixth Super Bowl that Buck and AIkman will have called together, which is the most among any current broadcasting duos.
In addition to the play callers in the booth, Erin Andrews and Chris Myers will report from the sidelines. Mike Pereira and Dean Blandino, who are former NFL officiating executives, will also be on site to explain complicated rules and the officials' calls during the game.
Game coverage is scheduled to begin at 6:30 p.m. ET on Sunday, but not before more than 100 hours of pregame coverage across FOX, FS1 and FOX Deportes.
Fox will have seven hours of pregame coverage that includes features, analysis and predictions from its popular Sunday studio crew of host Curt Menefee and fan favorites Terry Bradshaw, Howie Long, Michael Strahan and Jimmy Johnson.
Prior to that show, another hour-long show will air on Fox (at 1 p.m. ET) that features host Charissa Thompson, who'll be joined by Tony Gonzalez, Michael Vick, Dave Wannstedt, Collin Cowherd, Greg Olsen and NFL insider Peter Schrager.
Joe Buck is the son of the late broadcasterJack Buck, who did play-by-play at 17 Super Bowls for CBS radio. Joe became Fox's lead play-by-play broadcaster in 2002, and he calls the network's dubbed America's Game of the Week every Sunday during regular season, and he also calls the weekly Thursday night game.
In addition to his sixth Super Bowl, Buck is the lead play-by-play announcer for Fox's coverage of Major League Baseball. He has covered 21 World Series, 21 MLB All-Star Games and 23 MLB League Championship Series. Buck, who is a seven-time Emmy Award winner, is also the lead golf announcer for Fox.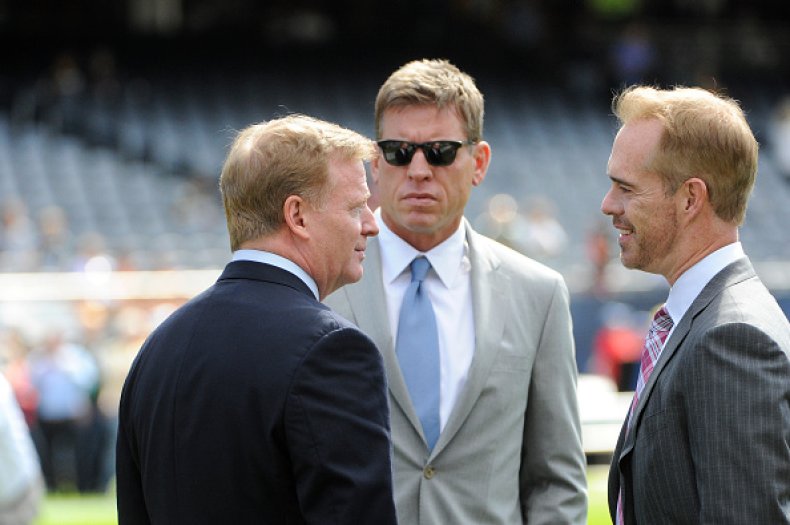 Aikman is a Hall of Fame quarterback who led the Dallas Cowboys to three Super Bowl championships in the 1990s. After retirement, he became Fox's lead analyst in 2002 after working just one year in the booth. He has worked alongside Buck since the 2002 season.
Fox ran a series of commercials in 2002 that called Buck, Aikman and Chris Collinsworth the "A Team" of its broadcasters. Collinsworth has since left, and now calls games for NBC's Sunday Night Football.
The previous top duo on Fox was Pat Sumrall and John Madden, who called the 2002 Super Bowl following the 2001 season.
Buck and Aikman have called the following Super Bowls together (winner in bold):
Super Bowl XXXIX — New England Patriots vs. Philadelphia Eagles, in Jacksonville, Fla. (2005)
Super Bowl XLII — New England Patriots vs. New York Giants in Glendale, Ariz. (2008)
Super Bowl XLV — Pittsburgh Steelers vs. Green Bay Packers in Arlington, Texas (2011)
Super Bowl XLVIII — Denver Broncos vs. Seattle Seahawks in East Rutherford, N.J (2014)
Super Bowl LI — New England Patriots vs. Atlanta Falcons in Houston, Texas (2017)