Who is Antony Blinken? Advocate of Sanctions on Putin Tipped to be Secretary of State
President-elect Joe Biden will nominate Antony Blinken as his administration's secretary of state, according to multiple Sunday evening reports.
Unnamed sources familiar with Biden's plans told the Associated Press about his intention to name Blinken, 58. Blinken shares close ties with the former vice president, having previously served as deputy secretary of state and deputy national security adviser under President Barack Obama's administration.
Earlier on Sunday, incoming White House chief of staff Ron Klain indicated that Biden would begin announcing his Cabinet picks starting Tuesday, and Blinken is expected to be among the first.
If he's confirmed, Blinken would be tasked with leading the incoming Biden administration's efforts to rebuild U.S. alliances with other countries after President Donald Trump spent the past four years challenging some relationships.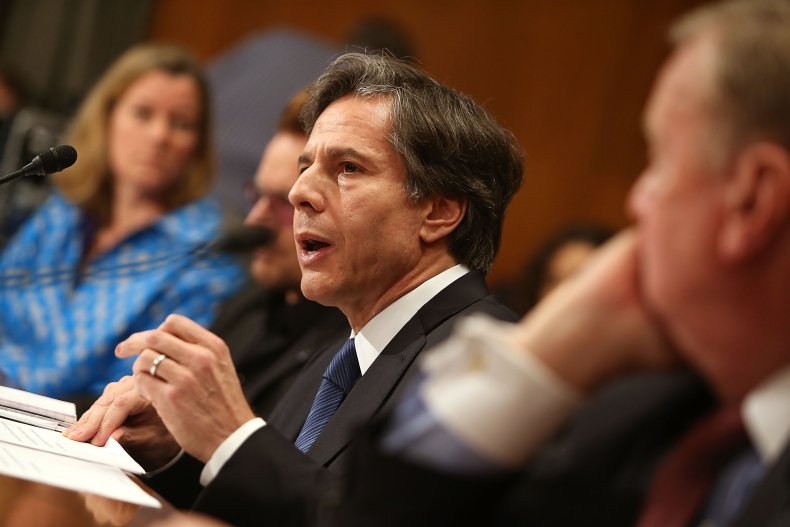 Blinken's name has been floated for the role over the past few weeks, with several media outlets indicating that he would be nominated into Biden's Cabinet. Recently, Blinken attended a national security briefing with Biden and Vice President-elect Kamala Harris.
Blinken was born in New York City on April 16, 1962 and is married to Evan Ryan—who served as an assistant for intergovernmental affairs and public liaison for Biden under Obama's administration.
He attended Harvard University for his bachelor's degree and went on to report for The New Republic. In 1988, Blinken received his J.D. degree from Columbia Law School, before practicing law in New York City.
Blinken has held senior foreign policy roles under two former presidents over the past two decades. Between 1994 and 2001, under Clinton's administration, he served on the White House' United States National Security Council. He also was Special Assistant to the President for two years from 1994. Between 1999 to 2001, Blinken served as Senior Director for European and Canadian Affairs.
Under the Obama administration, Blinken served as Biden's National Security Advisor from 2009 to 2013, as well as Deputy Assistant to the President during that same period. Blinken also worked for Biden's 2020 campaign as a foreign policy advisor.
Blinken was a key player in Obama's handling of the Crimean Crisis. Speaking at the Brookings Institute in 2014, Blinken highlighted the significance of politically isolating Russia and the country's President Vladimir Putin.
"It matters," he said, "because one way President Putin and Russia define power is by the geopolitical influence that Russia is able to obtain. And undermining Russia politically in the international community and isolating it politically diminishes that power."
In September, Blinken told the Associated Press that "Democracy is in retreat around the world" and in America. Trump is "taking a two-by-four to its institutions, its values and its people every day," he said. "Our friends know that Joe Biden knows who they are. So do our adversaries. That difference would be felt on day one."
Newsweek reached out to the office of the President-elect for comment.