Who Appointed Christopher Wray? FBI Director Under Fire for Trump Raid
The director of the Federal Bureau of Investigation (FBI) has seen an increase in violent threats, as have his rank-and-file agents, in the wake of the raid at former President Donald Trump's Mar-a-Lago residence in Palm Beach, Florida.
On Wednesday, FBI Director Christopher Wray called it "deplorable and dangerous" that threats were circulating online against his agents and the Department of Justice (DOJ) in the wake of the raid.
"I'm always concerned about threats to law enforcement," Wray said at a press conference in Omaha, Nebraska. "Violence against law enforcement is not the answer, no matter who you're upset with."
Many of Trump's supporters and allies have accused Attorney General Merrick Garland, the head of the DOJ appointed by President Joe Biden, for politicizing federal law enforcement agencies. But Wray was appointed by Trump in 2017.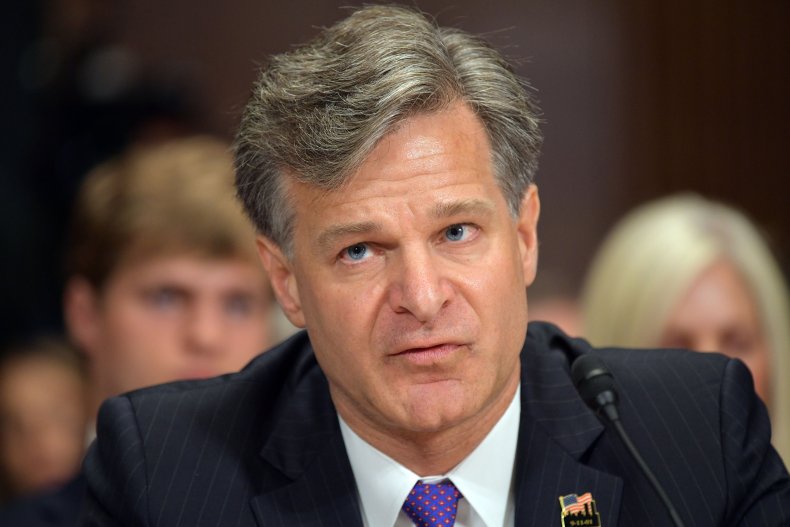 A Republican and member of the Federalist Society, Wray began his government service as an assistant U.S. attorney in Georgia before he moved to the DOJ in 2001.
Two years later, he was nominated by then-President George W. Bush as assistant attorney general in charge of the criminal division of the department, where he worked under James Comey, who later became director of the FBI. Wray was nominated to replace Comey after his predecessor resigned.
Wray resigned from the DOJ in 2005 and went into private practice for more than a decade. During that time, he was former New Jersey Governor Chris Christie's personal attorney in the so-called Bridgegate political scandal in which members of Christie's staff were accused of conspiracy to commit wire fraud.
On June 7, 2017, Trump announced he intended to nominate Wray to succeed Comey. Wray was officially confirmed to his current post with bipartisan support among senators on August 1 of that year with a 92-5 vote and sworn in on September 28. Trump did not attend the swearing-in ceremony, making it the first time an FBI director has been sworn in without the attendance of the president who made the nomination.
Although Trump nominated Wray, the two have clashed.
In December of 2019, Wray was interviewed about the inspector general report which found that the FBI's Russia investigation was properly launched—a conclusion that Wray embraced. His comments led Trump to criticize Wray on Twitter, saying that he would "never be able to fix the FBI, which is badly broken despite having some of the greatest men & women working there!"
The two also disagreed over antifa during the Black Lives Matter protests in 2020.
During a Senate hearing in September of 2020, Wray said antifa was "not a group or an organization. It's a movement or an ideology," contradicting Trump's claims about antifa, which the president said would be designated as a terrorist organization by the U.S.
Last year, Wray rejected the Republican claim that antifa led the January 6 Capitol riot.
Business Insider reported that Trump considered replacing Wray in April 2020 with William Evanina, then-director of the U.S. National Counterintelligence and Security Center, but that Trump backed down when his attorney general, Bill Barr, threatened to resign if Wray was removed.
Ahead of the 2020 election, the FBI Agents Association (FBIAA) released a letter asking both presidential candidates—Trump and Biden—to keep Wray on as director for the remainder of the 10-year term.
"Director Wray operates independently from partisan activities, and his nomination and acceptance of the position were predicated on that fact," FBIAA President Brian O'Hare wrote on behalf of more than 14,000 active and retired special agents. "He has not led the Bureau in a political manner, and politics should not determine his fate as Director."
"While the President can remove an FBI Director, doing so could lead to instability and damage to the Bureau's operations, which is why Congress intended to insulate the position of Director from political whims," O'Hare told Trump and Biden.
In December of 2020, Biden's transition team announced that Wray would remain as the director of the FBI.
Correction: 08/12/22, 9:10 p.m. ET: This article was corrected to omit a mischaracterization of William Evanina's stance on the Russian probe.