Who Are Alex Trebek's Children? 'Jeopardy!' Host Has 'Love and Support' From Kids Matthew, Emily and Nicky Trebek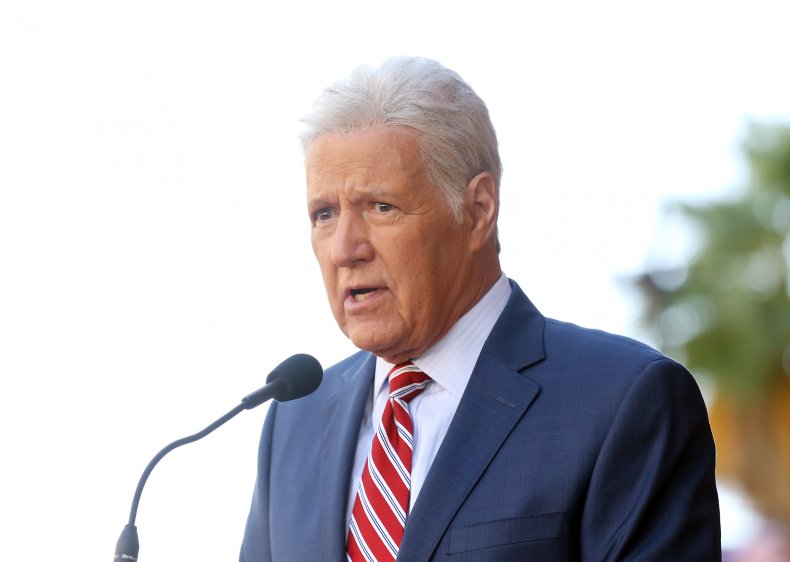 Longtime Jeopardy! host Alex Trebek will again oversee the competition as the show's three all-time winners go head to head in a series dubbed the Greatest Of All Time.
Former contestants Ken Jennings, James Holzhauer and Brad Rudder will compete for the title with Trebek serving as the host and guide for the quiz show.
However, Trebek has made headlines in recent months due to his pancreatic cancer diagnosis. He recently told Good Morning America that he doesn't know when his time on Jeopardy! will end, but that he is already thinking about how he will depart the game show.
"What I would do on that day is tell the director, 'Time the show down to leave me 30 seconds at the end.' That's all I want, and I will say my goodbyes. I will tell people, 'Don't ask me who's going to replace me, because I have no say in that whatsoever, but I'm sure that if you give them the same love and attention and respect that you've shown me for the past 30-however-many-years, then they will be a success, and the show will continue being a success. And, until we meet again, God bless you, and goodbye,'" Trebek told GMA.
Trebek was recently featured on an ABC special titled What Is Jeopardy? Alex Trebek and America's Most Popular Quiz Show, giving a behind the scenes look into his life.
Trebek has two children, Matthew, 30, and Emily, 27, with his wife Jean, who he married in 1990. The game show host was previously married from 1974 to 1981 to Elaine Callei, and adopted Callei's daughter Nicky, 53.
When announcing his diagnosis in 2018, Trebek credited the "love and support of my family and friends," along with prayer, as his plan to beat cancer.
Read more about his children below.
Matthew Trebek
Trebek and Jean welcomed Matthew during their first year of marriage.
Matthew Trebek did not follow his father into television, but works as a restauranteur. While attending Fordham University in New York, Matthew studied philosophy and worked as a bartender at a number of different Manhattan bars.
Matthew would go on to open a Mexican street food restaurant called Oso. He currently co-owns the restaurant, which is located in Hamilton Heights, New York. According to People, in April 2019, Trebek expanded his restaurant and teamed up with a cocktail bar named Lucille's. The collaboration also includes a pizza shop, located next door, called Pizza by Lucille's.
Emily Trebek
Trebek and Jean welcomed daughter Emily in 1993.
Emily also has not joined the entertainment industry, but works in real estate. She attended Loyola Marymount in Los Angeles, and according to the Jeopardy! website, after graduating in 2015, she bought and flipped her first house.
"I have always been interested in homes," Emily told Jeopardy.com in 2017. "After graduating I decided to get into real estate."
Emily also credited her father as a major inspiration in her motivation to work in real estate.
"As I was getting ready to flip my first house, I told my dad that I wanted to do it with him," Emily said. "I always watched him fix things and wanted to learn."
According to her real estate profile on Compass.com, Emily currently lives in Southern California.
Nicky Trebek
Alex Trebek adopted Nicky shortly after he married her mother, Elaine. According to Nicky's bio om IMDB, Alex, "lovingly raised her and gave her his name." Nicky currently works as a production coordinator on Jeopardy! and lives in Southern California.