Who Are Dwight and Steven Hammond? Donald Trump Pardons Father and Son
On Tuesday, President Donald Trump granted clemency to Dwight Lincoln Hammond Jr., 76, and his son, Steven Hammond, 49, two Oregon ranchers convicted of arson for the 2001 Hardie-Hammond Fire.
The Hammonds were sentenced to five years in prison in 2015 after being convicted of arson for a fire that prosecutors said was committed on federal land where the Hammonds had grazing rights leased to them for cattle ranching. One hundred acres of public land were burned, according to The Washington Post.
The United States government alleged that the father-son duo set the fire in 2001 to reduce the growth of juniper trees and sagebrush, thereby accelerating rangeland grasses for cattle feed, according to The Oregonian.
"Jurors were told that Steven Hammond handed out 'Strike Anywhere' matches with instructions that they be lit and dropped on the ground because they were going to 'light up the whole country on fire,'" the U.S. Attorney's Office said in a statement in 2015.
The Hammonds' imprisonment sparked armed activists to take over a federal wildlife refuge in protest of their treatment and government land-use regulations, according to The Guardian. Led by Ammon Bundy, protesters occupied the Malheur National Wildlife Refuge from January 2 to February 11, 2016. Robert "LaVoy" Finicum, a key protester according to The Chicago Tribune, was fatally shot on January 26 by Oregon State Police.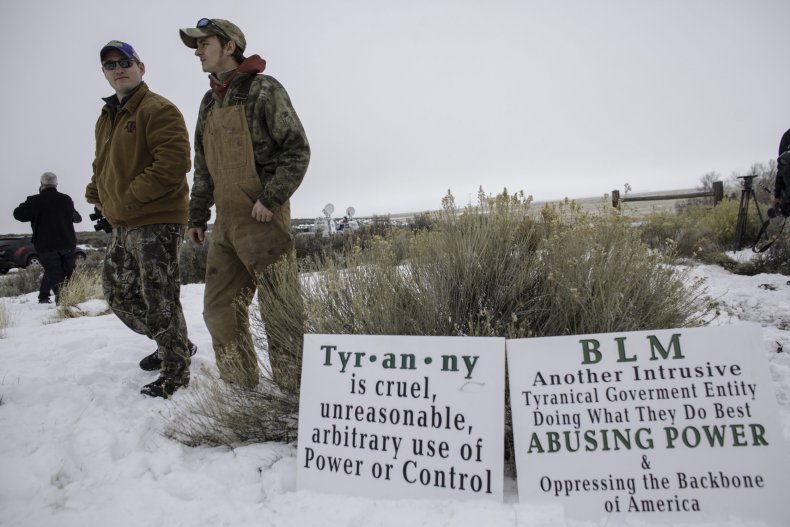 A trial court agreed with the Hammonds that the five-year mandatory minimum sentence was unconstitutional and imposed lesser sentences, the U.S. Attorney's Office statement said. However, this decision was overturned by the 9th Circuit Court of Appeals, which ordered that the Hammonds be resentenced "in compliance with the law."
In his statement regarding the clemency, press secretary Sarah Huckabee Sanders said the evidence presented at the Hammonds' trial was "conflicting" and the jury acquitted them on most of the charges.
"The Hammonds are devoted family men, respected contributors to their local community, and have widespread support from their neighbors, local law enforcement, and farmers and ranchers across the West," the statement concluded. "Justice is overdue for Dwight and Steven Hammond, both of whom are entirely deserving of these Grants of Executive Clemency."