This article first appeared on the Atlantic Council site.
While the Kremlin's hopes for a partial relaxation of US sanctions on Russia have all but evaporated due to increasing tension between Moscow and Washington, Russia can still count on friends and partners in Eastern Europe to promote sanctions relief.
For example, in a speech to the Council of Europe on October 10, Czech President Miloš Zeman deemed the sanctions ineffective and the Russian annexation of Crimea "irreversible."
Early in the Trump presidency, the Kremlin thought it had a fair chance for a bargain with the United States leading to reduced sanctions. However, under the current circumstances, Russia's best bet to achieve its aim is to go down the well-trodden path and focus on Europe.
There, attitudes toward Russia have always been mixed, but there are many who continue to believe in engagement with the Kremlin.
The United States' shift to a hard line against Russia raised alarm among Washington's European partners. For example, the German government had a sharp reaction to the round of sanctions imposed by the US Congress over Russian meddling in the US presidential elections in 2016.
However, the traditionally dovish Social Democrats would most likely not take part in Angela Merkel's next cabinet, following their disastrous performance in the September 24 elections, and the pro-Russian voices in the Bundestag will weaken.
While the United States and Western Europe may prove unwilling to provide sanctions relief, across Central and Eastern Europe (CEE), politicians have turned the Russia sanctions into their punching bag of choice.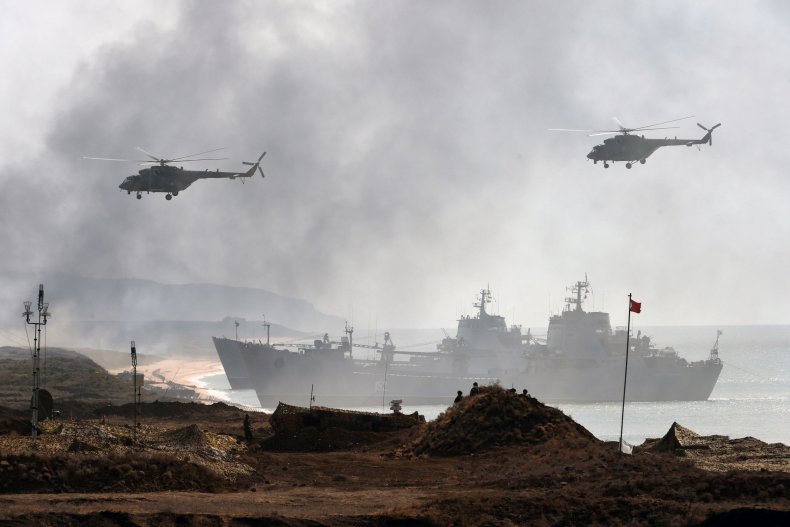 On October 5, Bulgarian President Rumen Radev blasted them as "harmful" for his country's business (failing to specify whether it is the European Union [EU] sanctions or the Russian countermeasures that are at fault).
Remarkably, he made the statement in Poland, a country not known for its pro-Russian sentiments, during a joint press conference with Polish President Andrzej Duda. TASS, Moscow's official press agency, was predictably quick to pick up on the story.
The truth is that Radev's line is popular with others in the region, and that popularity can be tied to European countries' interests in Russia's energy sector.
Hungarian Prime Minister Viktor Orbán is the undisputed flag-bearer of those in favor of sanctions relief for Moscow. On August 28, Orbán welcomed Russian President Vladimir Putin to Budapest as a guest of honor at the world judo championship, his second official visit for 2017.
On that visit, Putin announced that Rosatom, Russia's state-owned nuclear company, would kick off the construction of two new blocks at the Paks nuclear power plant in early 2018, a project valued at €10.8 billion. Hungary is also at the forefront of a three-way bid with Serbia and Bulgaria to extend the planned TurkStream natural gas pipeline into Central Europe.
During a visit to Moscow in July, Hungarian Foreign Minister Peter Szijjarto signed a road map agreement with Gazprom. The deal coincided with US President Donald J. Trump's much-publicized pledge to deliver US liquefied natural gas to CEE states, made while visiting Poland.
Szijjarto declared Hungary will upgrade its gas network in coordination with Serbia and Bulgaria to allow the additional volumes of gas, diverted away from Ukraine, to transit through the new southern route after 2019. In light of these considerations, Hungary acts in its own interests by conducting business as usual with the Russians.
In fairness, the country cannot be faulted for this. Germany, too, has been lobbying for Nord Stream 2 (facing similar regulatory hurdles to do with EU legislation).
There are others like Orbán. In Czechia, (the name the Czech Republic now uses internationally) Zeman 's condemnation of the sanctions on October 11 is not the first instance of such rhetoric; he has consistently argued against the sanctions. In 2016, he came on the record suggesting that it was foolish of Soviet leader Nikita Khruschev to transfer Crimea to then Soviet Ukraine.
Additionally, in his aforementioned 2017 speech to the Council of Europe, he proposed that Russia financially compensate Ukraine in return for their acquiescence to the annexation of Crimea.
To be sure, the controversial president, who made a name by becoming the only Western politician attending the Victory Day parade in Moscow on May 9, 2015, cannot set policy in a parliamentary system (though he does desire a switch to executive presidency).
However, the Czech legislative elections on October 20-21 might result in a win for the EU-sceptic ANO party led by the maverick businessman-turned-politician Andrej Babiš. He has previously called the Russia sanctions "nonsense." If he becomes the next prime minister, Babiš might follow the examples of Boyko Borisov in Bulgaria or Slovakia's Robert Fico, two populists that have been at the top for years.
Unlike Zeman, they have shown a strong commitment to NATO and the EU (the source of financial transfers keeping countries afloat, including Brussels-bashing governments in Hungary and Poland), and continue to look for opportunities to wheel and deal with the Russians.
In Borisov's case, the soft approach to Russia also reflects the fear of Moscow's meddling through various domestic proxies and channels.
Does this group of Russia-friendly countries, which also counts former Yugoslav republics like Slovenia and Croatia in its ranks, push strong enough to undermine the sanctions? Perhaps not.
For one, it is balanced by another cluster in CEE that views Russia as a threat and strongly favors containment: Poland, the Baltic countries, and Romania. Bucharest has been a long-standing advocate for enhancing NATO's presence in the Black Sea.
Secondly, words may not match deeds. Leaders talk to pander to and reassure domestic opinion but during the European Council deliberations in Brussels they go with the mainstream.
No one apart from Orbán, who famously made a stand together with then British Prime Minister David Cameron in opposing Jean-Claude Juncker's election as head of the European Commission, has shown willingness to put up a fight.
It is hard to envision a lifting of the sanctions in December when the Council meets and this issue appears on the agenda.
Yet, looking at the EU as a whole, there are a number of member states who see the sanctions as a problem. That is an entrenched view in Italy, Austria, Spain, Greece, Cyprus.
As Peter Krekó noted in a recent piece for the Atlantic Council, Germany still maintains the balance on sanctions, and has the influence necessary to tip the scales on way or another. Should Berlin change gears from its current cooperation with Russia to a more aggressive approach, that will provoke an instant bandwagon effect across the EU.
Again, that seems a far-fetched prospect considering the most probable composition of the German cabinet and the likely succession of the Social Democratic Party's Sigmar Gabriel, a protégé of former German Chancellor Gerhard Schroeder, as a foreign minister.
In the short term, the sort of rhetoric espoused by Orbán, Radev, Zeman, Babiš, Fico, Borisov, and others provides fodder for the Kremlin's information campaign against the sanctions.
It is good for Moscow to have fringe parties on the extreme right and the hard left doing its bidding, but much better to enlist the mainstream. This is not to suggest that Russian influence reigns supreme or that CEE leaders are beholden to Putin. In their minds, they are pursuing the national interest of their respective countries—trying to foster trade or cash in on Russia's multi-billion energy schemes.
Yet experience shows that the payoff of cozying up to Putin is elusive. It is the Kremlin that gains the most.
Dimitar Bechev is an adjunct professor at the University of Sofia where he teaches European Studies and International Relations.