Who Are John McCain's Children? Senator Leaves Behind Four Sons And Three Daughters
Senator John McCain died on Saturday at the age of 81. The outspoken Republican battled brain cancer, and the administration of President Donald Trump, in his final days.
McCain got married in 1965 to his first wife Carol Shepp, with whom he raised three children. He adopted Carol's two sons from a previous marriage, Douglas McCain, born in 1959, and Andrew McCain, born in 1962, and together they had a daughter named Sidney McCain, born in 1966.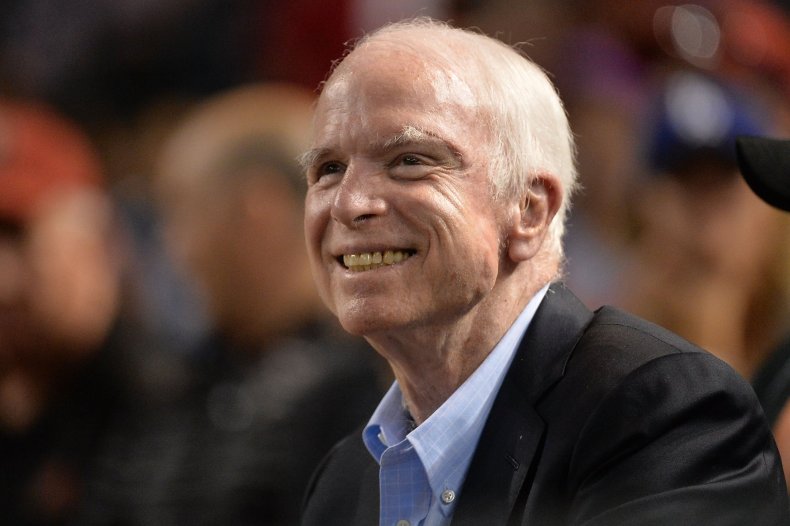 Just two years after he married Carol, McCain was captured and held prisoner in North Vietnam. He went on to spent more than five years in captivity as a POW in Vietnam, during which time he was tortured, underfed and kept in solitary confinement.
Carol and the three children lived in a Navy community in Florida during McCain's time in prison camps in Vietnam, The New York Times reported.
The couple's eldest son, who, like his father, was a U.S. Navy pilot, would go on to be a pilot for American Airlines. Andrew worked as an executive for the family beer distribution company, Hensley & Co., ABC News reported in 2008. Daughter Sydney, meanwhile, works as an executive in the music business in Toronto.
McCain and Carol separated in April 1980. The politician acknowledged his role in the breakdown of his marriage in his autobiography, according to The Los Angeles Times. "My marriage's collapse was attributable to my own selfishness and immaturity. The blame was entirely mine," he wrote.
In May 1980, just weeks after his divorce from Carol was finalized, he married Cindy Lou Hensley, a teacher from Arizona. The couple have four children together, including their youngest daughter Bridget, whom they adopted from Bangladesh.
Meghan McCain, who was born in 1984, has been a vocal advocate of her father's during his presidential campaign and his later battle with cancer.
The View co-host took on a role of family spokesperson during her father's final days. In May, White House communications aide Kelly Sadler reportedly said that the senator's opposition to CIA nominee Gina Haspel "doesn't matter" because "he's dying anyway." Meghan shot back, demanding an apology and that Sadler be fired from her job. The White House refused.
John Sidney "Jack" McCain IV, born in 1986, and younger brother James "Jimmy" McCain, born in 1988, followed in their father's footsteps and joined the military.
Jack graduated from the Naval Academy in 2009 and is a MH-60 Seahawk pilot, according to The Navy Times. His 29-year-old brother Jimmy served as a U.S. Marine and did a tour in Iraq.
The youngest McCain came into the family's life when Cindy visited Bangladesh in 1993 and met baby Bridget at an orphanage, ABC News reported. The little girl, who had a severe cleft palate, traveled back to the U.S. with Cindy to undergo years of surgery.
Apart from his wife and seven children, John McCain leaves behind five grandchildren.