Who Are the Reichsbürger? Far-Right Cult Is Building an Army of Anti-Semitic Gun Lovers in Germany, Reports Claim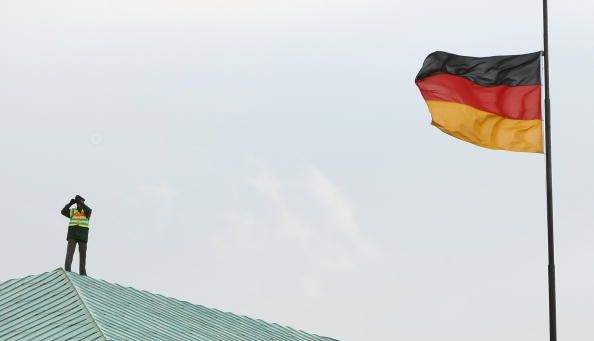 A strange cult called the Reichsbürger, or "citizens of the Reich," is emerging in Germany, and it's raising alarm bells with its far-right views and love of guns.
Reports out of Germany suggest that the group has between 15,000 and 18,000 members, around 1,200 of whom are believed to have obtained firearms legally. German media reported that the group's membership grew by around 56 percent last year, and that the organization is attempting to form an army.
"Their behavior has become more aggressive in recent years. The last couple of years the German government has paid a lot more attention to them, to get a grip on how many there are and who they are. There is an effort to get a better understanding," Jorn Fleck, an expert on German politics, told Newsweek.
The Reichsbürger's members unite around the idea that the German Empire's 1871 borders are still legitimate, and that parts of Germany are occupied by the Allied forces that defeated the Nazis during World War II. Germany became a nation-state for the first time in 1871 after then-Chancellor Otto von Bismarck defeated France in the Franco-Prussian war. The Reichsbürger's nationalist members cling to their vision of this era.
The group states that all of Germany's governments since the Nazis are illegitimate, and some members promote the conspiracy theory that modern-day Germany is a U.S. colony. Many print their own passports and IDs, and German media reported that the group is preparing to stage an uprising against the government. Some of the group's members hold far-right and anti-Semitic views, and according to the Israeli newspaperHaaretz, several of them are Holocaust deniers and claim that Jews run the world.
"It's not one united, cohesive movement. It's a collective term for different individuals and small groupings across Germany that share some of the same ideological ideas and certain behavior. They share this idea that Germany doesn't exist," Fleck said.
"I think there are three types of people under this umbrella term: conspiracy theorists, people who have connections and links to the far-right—extremists, neo-Nazis, for example—and people who simply want to extract themselves from any obligations, especially financial ones, toward the German government," he added.
The group has no official leader, which security officials said makes it less of a threat. Nevertheless, German police have conducted several raids to seize weapons from the group's members. The raids have not been without difficulties: One of the group's members, a former Mister Germany beauty pageant winner named Adrian Ursache, is being tried for attempted murder after allegedly starting a shootout with police in 2016. Another member named Wolfgang P. was sentenced to life in prison for murdering a police officer in 2017. The man used an automatic rifle to open fire on security forces when they raided his home in search of the weapons he had stockpiled.
"The [German] states are actually going through lists of known Reichsbürger and comparing it with the government's weapons registry. They have been designated as an anti-constitutional group, so they are ineligible for weapons ownership. They can have their weapons permits withdrawn and they must turn over their weapons," Fleck explained.
A small segment of the group allegedly formed what they call "the Exiled Government of the German Reich." One of the group's members has named himself "King of Germany" and held an elaborate coronation ceremony.
Germany's Office for the Protection of the Constitution is officially monitoring the Reichsbürger, which some reports claim may have members among the far-right Alternative for Germany (AFD) party.