Who is Seventeen? Top Indonesian Rock Band Swept Off Stage by Tsunami, Members Killed and Missing
Footage posted online shows the moment a tsunami wave struck the tent where top Indonesian pop group Seventeen were performing, sweeping members off-stage.
Lead vocalist Riefian Fajarsyah, in an emotional video posted on Instagram, has said that the band's road manager and bassist have been killed, and three other band members—along with his wife—were missing.
The group was performing in a packed marquee in the Tanjung Lesung beach resort on the western tip of Java when the tsunami hit.
The video shows them performing in the tent, when a wall of water crashed over the back of the stage, sweeping away band members and crashing into people dancing in front.
"We lost our bassist Bani and our road manager Oki," said Fajarsyah in the video, reported AFP news agency.
"Andi [drummer] and Herman [guitar] and Ujang [crew] have not been found. Please pray so that my wife Dylan [Dylan Sahara] will be found soon.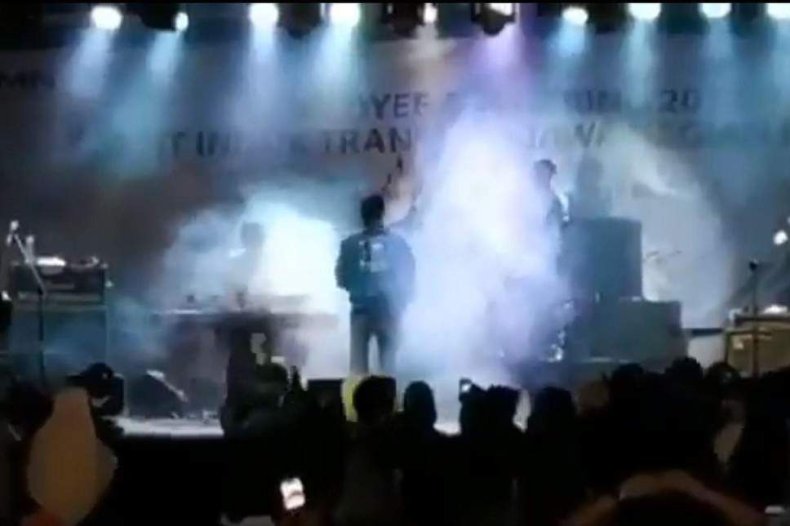 "The rest are thankfully safe although suffering from injuries and broken bones. Please pray so my wife Dylan, Andi and Herman and Ujang can be found soon."
The band was in the middle of a show organized by state-run electricity company PLN when the wave hit, reported CNN.
At least 168 people were killed and at least 745 others are missing after the tsunami struck Pandeglang, Serang and South Lampung, Indonesia, Saturday, Sutopo Purwo Nugroho, head of public relations at Indonesia's National Disaster Mitigation Agency said.
Experts believe the wave was likely triggered by an eruption of Mount Krakatoa volcano and underwater landslides.
Seventeen has released six albums so far in their career. The most recent, "Pantang Mundur," came out in 2016 and was available at branches of KFC in Indonesia.