Who Are Uganda's Crime Preventers?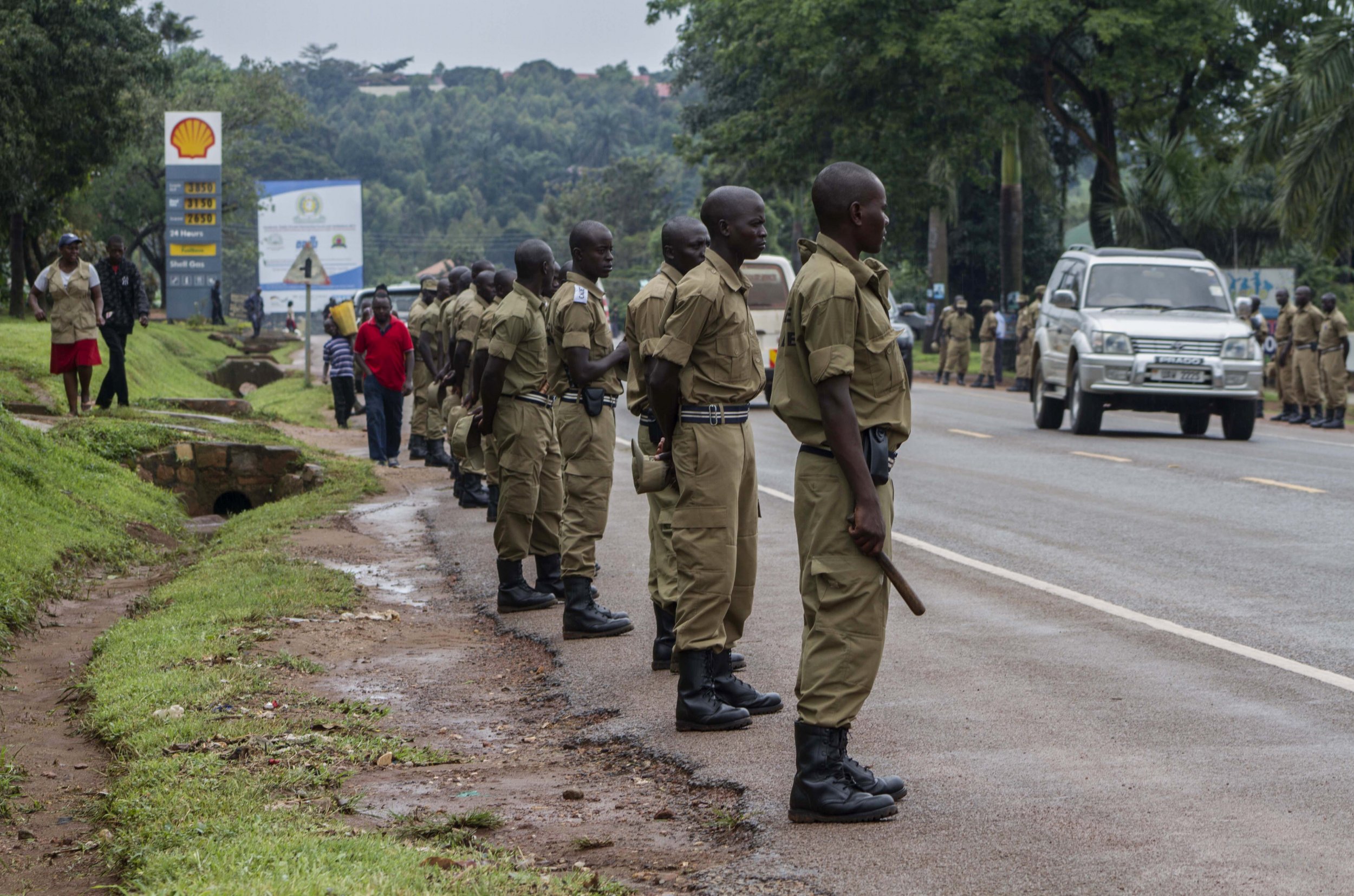 Ahead of Uganda's presidential and parliamentary elections in February, focus has turned to a band of civilian vigilantes recruited by the government who have been accused of human rights abuses.
A coalition of five human rights organizations, including Human Rights Watch (HRW) and Amnesty International, have called on the government of Yoweri Museveni to suspend the operations of crime preventers as the elections approach. According to the organizations, crime preventers are used as a tool "aimed at intimidating or reducing support for the political opposition" through means including torture.
HRW defined crime preventers as groups of civilian volunteers that report to their local branch of the Ugandan police and function as a community security group. Details are scant on their numbers and training, but Uganda's Inspector General of Police, Kale Kayihura, reportedly set a target of 1.6 million crime preventers, or around 30 in each of Uganda's 56,000 villages.
Maria Burnett, senior researcher in HRW's Africa Division, says that crime preventers are not equipped to serve as the police force's civilian arm. "These crime preventers have received very little training and there's no standard of any kind for how they are recruited as far as we can tell," she says.
President Museveni has presided over passing out ceremonies for hundreds of thousands of crime preventers across the country and has described their role as preventing "petty crimes of stealing chicken, coffee and more." Candidates from opposition parties have opposed their deployment, however, maintaining that the vigilantes are intimidating anyone dissenting from the ruling National Resistance Movement.
According to Nic Cheeseman, associate professor of African politics at the University of Oxford, crime preventers have no formalized system of accountability and so are able to get away with acts of intimidation on behalf of the NRM. "They are very much seen on the ground as representatives of the government and I have not met anyone who views them as an independent volunteer force," says Cheeseman, currently on research leave in Uganda.
Fred Enanga, spokesman for the Ugandan police force, told German publication DW that the actions of crime preventers were not the responsibility of the police but their local communities, who were within their rights to discipline vigilantes who "misbehave." Newsweek contacted both the Ugandan Police Force and the Office of President Museveni for a comment on crime preventers' accountability but received no response.
The human rights organizations documented multiple instances of human rights abuses by crime preventers in the course of their research, including torture, extortion and arbitrary arrests. The organizations also uncovered evidence of government indoctrination: crime preventer training manuals contained messages such as, "Every good thing you are seeing around is as a result of good NRM governance."
Burnett says that young unemployed men have been enticed to joining the crime preventers program by the prospect of paid work at the end of it. "A lot of these young men say they have been promised [that] they will be recruited into the police force eventually, and so they feel the need to show loyalty to the state and, in Uganda, the state is the party," says Burnett. The preventers' desire for financial recompense has gone unsatisfied, however, with Museveni telling the vigilantes that the government cannot afford to pay them salaries.
With the elections just over a month away, crime preventers look set to play a key role in policing the vote. Kayihura said that the civilian volunteers have already policed over 600 rallies and that their misdemeanors were being overblown by "apocalyptic" media. The Ugandan Ministry of Internal Affairs has announced it has drafted legislation to ensure a proper framework for the training and regulation of crime preventers.
Cheeseman, however, is not anticipating a dramatic change in policy ahead of the vote. "It seems highly unlikely that the NRM will suspend crime preventers ahead of the next election," he says. "Party leaders seem to view crime preventers as an important part of their strategy to retain power and maintain order."