Who Are the Yellow Vests? Paris Braces for Fourth Week of Violent, Anti-Government Protests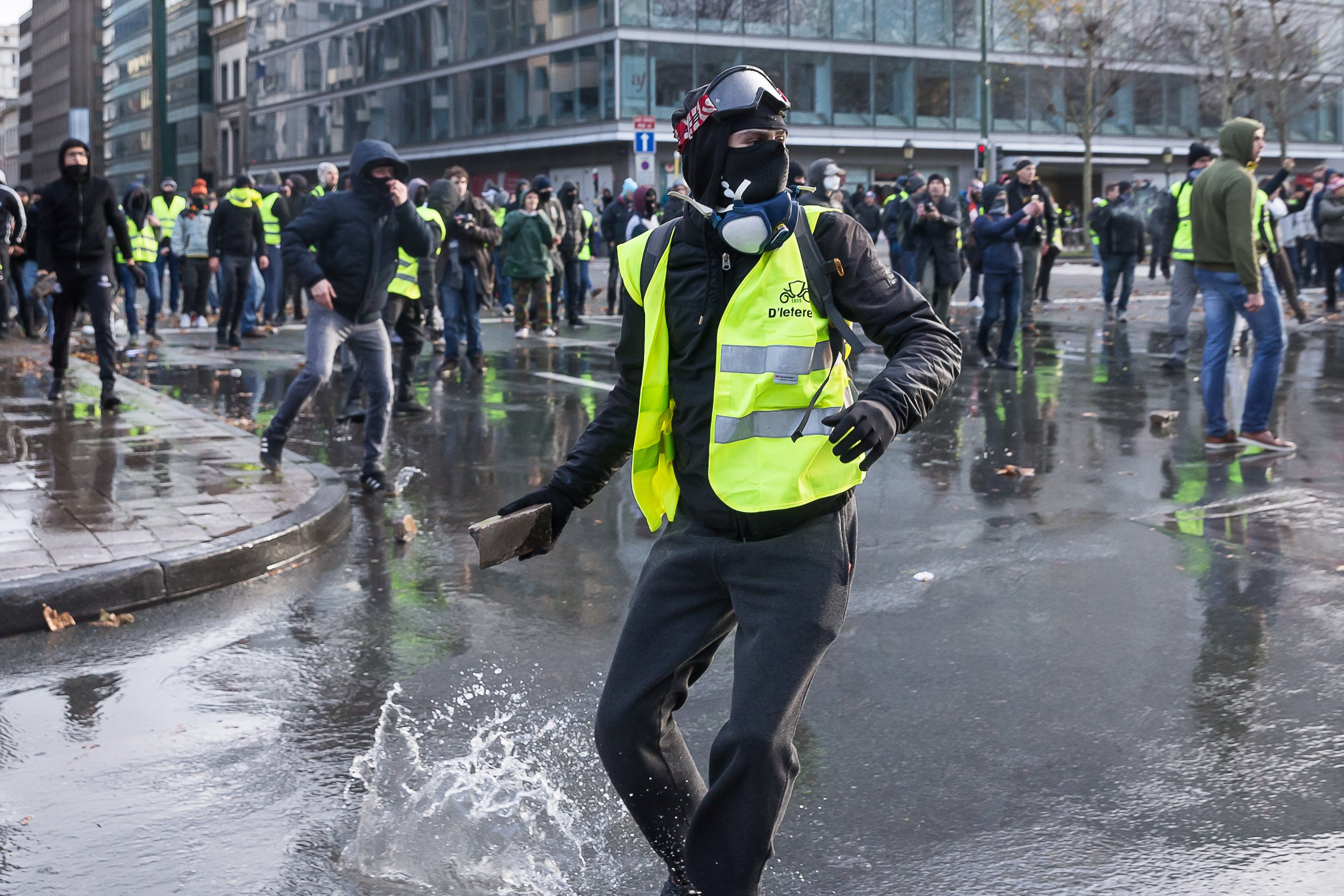 Saturday marks the fourth weekend of the Yellow Vest protests, or gilets jaunes, in France, which have been known to turn violent. President Emmanuel Macron and French police prepared for the fourth round of protests over the last week, which they assumed would be as violent as the third.
Tear gas has already been used on the protesters in the fourth week, according to James Rothwell, correspondent for the Telegraph who shared the news on Twitter Saturday morning. Macron and police planned to have over 89,000 officers on duty Saturday, 8,000 of them in Paris alone where protests have been seen to accelerate into riots, according to Bloomberg. The Paris police will also have military grade vehicles throughout the day.
The Yellow Vest movement has seen major growth since October, when parts of the French Population exploded in uproar about an increased tax on diesel fuel. The tax was an action taken by Macron to combat climate change, according to CBS. The tax now makes up about 60 percent of the pump price, according to Le Parisien. In 2013 it made up about 43 percent. November 16 was the first day of the protests, and 282,000 protesters were reported.
Many of the vocal protesters are French countryside workers, who use their vehicles to get to work everyday, or even as their work. In symbolism, the yellow vests found in every french vehicle as a safety staple, are being worn during the protests.
Both news outlets and social media users have criticized Macron and the French police for their military-like tactics on controlling protests. The government seems to believe the protests have gotten out of hand. "The movement has given birth to a monster," Interior Minister Christophe Castaner said in a Friday news conference. "Everything leads us to believe that rioters will try to mobilize again."
But many warn the French government to tread lightly when it comes to disciplining the protestors. Castaner said criminals and rioters will receive the "toughest of responses." Political Science professor in Paris, Bruno Cautres, spoke of the governmental chaos a protester's death could cause.
"A dead protester would be the worst that could happen for Macron," he told Bloomberg. "The government would fall and Macron would be faced with a general election where, at great risk, he would have to ask the French people: do you still trust me?"