Who is Aryna Sabalenka? Rising Tennis and Instagram Star has Fans Buzzing at U.S. Open
The tennis world was watching Aryna Sabalenka, a 20-year-old rising star from Belarus who knocked the fifth seed out of the 2018 U.S. Open and is playing Monday for a quarterfinal spot in the tournament.
Sabalenka defeated fifth seed Petra Kvitová in an hour and 25 minutes in straight sets (7-5, 6-1) on Sunday. It was Sabalenka's eighth consecutive victory. She won her first WTA Premier event in New Haven, Connecticut, last week.
She has beat five Top 10 players in recent weeks and stands at No. 20 in the rankings.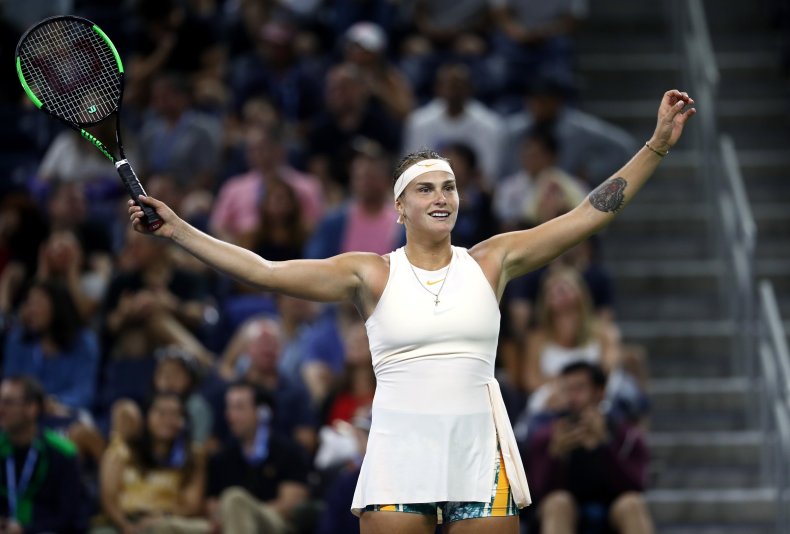 Sabalenka's recent achievements are tied to her better selection of shots, according to her coach, Dmitry Tursunov.
"There are some things that I've helped with, but I think she's a better judge of what she would attribute her current success to," Tursunov told Tennis.com in a report published Monday. "The major thing is she stopped trying [to] hit a winner with every shot.''
Tursunov added that Sabalenka agreed to work on volleys and seemed more interested in how she could improve rather than receiving positive remarks.
"Obviously, she has certain ideas about the way her game should look and the way she should play. And a lot of that was kind of analyze what her perception is and if that perspective was wrong, the way I could help change it," he said. "It's that she was very receptive, that she was willing to try things that many other players would not try due to their convictions about the way the game should be played."
Besides being a tennis star, Sabalenka is an avid world traveler, and she's not shy about it.
"When I'm not playing tennis, I love to see new places and hang out with my friends and family. One of my favorite cities is definitely New York, and I always look forward to going there," she wrote on her website. "Follow me on my social media channels to get to know me better and to see what I'm doing in my day-to-day life on and off the Court."
On her Instagram account @sabalenka_aryna, Sabalenka makes many tennis posts but also shares pictures from her travels and other lifestyle adventures. Some of her recent posts are from posh Porto Montenegro in Montenegro, Monte Carlo in Monaco and Paris, and she shows she loves to wear swimsuits and dress up.
Sabalenka plays Naomi Osaka in the U.S. Open Monday afternoon at the Louis Armstrong Stadium in Flushing Meadows in Queens, New York.