Who Is Ashley Kavanaugh? Brett's Wife Speaks Out on Sexual Misconduct Allegations
The wife of Supreme Court nominee Brett Kavanaugh defended her husband's character following the accusations of sexual assault made by two women against him.
In an interview with Fox News on Monday night, Ashley Kavanaugh, 42, sat with her husband as both were questioned about the claims made by Christine Blasey Ford and Deborah Ramirez.
Asked if she had questioned whether the allegations were true, Ashley responded: "No. I mean, I know Brett. I've known him for 17 years. And this is not at all…it's really hard to believe. He's decent, he's kind, he's good. I know his heart. This is not consistent with Brett," she added.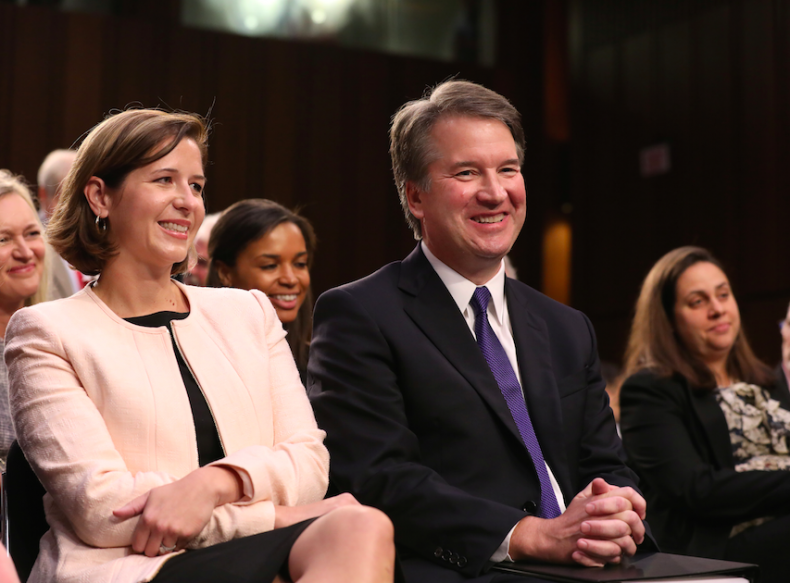 The two were married in 2004 and have two children, Liza and Margaret. They met while working in the George W. Bush White House, where Ashley served as the presiden'ts personal secretary.
Speaking about how the allegations and events that had taken place during the confirmation hearing had affected her, Ashley Kavanaugh said: "This process is incredibly difficult. Harder than we imagined, and we imagined it might be hard. But at the end of the day our faith is strong, and we know that we're on the right path and we're going to stick to it."
Brett Kavanaugh also addressed the allegations during the interview, denying claims made by Ramirez that he had exposed himself to her during a college dorm gathering, and by Ford that he had forced her into a room during a house party in the early 1980s, pinned her to a bed and held his hand over her mouth so she couldn't scream.
"I have never sexually assaulted anyone. Not in high school, not ever," he said. "I have always treated women with dignity and respect. Listen to the women who've known me since high school, the 65 who overnight signed a letter from high school saying I always treated them with dignity and respect."
He said he may have met Ford, but they did not move in the same circles in high school and that he didn't ever remember being at a party with her.
"I was never at any such party. The other people who were alleged to be present have said they do not remember any such party. A woman who was present…who is Dr. Ford's lifelong friend has said she doesn't know me and never remembers being at a party with me at any time in her life. All I'm asking for is a fair process where I can be heard," he said.