Who Is Asia Bibi? Christian Woman on Death Row Since 2010 Acquitted
A Pakistani Christian woman is to be freed after spending almost eight years on death row on charges of blasphemy, thanks to a decision by the country's supreme court to overturn her conviction Wednesday.
The ruling sparked protests by hardline Islamists but was praised by human rights groups that have been working to free Bibi, who has always denied the allegations made against her.
The mother of four has been largely kept in solitary confinement since she was convicted in 2010. Prosecutors alleged she had made derogatory remarks about Islam after neighbors objected to her drinking water from the same bucket as them because she was not Muslim, the BBC said. She was then beaten up in her home, at which point she reportedly confessed to blasphemy.
Bibi's defense team argued this confession was made in front of a mob threatening to kill her, making it inadmissable.
Bibi was the first woman to be sentenced to death by hanging under Pakistan's blasphemy laws, which are some of the harshest in the world. Though no one has even been executed for the crime, many have been lynched or murdered purely on the basis of accusations against them.
Her case became a cause célèbre for Christians around the world. Pope Francis even met with Bibi's husband Ashiq Masih and one of her daughters, telling them, "I think often of your mother and I pray for her," Agence France-Presse reported. The city of Rome also lit its ancient Colosseum in red lighting in solidarity with persecuted Christians, particularly Bibi.
But in deeply conservative Pakistan, the case was hugely divisive—so much so that two politicians working to support Bibi were assassinated for their efforts, Reuters said.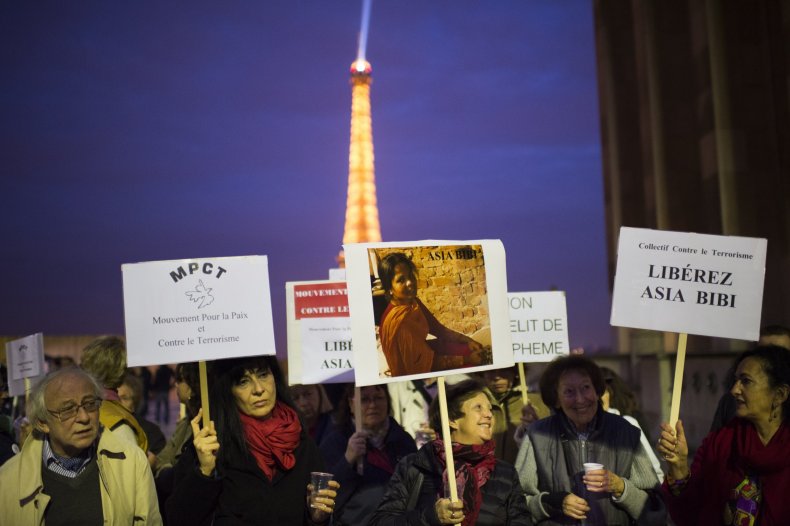 Bibi was not in court to hear the ruling, but told Agence France-Presse from prison, "I can't believe what I am hearing, will I go out now? Will they let me out, really?… I just don't know what to say, I am very happy, I can't believe it."
Chief Justice Saqib Nasir led the three-judge panel selected to rule on Bibi's appeal. He cited the Koran in his ruling, suggesting, "Tolerance is the basic principle of Islam" and arguing the faith has always condemned injustice and oppression.
In a previous hearing on October 8, another member of the panel—Justice Asif Saeed Khan Khosa—suggested there were multiple flaws in how the case was prosecuted. Nasir also noted he could not see "any derogatory remarks vis-a-vis the holy Koran" in the initial complaint.
Nonetheless, supporters of the Tehreek-e-Labaik (TLP) Islamist party—founded to protect the Pakistan's tough blasphemy laws—blocked roads in Karachi and Lahore, the country's two largest cities.
The organization had threatened to paralyze the country's cities if Bibi was freed. Its members have proven their ability to do so before—in November 2017, the group blockaded the capital Islamabad claiming that small changes made to a religious oath were blasphemous. The resulting clashes killed seven and injured at least 200. The protests only disbanded after the group reached a deal with the military.
Despite the protests, Bibi's lawyer Saiful Mulook told Reuters the decision was "great news for Pakistan and rest of the world… Asia Bibi has finally been served justice."