Who Is Austin Lanz? Suspect Identified In Pentagon Transit Center Shooting
Austin Lanz has been identified as the suspect in a deadly attack that occurred at the Pentagon Transit Center earlier on Tuesday.
Lanz, a 27-year-old Georgia resident, is suspected of having rushed towards a Pentagon police officer before stabbing them in the throat, killing them. Law enforcement officers then shot Lanz, killing him at the scene.
Lanz had previously enlisted in the U.S. Marine Corps in October 2012, the Associated Press reported. However, he never earned the title Marine because he was "administratively separated" from the service less than a month later, the Marine Corps said in a statement.
Investigators are looking into Lanz's background for evidence of mental illness or political sympathies that might've contributed to his alleged actions.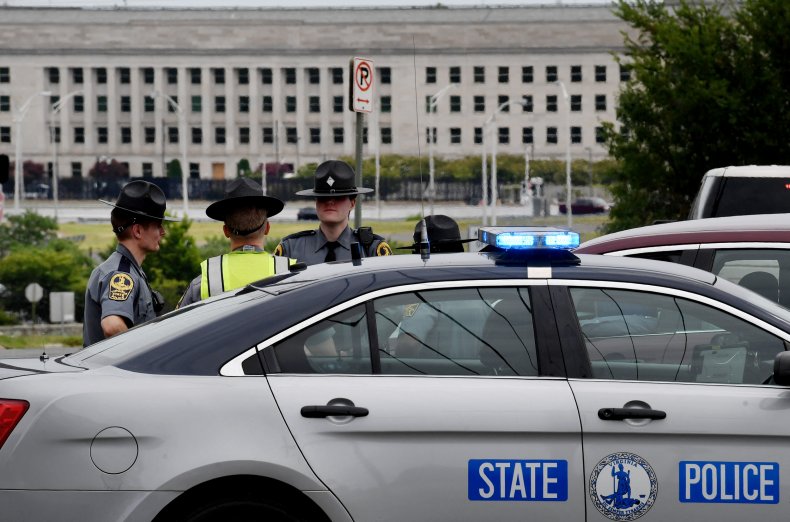 The attack occurred on a metro bus platform around 10:37 a.m. Tuesday morning, Pentagon Force Protection Agency Chief Woodrow Kusse said in a Tuesday press briefing.
"Gunfire was exchanged and there were several casualties," Kusse said, without mentioning any names or the specific numbers of people injured or killed. "The scene is secure and there is no continuing threat." Kusse said that the FBI was on the scene and assisting with the investigation.
A lockdown put into effect on the surrounding area was lifted a little before noon, according to official tweets from the Department of Defense.
Defense Secretary Lloyd Austin and General Mark Milley, chairman of the Joint Chiefs of Staff, the nation's highest-ranking military officer, were not at the Pentagon during the shooting this morning, according to reporter Lucas Tomlinson. The two men were at their regular meeting with Democratic President Joe Biden at the White House.
Around 1:30 p.m., police were seen outside of George Washington University Hospital saluting a black, unmarked van leaving the hospital behind a procession of motorcycles. The salute is normally done in commemoration of a fallen officer.
The Fairfax City Police Department later issued a tweet offering its condolences for the slain officer, but the officer has not yet been publicly named.
The Pentagon Force Protection Agency also issued a statement confirming the officer's death. Defense Secretary Lloyd Austin also expressed his condolences and announced that flags at the Pentagon building will be flown at half-staff, the AP reported.
"This fallen officer died in the line of duty, helping protect the tens of thousands of people who work in and who visit the Pentagon on a daily basis," Austin said in a statement. "This tragic death today is a stark reminder of the dangers they face and the sacrifices they make. We are forever grateful for that service and the courage with which it is rendered."
Newsweek contacted the Pentagon for comment.