Who is Bernie Sanders Endorsing in 2018 Midterms and Will His Progressive Revolution Continue on Election Night?
Vermont Senator Bernie Sanders is favored to win re-election in Tuesday's midterm elections, but he has worked to influence more than just his state.
As the longest-serving independent in congressional history, Sanders has endorsed candidates whose policies fit with his movement, Our Revolution, which seeks to advance a progressive agenda that will make the American political system more responsive to working families' needs.
In the Senate races, Sanders has endorsed only two candidates. In late October, he endorsed Representative Jacky Rosen, from Nevada's 3rd Congressional District, who has challenged Republican incumbent Senator Dean Heller. Sanders said it would be a close race, and that it was "absolutely imperative" for not just Nevada but the country that she win.
"I want Jacky Rosen elected to the Senate from Nevada so we can take back the Senate," Sanders said.
The 2016 presidential candidate has also thrown his support behind and actively campaigned for Tammy Baldwin, the incumbent senator from Wisconsin.
In the House races, Sanders has endorsed 11 candidates in Tuesday's midterms. Among them is Sanjay Patel. In late August, Sanders tweeted he was proud to support Patel, a community activist, who is challenging Republican Representative Bill Posey in Florida's 8th Congressional District.
"Let's also elect many terrific down-ballot candidates who will play a pivotal role in reshaping Florida towards a more progressive future," Sanders wrote.
Two of the most high-profile candidates Sanders has endorsed are in gubernatorial races.
Sanders in May endorsed Stacey Abrams, former minority leader of the Georgia House of Representatives, who is running against Georgia's Republican Secretary of State Brian Kemp. If Abrams wins, she will become the country's first black female governor. Sanders said that Abrams would raise the minimum wage, bring universal pre-K education, introduce automatic voter registration and get rid of cash bail.
"Stacey Abrams has real solutions that will help the lives of working people in Georgia," Sanders said.
Sanders has also endorsed Tallahassee Mayor Andrew Gillum for Florida governor, whose opponent is Republican Ron DeSantis, a former U.S. representative for Florida's 6th Congressional District. Sanders said that Gillum would work to provide health care for all Americans, raise the minimum wage, ensure that the richest corporations paid their share of taxes, welcome immigrants, boost education and invest in sustainable energy.
"Andrew has never backed down from a fight, including beating the NRA and standing up against xenophobic politicians," Sanders tweeted. "@AndrewGillum will set a new course for Florida—a governor who represents all the people and not just powerful special interests."
While polls have consistently shown Sanders to be one of the most popular politicians in the United States, his endorsement is no proven guarantee of success. Since losing the Democratic nomination for president, Sanders has suffered some high-profile losses through his endorsements during the primaries.
Here are candidates—all Democrats—that Sanders has endorsed in the Senate, House and gubernatorial races:
SENATE
Nevada: Jacky Rosen
Wisconsin: Tammy Baldwin
HOUSE
California: Ammar Campa-Najjar
California: Barbara Lee
California: Mike Levin
Colorado: Joe Neguse
Florida: Sanjay Patel
Illinois: Jesus Garcia
Indiana: Liz Watson
Iowa: J.D. Scholten
Pennsylvania: Jessica King
Vermont: Peter Welch
Wisconsin: Randy Bryce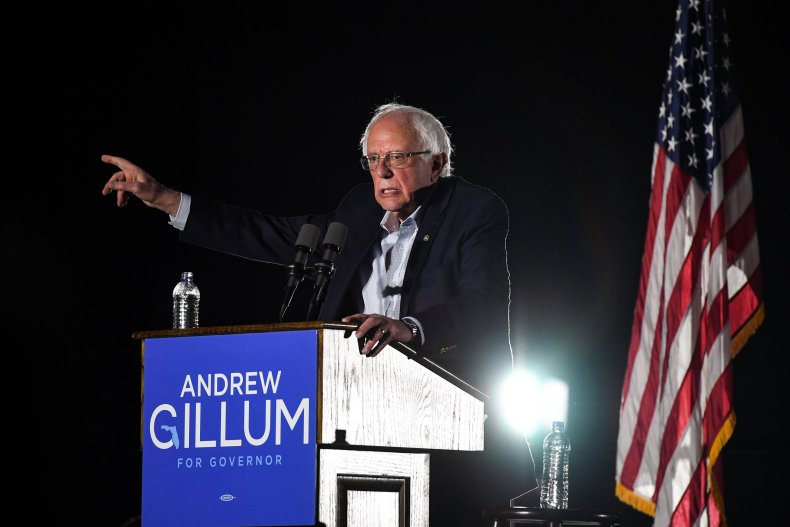 GOVERNOR
Florida: Andrew Gillum
Georgia: Stacey Abrams
Arizona: David Garcia
Colorado: Jared Polis
Maryland: Ben Jealous
Michigan: Gretchen Whitmer
Vermont: Christine Hallquist