Who is The Best Running Back of All Time? NFL Releases Finalists for Its 100th Anniversary Team
In a leadup to announcing the top 100 players and top 10 coaches of all-time, the National Football League is announcing finalists early in each week, then team members will be announced every Friday night on the NFL Network through the final Friday this calendar year.
On Monday, the NFL announced its 24 finalists for top running back of the last 100 years in the league, and the list is definitely star-studded.
From the Galloping Ghost to Sweetness and Jim Brown to Adrian Peterson, the finalists all have quite a resume.
Here's the list (in order by last name), released by NFL.com on Monday night.
Marcus Allen (1982-1997)
Allen was sparkling from the get-go. He was the 1981 Heisman Trophy winner at USC and the NFL Rookie of the Year in 1982 for the Los Angeles Raiders. He was the first player in NFL history to rush for 10,000 yards and have 5,000 receiving yards. He finished his career with 12,243 rush yards, 5,411 receiving yards, 145 touchdowns, the 1985 NFL MVP, Super Bowl XVIII MVP and six Pro Bowl selections.
Jerome Bettis (1993-2005)
Bettis was known as "The Bus" during his career with the Pittsburgh Steelers and Los Angeles Rams. He was a six-time Pro-Bowl selectee who helped guide the Steelers to the XL Super Bowl title. His 13,662 career rushing yards is fifth all-time. He led the Rams in rushing three times and did the same with the Steelers eight times.
Jim Brown (1957-1965)
Brown was considered the best running back in history before Walter Payton arrived on the scene, and many still call Brown the greatest. His 12,312 rushing yards at retirement was the best in history. He was the 1957 NFL Rookie of the Year, an NFL champion in 1964, a three-time NFL MVP, eight-time all-NFL and nine-time Pro-Bowl selection.
Earl Campbell (1978-1985)
Born and raised in Tyler, Texas, known as "The Rose Capital of Texas," Campbell became known as the "Tyler Rose." He had illustrious high school, college and professional careers all in Texas. After winning the Heisman Trophy at the University of Texas in 1977, he became an all-pro and NFL rushing champion, and three-time NFL Player of the Year in consecutive years. He finished his career with 9,407 rushing yards, 74 rushing touchdowns and 806 career receiving yards.
Earl "Dutch" Clark (1931-1932; 1934-1938)
Clark played in just seven NFL seasons, and he was named all-NFL six times. He was a three-time scoring champion as he did it at running back and kicker. For his career, he scored 354 points on 42 touchdowns, 72 points after touchdowns and 10 field goals. He's also the last drop kicking specialist in the NFL.
Eric Dickerson (1983-1993)
Dickerson retired from the league as the second all-time leading rusher with 13,259 yards on 2,996 rushing attempts. He gained more than 1,800 rushing yards in three of his first four seasons, including an NFL-record 2,105 yards in 1984. He was a five-time All-Pro and six-time Pro Bowl selection.
Tony Dorsett (1977-1988)
Dorsett won the Heisman Trophy with the University of Pittsburgh in 1976, and a draft-day trade sent him to the Dallas Cowboys in 1977. He finished his sparkling career with 12,739 rushing yards, a total of 16,293 scrimmage yards and 91 touchdowns. He was a four-time Pro Bowl selection who played in two Super Bowls. He also has a record 99-yard touchdown run against Minnesota in the 1982 regular-season finale.
Marshall Faulk (1994-2005)
Faulk was special from the beginning, running for 143 yards and three touchdowns in his NFL debut. He was the 2000 NFL MVP, a three-time Offensive Player of the Year, seven-time Pro Bowl selection and the first player in NFL history to gain 2,000 scrimmage yards during four straight seasons.
Harold "Red" Grange (1925-1927; 1929-1934)
Grange earned the nickname "Galloping Ghost" while running at Illinois. He was a three-time all-American and joined the Chicago Bears on Thanksgiving Day of 1925. His name and style of running drew large crowds during a 17-game barnstorming tour. He helped co-found the rival American Football League in 1926.
Franco Harris (1972-1984)
Harris was a nine-time Pro Bowl selectee who ran with a punishing style. He finished his career with 12,120 rushing yards and 91 touchdowns. The 1972 Offensive Rookie of the Year, Harris had 1,556 rushing yards in 19 postseason with the Steelers during their vaunted run in the 1970's.
Hugh McElhenny (1952-1964)
McElhenny, nicknamed "The King," gained 11,375 scrimmage yards during 13 years in the league, and it included 5,281 rush yards, 264 receptions and 360 points. He was all-NFL and Rookie of the Year in first season.
Lenny Moore (1956-1967)
Moore was a dual-threat back long before the term existed. During his career, he racked up 12,451 yards from scrimmage, including 5,174 rushing yards and 6,039 receiving yards. He scored 113 touchdowns and amassed 678 points. He was a seven-time Pro Bowl selection, twice an NFL champion and in 1964 earned the honors of both NFL Player of the Year and Comeback Player of the Year.
Marion Motley (1946-1953; 1955)
Motley was an NFL champion, a four-time AAFC champ, all-pro and 1951 Pro Bowl selection. He finished his career with 4,720 yards on 828 carries and hauled in 85 passes in nine seasons, in which he scored 234 total points. He also played linebacker during the earlier years in his career.
Bronko Nagurski (1930-1937; 1943)
After a five-year retirement, Nagurski made a one-year comeback and helped the Chicago Bears win the 1943 NFL championship—the third of his short career. Nagurski was a five-time all-NFL selection and rushed for 4.031 yards for his career.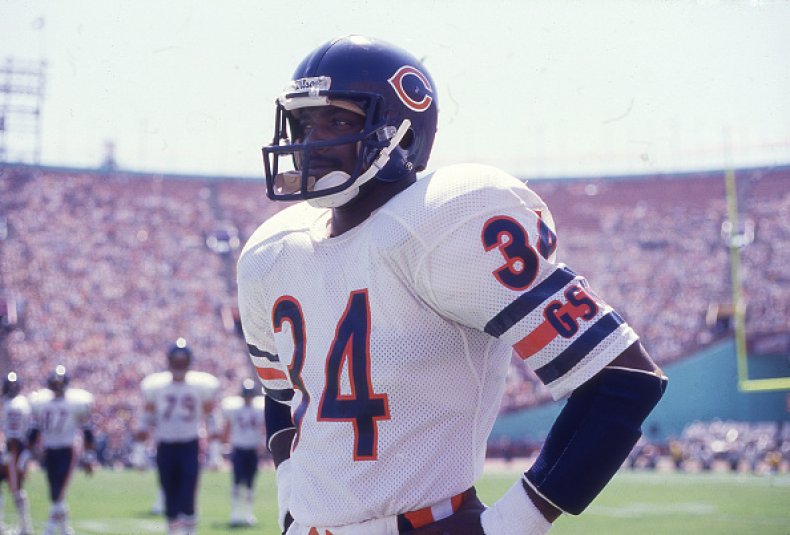 Walter Payton (1975-1987)
Perhaps the greatest running back of his generation, he was simply called "Sweetness." Though he attended the less-heralded jackson State University in Mississippi, Payton was drafted fourth overall by the Chicago Bears in 1975. He finished his career as the all-time leading rusher at the time with 16,726 yards, 110 rushing touchdowns, 492 receptions for 4,538 yards and 125 total touchdowns. He held the single-game rushing record of 275 yards. He was a seven-time Pro Bowl selection and 1977 NFL MVP.
Adrian Peterson (2007-current)
Peterson was a heralded high school back in East Texas who went to the University of Oklahoma, then bounced from one team to another around the NFL. He's also the only current player on this list. He's a four-time all-pro and seven-time Pro Bowl selection. In 2012, he rushed for 2,097 yards—second-most in league history—and he's one of only seven backs to eclipse 2,000 yards in a single season.
Barry Sanders (1989-1998)
There's no telling the heights Sanders could have reached if not for retiring when he did. During his 10 NFL seasons, he rushed for more than 1,000 in all of them, the first player to accomplish that. He was a 10-time Pro Bowl selection, 1997 MVP and finished his career with 15,269 rushing yards and 99 rushing touchdowns. He had 14-consecutive games with 100 yards in 1997, and was either first- or second-team all-NFL all 10 of his seasons.
Gale Sayers (1965-1971)
Sayers was the all-time halfback during the NFL's 50th season in 1969, and his legacy is good enough to make him a finalist for the 100th season. Sayers finished his career with 9,435 scrimmage yards, including 4,956 rushing yards. He led all NFL rushers in both 1966 and 1969, and he was a five-time all-NFL member. Of his four Pro Bowl selections, he was player of the game three times.
O.J. Simpson (1969-1979)
Simpson won the Heisman Trophy at USC following the 1968 college season and went on to a stellar professional career. The six-time Pro Bowl selection rushed for 11,236 yards, had 990 kickoff return yards and 14,368 total yards from scrimmage in his career. He rushed for 2,003 yards in 1973.
Emmitt Smith (1990-2004)
Smith was part of the famed "triplets" of himself, quarterback Troy Aikman and receiver Michael Irvin of the Dallas Cowboys in the 1990s. He won four rushing crowns in his career, had 11-consecutive 1,000-yard rushing seasons, became the league's all-time leading rusher in 2002, was a three-time Super Bowl champion, 1993 MVP and Super Bowl XXVIII MVP. He ended his career with 18,355 rushing yards and 164 rushing touchdowns.
Jim Taylor (1958-1967)
Taylor was a Louisiana-born athlete who played his career in Green Bay, mostly in the 1960s. He led all NFL backs during his MVP campaign in 1962 with 19 rushing touchdowns, and he rushed for 1,000 yards or more in five-straight seasons. For his career, he rushed for 8,597 yards and caught 225 passes.
Thurman Thomas (1988-2000)
Thomas was selected in the second round by the Buffalo Bills in 1988, and in 1991 he was the NFL MVP. He was part of a Bills team that made four-straight Super Bowls, and he was a five-time Pro Bowl selection. His concluded his career with 12,074 rushing yards and 16,532 all-purpose yards
LaDainian Tomlinson (2001-2011)
Tomlinson set an NFL record when he rushed for a touchdown in 18-consecutive games over the 2004-05 seasons. In addition, he rushed for 1,000 yards in each season for the first eight years of his career. He had 13,684 yards and 145 rushing touchdowns to end his career, which included five Pro Bowl selections and the 2006 NFL MVP award.
Steve Van Buren (1944-1951)
Born in Honduras, Steve van Buren made his mark with the Philadelphia Eagles. He was named all-NFL six-consecutive seasons, and he scored the only touchdown in the 1948 NFL championship game. He finished his career with 5,860 rushing yards and 464 points scored.