Who is Amy Sanders O'Rourke? Wife of Beto O'Rourke Could be First Lady After Influencing 2020 Decision
Former Texas Representative Beto O'Rourke, who announced his 2020 presidential bid on Thursday, has made it so far in politics with the blessing of his wife, Amy Sanders O'Rourke, who factored heavily in his decision to seek the highest office.
Amy's many public appearances by Beto's side suggest she would take up a prominent role if he were to win the presidency. She has not always been so involved in or supportive of his political ambitions, however.
Beto said she "immediately started crying" and felt hurt when he said in 2010 that he was contemplating running for a seat in the House of Representatives. In 2013, Beto decided to run for the Senate and that race was the "first one where I felt like we both made the decision together," he said.
It was Amy's idea that Beto run for Senate after seeing Donald Trump win the 2016 presidential election, according to KVUE.
"I think you should go see if you can't do something that's more effective than what you're doing now," she reportedly said.
Amy was with her husband when he formally announced his senatorial bid and appeared frequently on the campaign trail. She stood by his side when he conceded after losing in the November 6 midterm election to incumbent Ted Cruz.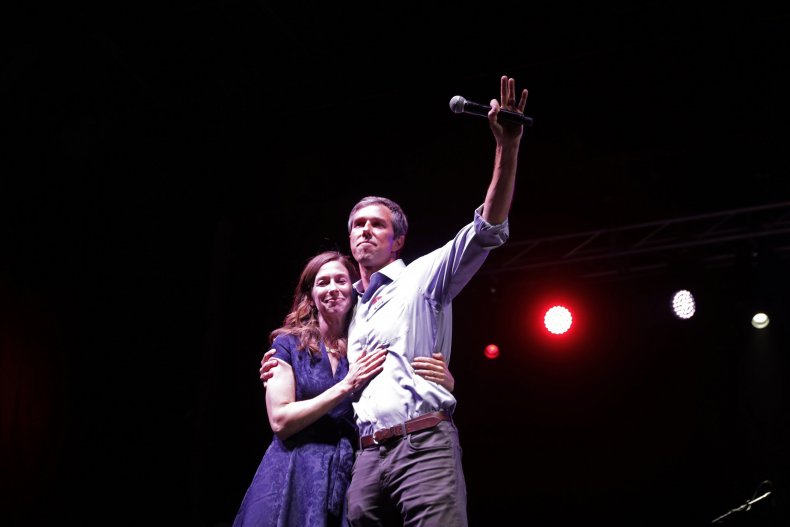 The next day, Beto posted a photo of the two of them on his Instagram, a show of their close bond.
"We just want to say thank you to everyone who made this possible. Everyone who made us feel hopeful, everyone who inspired us. Everyone who became the most amazing campaign we could have ever hoped to belong to," Beto wrote in his post. "We are grateful that we got to do this with you. We love you. Goodnight!"
It was also Amy who, according to a Vanity Fair profile, edited his stream-of-consciousness Medium posts following his Senate loss that fuelled speculation of a 2020 run and earned him some mockery online.
In the same profile, Amy revealed the regret that Beto would feel if he opted not to run for president. "You didn't do everything you could," she said.
She has also already begun preparing for life as the first lady, reading Michelle Obama's Becoming as Beto weighed a presidential bid.
Amy is nine years younger than Beto and the two met on a blind date in 2004. They got married 10 months later and have three young children together.
Beto's wife is the director of CREED, a nonprofit organization that seeks to improve education and college preparation in El Paso, the city they are both from and live in. She also owned the software development company Stanton Street, which Beto founded, and sold it in 2017. Amy spent a few months teaching kindergarten in Guatemala City after graduating from Williams College in Massachusetts.
Amy's father is Texas real estate mogul William Sanders, whom The New York Times referred to as a billionaire. However, Forbes estimated that his net worth is closer to $500 million.
Beto cited his wife in sharing with Oprah Winfrey last month what his remaining reservations were around running for president.
"I want to make sure that Amy and I, Ulysses, Molly, and Henry, our three kiddos who are 10, 12, and 8, we're all good with this, we're all on the same page," he said. "For the last seven years, my family hasn't seen me. I haven't been there for them, I haven't helped Amy in raising these amazing kids in any significant, consistent way."