WHO Announces Biggest Single Day Rise in COVID-19 Cases Globally
The World Health Organization has reported the biggest increase in coronavirus cases in a single day, with the Americas bearing the brunt. According to a situation report by the U.N. health agency, 183,020 new cases were reported in the 24 hours preceding 10:00 CEST, June 21.
The total included 116,041 in the Americas, 20,248 in South-East Asia, 18,975 in the Eastern Mediterranean, 17,922 in Europe, 8,464 in Africa, and 1,370 in the Western Pacific.
Brazil, the U.S., and India reported the most new cases, at 54,771, 36,617, 15,413, respectively. In addition, over two thirds of new deaths were reported in the Americas, at 3,241 of 4,743.
Six months since the coronavirus that causes COVID-19 was first identified in the central Chinese city of Wuhan, Hubei province, 468,331 people have died in 8,952,428 cases, according to Johns Hopkins University. A total of 4,440,000 people have recovered.
As shown in the graphs by Statista below, the U.S. has the most confirmed cases at 2,279,879. That amounts to over a quarter of known cases worldwide. The U.S. is followed by Brazil, at 1,083,341, and Russia with 583,879. The U.S. also has the most recorded deaths at 119,977, versus 50,591 in Brazil and 42,717 in the U.K..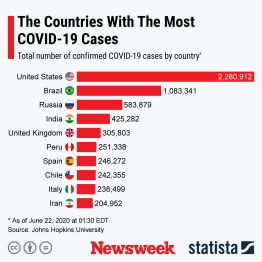 However, a model by Institute for Health Metrics and Evaluation (IHME) indicates that Brazil could surpass the U.S. and lead the world in deaths by August 1.
Last week, experts told Newsweek the U.S. could soon be hit by a rise in deaths, as cases have recently spiked in the south and west, and fatalities lag diagnoses.
Amanda M. Simanek, associate professor in epidemiology at the Joseph J. Zilber School of Public Health, University of Wisconsin-Milwaukee, told Newsweek the surge in cases may be the result of lockdown measures being eased too soon but the number of cases being observed should be considered in the context of who and how many are getting tested and the proportion that test positive.
"In some states, recent increases in cases are related to outbreaks of COVID-19 in food production facilities and congregate settings such as jails or assisted living centers where there is often rapid spread and a high number of cases detected in a short time frame, particularly when targeted testing is carried out," Simanek said. "Ultimately, in the context of increasing and widespread testing, if the percent of tests that are positive continues to increase over time, this is an indicator that the outbreak in an area is growing and increasing positivity rates have been observed recently in a number states with increasing cases."
Peter Drobac, a physician and specialist in infectious diseases and public health at the Saïd Business School at the University of Oxford, U.K., told Newsweek the idea increased testing is behind the rise is not supported by evidence.
"I'm extremely concerned that too little is being done to slow the spread of the virus in states where we're seeing surges," he said. "Political leaders are waving it away as a statistical anomaly. Many testing, contact tracing and isolation programs are still weak or non-existent. People are tired, anxious, insecure. Local governments are headed towards fiscal cliffs. And yet, this is just the beginning of the pandemic."
This article has been updated with Statista graphs and comment from Amanda Simanek.