Who Is Bill Burr's Wife, Nia Renee Hill?
Bill Burr, the comedian behind the Netflix series F is for Family, is receiving widespread attention for his Saturday Night Live opening monologue last night. Burr marked his SNL debut by referencing a handful of topics dominating national conversations right now.
In addition to comments about cancel culture and the novel coronavirus, he discussed the ongoing movement against systemic racism in the U.S., primarily calling out white women who have positioned themselves "at the front of the line." Burr's performance prompted debate on social media, as responses began to pour in Saturday night and continued through Sunday.
Reactions from viewers were varied, with some taking offense to the monologue, some calling it accurate, and more still feeling the stand-up act simply was not funny. Many cited the language Burr used when talking about women, people of color and LGBTQ people in their criticisms, calling it homophobic, misogynistic and crude, particularly since he is a white, straight man. But others who defended Burr's set asked critics to consider his marriage to actor Nia Renee Hill, a Black woman, in determining their opinions about his comments related to race.
"Context on Bill Burr: his wife, daughter, most of his friends and comic influences were black," one Twitter user wrote in response to a post denouncing Burr's monologue, noting much of Burr's comedy is "based on life experiences with friends/family." Photos of Burr and Hill have surfaced on Twitter alongside additional remarks about their relationship since the comedian's SNL appearance.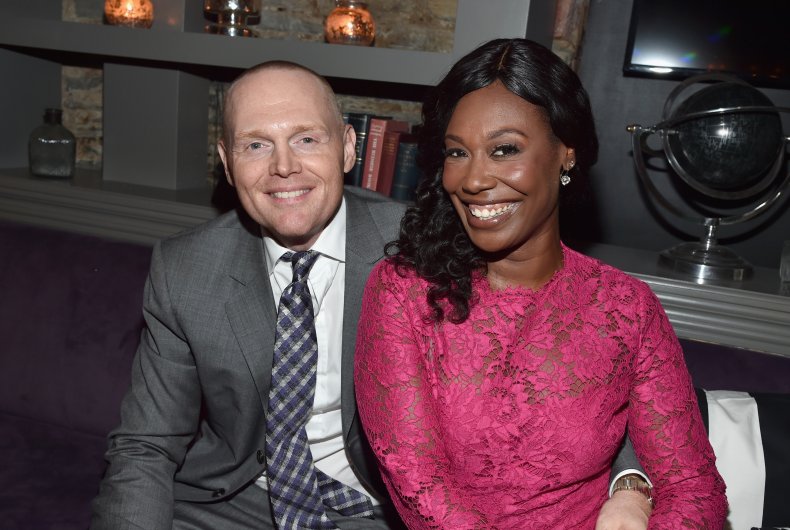 Hill, whose career in entertainment includes voiceover work and onscreen acting roles in addition to producing and directing credits, has appeared in television series like Santa Clarita Diet and Crashing. She has also held a recurring role in Burr's animated adult sitcom, F is for Family, since 2017. The series' fourth season premiered on Netflix in June and is expected to return to the streaming service for a fifth and final season next year.
Hill co-created the YouTube series "You Welcome" alongside comedian Marcella Arguello and is often featured on Burr's Monday Morning Podcast. Outside of television and comedy pursuits, she is a writer and former blogger whose work discussed issues related to feminism and race. Hill and Burr met in Boston and were married in 2013. They share two children, a 3-year-old daughter and 4-month-old son.