Who Is Bobi Wine? Ugandan Pop Star Turned Politician Charged With Treason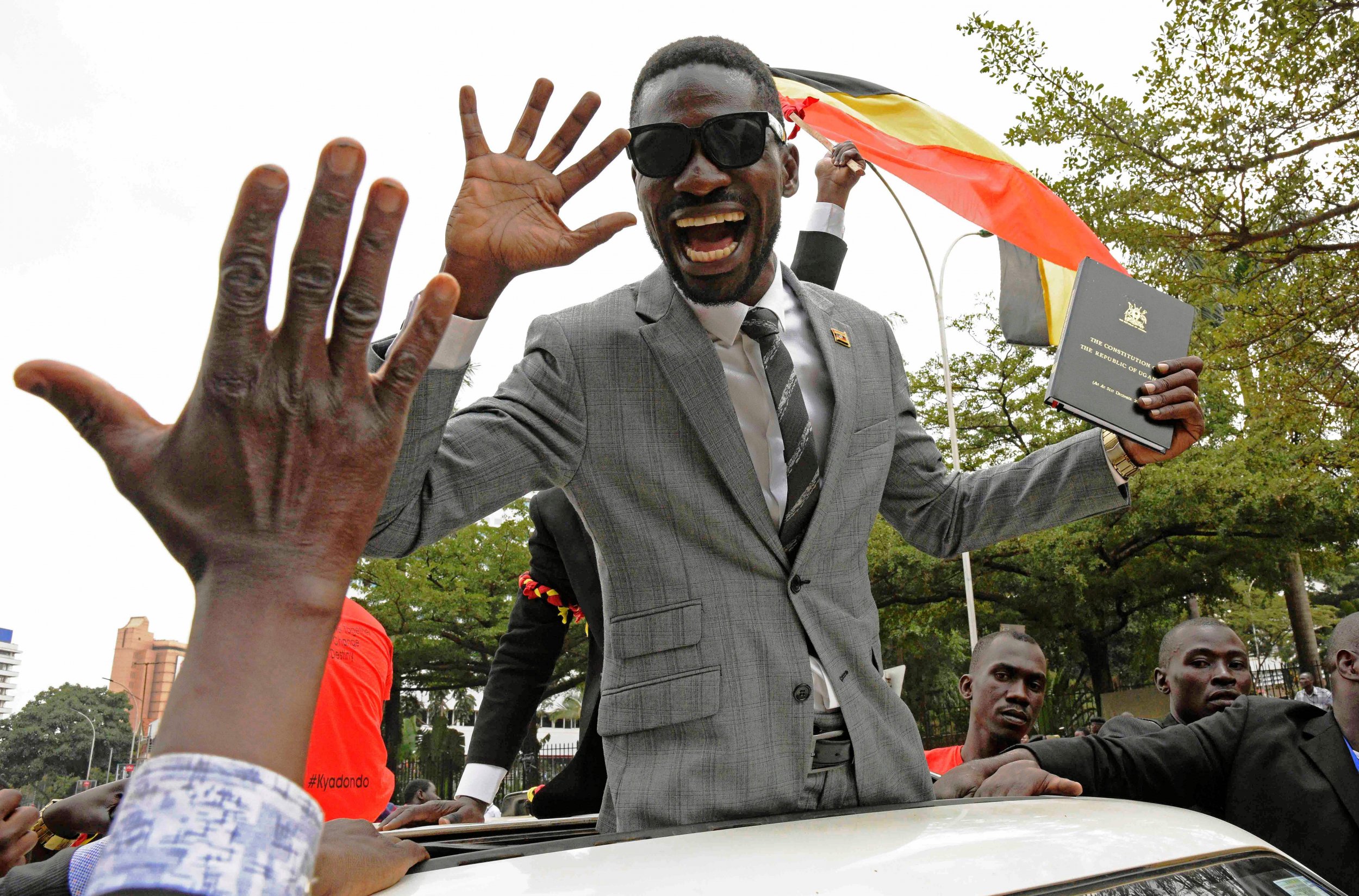 A lawmaker and pop star is facing charges of treason in Uganda, arrested only moments after a military court dropped charges against him.
Authorities first detained Bobi Wine, whose real name is Robert Kyagulanyi, alongside 30 others in the run-up to last week's by-election in Arua, northwestern Uganda. The government accuses Wine of planning to attack President Yoweri Museveni's convoy in the city with a group of other critics, an accusation widely viewed as politically motivated, the BBC reported.
As soon as a military court dropped weapons charges against him, a civilian court charged him with treason, prolonging his detention. His friends and supporters say that the performer and politician has been so severely beaten in custody that he may need to seek treatment overseas.
"His face looks better compared to when we saw him last week but he still can't walk on his own and complains of pain in various body parts," Asuman Basalirwa, a member of Bobi Wine's legal team, said, according to The Guardian. "The need for medical attention is urgent. There are serious complications. He may have to go abroad if his health allows it."
Basalirwa told Amnesty International that he had seen his client after his detention and beatings had left him with serious head and other bodily injuries.
The 36-year-old performer has long incorporated the themes of deprivation and injustice in his music but made his political intentions even clearer when he won a seat in parliament during last summer's elections. The musician's "People Power" slogan has made him popular and he has presented himself as a foil for 74-year-old Museveni, calling himself the "Ghetto President."
His detention in Arua followed a decision to support another critic of the government, Kassiano Wadri, who won against Museveni's party. Authorities then detained both lawmakers after the president's office said the two are suspected of taking part in pelting Museveni's motorcade with stones.
The musician later posted a photo on Twitter, purporting to show his driver, collapsed dead in a car seat, as he blamed police for the killing. "Police has shot my driver dead thinking they've shot at me. My hotel is now coddoned [sic] off by police and SFC," Al-Jazeera reported.
One of Bobi Wine's campaigns is a push to prevent Museveni from scrapping the age limit for a presidential candidate, which was set at 75 and would have prevented Museveni from running again in 2021. The government ultimately waived the age limit and Museveni will be able to stand for a sixth term.