Syrian military positions in the province of Hama and Aleppo were targeted Sunday by a series of strikes that caused an explosion reportedly strong enough to trigger an earthquake observed by neighboring countries.
Citing an unnamed military source, the official Syrian Arab News Agency reported that military positions in villages of Hama and Aleppo were hit by a still-unidentified rocket attack at around 10:30 p.m. local time (3:30 p.m. EDT), causing loud explosions. Al Jazeera said one of its correspondents confirmed explosions at a Syrian military base at Al-Bahouth mountain, in southern Hama.
Bassam Jaara, a supporter of the Syrian opposition, shared to social media pictures of what appeared to be flames and smoke rising from the Syrian countryside, saying "a large number" of casualties were incurred by an attack on what was believed to be an Iranian military position at "mountain 47" in southern Hama.
Wikileaks shared a video showing a massive explosion rocking the city. The whistleblower organization said earthquake monitors in Lebanon and Turkey recorded a blow strong enough to register on the Richter scale.
Israel allegedly launched airstrikes earlier this month on the nearby T-4, or Tiyas, air base in central Homs province, killing several Iranians. Israel has threatened to continue targeting Iran's presence in Syria, accusing Tehran of undermining Israeli national security. Iran has helped mobilize a vast network of mostly Shiite Muslim militias that not only supports Syrian President Bashar al-Assad in his seven-year war against rebels and jihadis, but also opposes Israeli and Western influence in the region.
Sunday's alleged attack took place as violent clashes erupted between pro-Syrian government militias, some of which are backed by Iran, and the Pentagon-established Syrian Democratic Forces near the eastern city of Deir Ezzor. The Syrian government and its allies, which include Russia and Iran, retook the city from the Islamic State militant group (ISIS) in November, but have clashed with the U.S.-backed militia, which was also fighting ISIS. Iraq, which considered both Syria and the U.S. as allies, has also joined the multinational battle against ISIS in eastern Syria.
Related: Can Iraq Get U.S. to Join Russia and Iran's War Against ISIS in Syria?
The U.S.-led ground offensive against ISIS, however, has undergone an "operational pause" since March, after a number of its Kurdish members left to battle fellow U.S. ally Turkey, which viewed some Kurdish Syrian Democratic Forces groups such as the People's Protection Units (YPG) as terrorist organizations. Those Kurdish fighters have grown closer to Assad, who considers both U.S. and Turkish military presence in Syria to be illegal.
The U.S. and its French and U.K. allies also targeted Syrian government positions earlier this month, launching a massive cruise missile strike on suspected chemical weapons facilities in Damascus and Homs.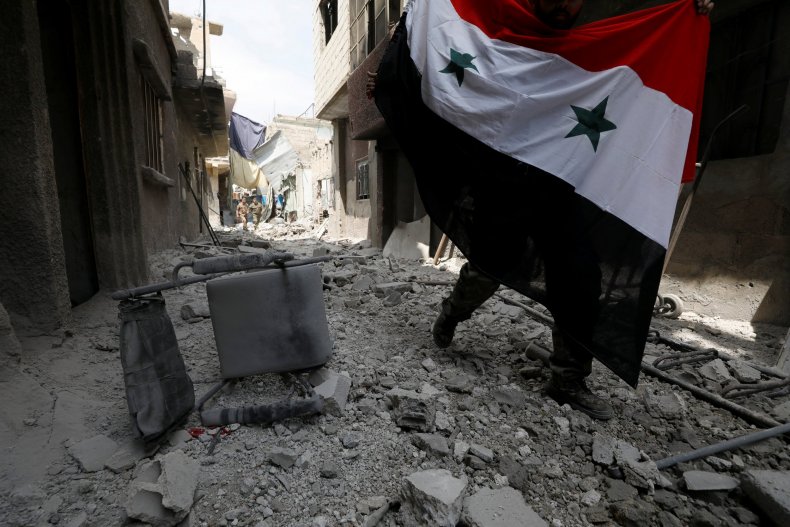 Russia, Assad's main military ally, has mulled bulking up Syria's defense systems after the recent attacks against Syria—something Israel has warned against. Russia has tried to balance its alliance with Iran in Syria and its relationship with Israel, but mounting hostilities between the two have put Moscow in a difficult position. Syrian anti-aircraft systems successfully shot down an attacking Israeli F-16 in February, shortly after Israel downed what it described as an Iranian drone in its airspace.
Israeli Defense Minister Avigdor Lieberman said Sunday at a Jerusalem Post conference that his forces would continue attacking Syria, and that "the State of Israel does not intend to remain a bystander" to Iran's presence there.
"We have no intention to attack Russia or to interfere in domestic Syrian issues," Lieberman said, according to Haaretz. "But if somebody thinks that it is possible to launch missiles or to attack Israel or even our aircraft, no doubt we will respond, and we will respond very forcefully."
Lieberman, who identified Israel's problems as "Iran, Iran, Iran," then accused Iran of "trying to destabilize the whole region." Iran has warned it was prepared to go to war to retaliate against Israeli strikes on its positions and allies.