Who is Brandon Rodriguez? Child Predator Used His Dog to Lure Children, Police Say
A child predator is wanted by police after authorities say he used his dog to lure children off the streets of New York City.
Brandon Rodriguez attempted to coax at least three underage girls into an apartment building on May 24 and 25, the New York Police Department said.
The 25-year-old was seen on camera walking his dog along a street in the vicinity of Pitkin Ave in Brownsville, Brooklyn, at 7:30 a.m. on Monday, according to CCTV footage released by the force on Monday.
Authorities said Rodriguez approached a 13-year-old girl that same day near Osborn Street and Pitkin Avenue and asked her to take a picture of him with his dog, Pix11 reported.
He then allegedly led the victim into an apartment building where he touched her inappropriately. He stopped her from leaving by placing a dog by the doorway and taking the girl's bag, according to the outlet. Rodriguez fled when the girl's friend called out to her, officials said.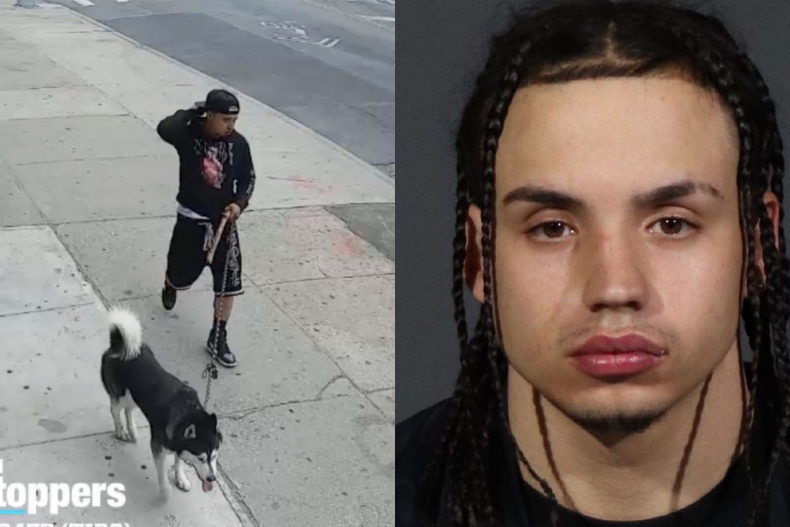 The following day, Rodriguez is believed to have used the same strategy; asking a 12-year-old girl on Christopher Avenue to take a picture of him with his dog. The girl ran away when Rodriguez allegedly tried to lead her into an apartment building, authorities said.
An hour later, Rodriguez allegedly asked an 11-year-old girl to take a picture of him with his dog near Watkins Street and Pitkin Avenue, officials said. However, the girl ran away when he allegedly tried to lead her into an apartment building.
Brooklyn grade school Leadership Prep Ocean Hill in Brownsville were aware of a man prowling nearby streets and warned parents of a suspected predator in a letter sent last week.
According to the letter, obtained by Pix11, the man had been wandering the perimeter of the school during drop-off and pick-up times with his dogs, one of which was a black and white Husky.
"We understand that this is a scary situation for our school community," the letter reportedly read. "We want to reassure you that the 73rd Precinct is in active pursuit of the described male...The 73rd Precinct has also increased presence in the area surrounding our school."
Police later identified the man as 25-year-old Brandon Rodriguez and are now asking for the public's help in locating him.
He is described as being about 5 feet, 5 inches tall and wears his hair in braids. He was last seen wearing a black hooded sweater and black pants. He owns two dogs, one of which is believed to be a Husky and another smaller breed.
Newsweek has contacted the New York Police Department for comment.