Who is Brian Austin Green's New Girlfriend Tina Louise?
Brian Austin Green, star of the television program Beverly Hills 90210, was spotted in Los Angeles Tuesday with Instagram model Tina Louise. Green recently announced his separation from actor Megan Fox, known for starring in the first two Transformers movies and a live-action reboot of the Teenage Mutant Ninja Turtles franchise. Fox and Green had been married for ten years.
Green and Louise were seen having lunch at Sugar Taco, a vegan Mexican restaurant co-owned by Louise. When approached by a photographer about his breakup with Fox, Green said, "You know I'm not going to talk about it."
Newsweek reached out to Green for comment. This story will be updated with any response.
Louise first became famous in Australia after photographs of her were published in Maxim magazine. In 2007, she was declared Australia's Hottest Bikini Model. "After that, I kinda blew up, featured on every magazine cover and swimsuit calendar in Australia," Louise told Inked Magazine in 2015.
A social media influencer with over 2 million followers on Instagram, Louise said she moved to the U.S. after realizing "how acceptable it was here to be a model with tattoos."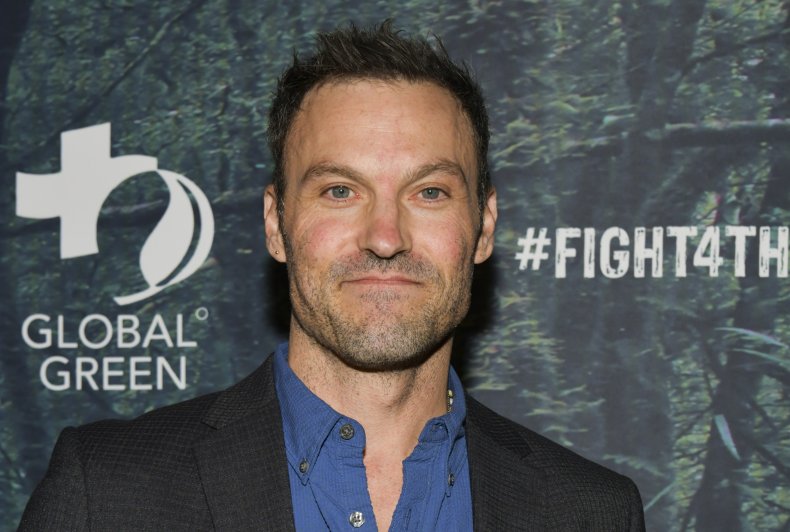 "I've always loved tattoos, but in Australia you are limited on what you can do, so I always restrained myself from getting more," Louise said. "After the first few months or so of moving I began my ink work, and now I book more jobs being a tattooed model then I did before when I had none."
Fox has been spotted in the company of rapper Machine Gun Kelly, whose real name is Colson Baker. Baker also appeared in the Netflix film Bird Box. Green revealed in May that Fox had spoken with him about her relationship with Baker prior to their split.
"I trust her judgment," Green said of Fox in a May episode of his podcast, ...With Brian Austin Green. "She's always had really good judgment. I don't want people to think her or he are villains or that I was a victim in any way."
Green said that he and Fox had separated in December 2019, but that she had been his "best friend for 15 years and I don't want to lose that." Green and Fox share three children. Green also has a son with actor Vanessa Marcil.
"It sucks when life changes and something that you're used to, that you've been doing for 15 years, you try and not get rid of but you change," Green added.
Fox had previously filed for divorce from Green in 2015, citing irreconcilable differences. However, the two stayed together leading Fox to dismiss the divorce motion in April 2019.