Who Is Brian France? NASCAR CEO Arrested for Drunk Driving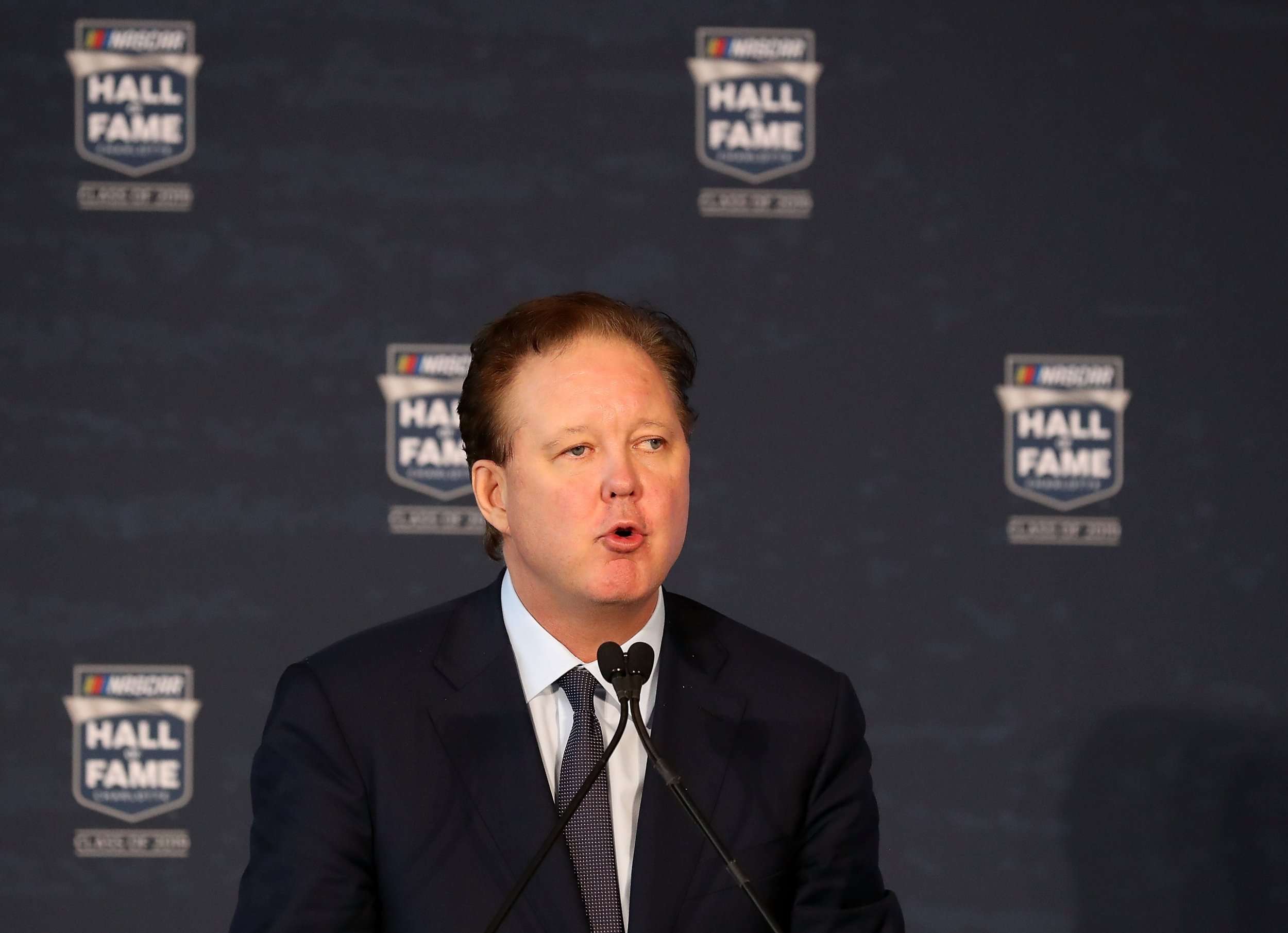 NASCAR has announced its chief executive and chairman will be taking an indefinite leave of absence after being arrested over the weekend.
Brian France was apprehended by the police in Sag Harbor Village on Long Island, approximately 100 miles east of New York City, at 7:30 p.m. ET on Sunday. He was held on driving while intoxicated and criminal possession of a controlled substance in the seventh degree.
In a press release, the police indicated the 56-year-old failed to stop at posted stop sign. Officers subsequently stopped the car France was driving and determined he was driving while intoxicated. According to Newsday, the police later revealed France was found in possession of oxycodone pills–an opioid medication normally used for the relief of moderate to severe pain.
France was held overnight in Harbor Village Justice Court for arraignment Monday morning and released on his own recognizance.
"I apologize to our fans, our industry and my family for the impact of my actions last night," France said in a statement.
"Effective immediately, I will be taking an indefinite leave of absence from my position to focus on my personal affairs."
According to the New York State Department of Motor Vehicle, the mandatory fine for aggravated drinking while intoxicated ranges between $1,000 and $2,500, on top of revoking the driver license for at least 12 months.
However, the offense can also carry a maximum jail term of a year.
On Monday afternoon, NASCAR confirmed France's would be temporarily replaced.
"Brian France has taken an indefinite leave of absence from NASCAR as chairman and chief executive officer," the statement said.
"Effective immediately, NASCAR Vice Chairman and Executive Vice President Jim France has assumed the role of interim chairman and chief executive officer."
The grandson of NASCAR founder William H.G. France, Brian France became NASCAR's chairman and CEO in September 2003. He replaced his father, Bill France Jr.
Named as one of the 100 most influential men and women of the Century by Time magazine in 2006, France's career in racing became as a janitor at the Talladega Superspeedway, before moving on to manage several short tracks.
After taking control of NASCAR, France secured a TV contract worth a record $4.5 billion and successfully introduced the season-ending 10-race Nextel Chase for the Cup, giving NASCAR its very own "post-season."
However, despite the blockbuster deal, France attracted criticism for allowing Toyota cars to compete in the sport. He also had to contend with a sharp drop in attendances, as the number of spectators fell 15% during his tenure.
The owner of Brand Sense Partners, which launched Britney Spears' line of perfumes, France endorsed Donald Trump during the latter's presidential campaign in 2016. The decision was met with intense scrutiny as Trump's disparaging comments over Mexican immigrants had led to NASCAR pulling its Xfinity Series and Camping World Truck Series award ceremonies from one of Trump's resorts only six months earlier.
Despite his support for Trump, however, France has widely been credited for spearheading an effort to increase diversity in NASCAR, in a bid to expand the sport's dwindling fan base.
Who Is Brian France? NASCAR CEO Arrested for Drunk Driving | Sports