A political hopeful in Georgia's gubernatorial race is capitalizing on anti-immigrant and anti-gun-control sentiment in his campaign for a spot on the GOP primary ticket, roiling critics who have said his statements have debased the integrity of his current position as secretary of state.
Brian Kemp has made a number of controversial statements in campaign ads and on social media since announcing his run for the state's top spot in 2017. The conservative politician, who served a term as a Georgia state senator from 2003 to 2007, is seemingly running against the political establishment in a campaign that mirrors that of President Donald Trump's 2016 run.
"If you want a politically incorrect conservative with a track record of fighting and winning for our values, then stand with me," the 53-year-old said on Facebook on Wednesday. "Together, we will put hardworking Georgians first!"
At the center of the controversy are two campaign videos. The latest video,released on Wednesday, features Kemp holding a shotgun and talking directly to the camera, while classic country music plays in the background. He boasts about "blowing up" government spending and taking "a chainsaw" to "rip up" government regulations.
"I got a big truck," he then says, "just in case I need to round up criminal illegals and take 'em home myself." Seemingly predicting the outrage the video would cause, he adds, "Yep! I just said that."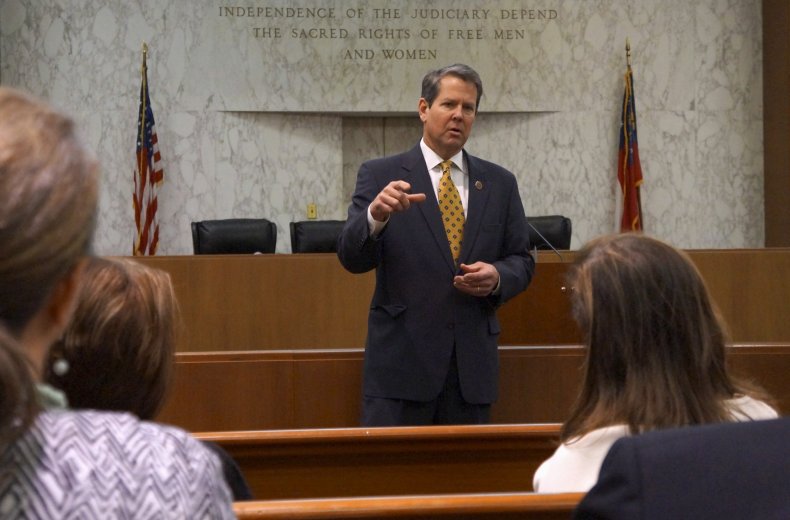 In the first video, released last week, the Georgia-born politician points a gun at a teenager who purportedly wants to date his daughter. After the teenager rattles off a list of reasons why Kemp should be elected governor, the political hopeful asks, "And two things if you're going to date one of my daughters?" "Respect," the teenager replies, before adding "a healthy appreciation for the Second Amendment, sir."
Callers complained to the local NBC affiliate, asking them to stop running the ad. Following outrage over the video, which was released amid renewed activism for gun control in the country, Kemp told detractors to "get over it."
According to a poll conducted by The Atlanta Journal-Constitution, Kemp is currently in second place with 10 percentage points. Although Lieutenant Governor Casey Cagle has a commanding lead of 41 points, he will need to earn at least 50 percent of the votes in the May 22 primary to avoid a runoff against his second-place challenger—who could be Kemp or one of five other hopefuls, who have scored below double digits. The newspaper reported that about one-third of primary voters are undecided, especially women voters in the state.
Some of Kemp's campaign promises include bringing "top speed internet" to rural Georgia, the expansion of agricultural business and a pledge to innovate the state's healthcare system, according to a digital flyer on his website. Cagle, meanwhile, is running ads that discuss improving the state's foster care and public school system, while also promising to give small businesses a boost. Both discuss improving the local economy.