Who is Brigitte Macron? How France's 'First Lady' Has Compared to Melania Trump
Unlike first lady Melania Trump, French President Emmanuel Macron's wife Brigitte Macron does not officially hold the title of first lady, something that has affected what she has been able to accomplish during her husband's close to one year in office. The first couples of France and the United States will be united at the White House on Tuesday for the first state dinner of Donald Trump's presidency.
As President Donald Trump's wife, Melania Trump in her role as first lady has expanded her footprint since her husband was inaugurated in January 2017. Having remained in New York with son Barron for close to the first five months of her husband's term, she has increasingly taken on tasks independently of the president.
Related: Melania Trump Chooses Clinton China for State Dinner Despite President's Attacks on Former Opponent
After visiting Hurricane Harvey victims in Texas alongside her husband wearing high heels that some Americans took as a sign of their disconnect with everyday citizens, Melania Trump revisited victims without him in December and gained praise for uplifting families and their children.
The first lady held her first major talk on cyberbullying, an issue she vowed to tackle, in March with tech executives. Her spokeswoman Stephanie Grisham later that month said Melania Trump's platform, which has yet to be announced, reached beyond just cyberbullying and will involve a variety of children's issues, "everything they're facing as a group."
Melania Trump, who has a design background, has embraced decorating the White House on holidays including Halloween and Christmas and planned the Easter Egg Roll event. In a tweet Monday morning before welcoming the Macrons to Washington, the first lady shared her "months of preparations" for the state dinner planned for Tuesday.
By contrast, Brigitte Macron is only a de-facto first lady because more than 275,000 French citizens signed a petition to make sure she didn't receive the official title, nor an office or a budget funded by taxpayer money. In France, presidents' spouses receive only office space, a small staff and security guards from the Elysee Palace budget.
Emmanuel Macron, who was upset by the pushback to his wife, told a Swiss broadcaster in January that he constantly speaks with her due to her "sensitivity" and the pair's shared outlook.
"She is not in the role of 'adviser.' That is not what she wants to do, anyway," he said at the time. "She embodies both femininity, and takes on a few areas within her gaze, to which she brings her light touch and sensitivity."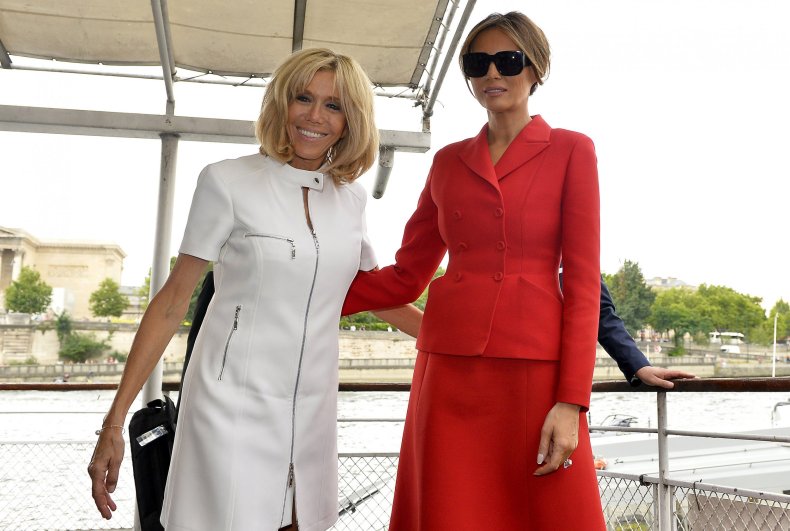 As a result, Brigitte Macron as France's "first lady" has been limited to mostly supporting her husband. Perhaps her most notable public role to date was welcoming and naming the first panda ever born in France. The birth of Yuan Meng, or "Dream Come True," was not just a significant zoological event but was hailed as a "big diplomatic moment" by China's ambassador to France.