Who Is Butterfly on 'The Masked Singer?' Clues and Celebrity Comments That Could Reveal Masked Identity
The Masked Singer is narrowing down its hidden celebrities week by week.
A handful of singers remain, and some have of them have generated more speculation surrounding their possible identities than others. One conversation that keeps returning is who is under the Butterfly costume.
So far, a handful of clues about Butterfly have been revealed. Each time a celebrity performs on the pre-recorded singing show, a "clue package" gives new insight into the identity of the secret singer. Judges are then required to make guesses for who could be under the mask. Each week, conversations from fans take over Twitter with possible guesses, too. The singer is only revealed when they are voted off the show.
Some of Butterfly's clues seemed to show the masked celeb at a photoshoot. That could imply Butterfly is a model or someone else from Hollywood who has participated in a handful of photoshoots. An early clue, which debuted before the premiere episode, said Butterfly is clumsy. The exact wording said Butterfly "bumps into everything" and doesn't want to "fall over." Some fans seemed to think this celebrity may have had a famous fall, like at an awards show or another public event.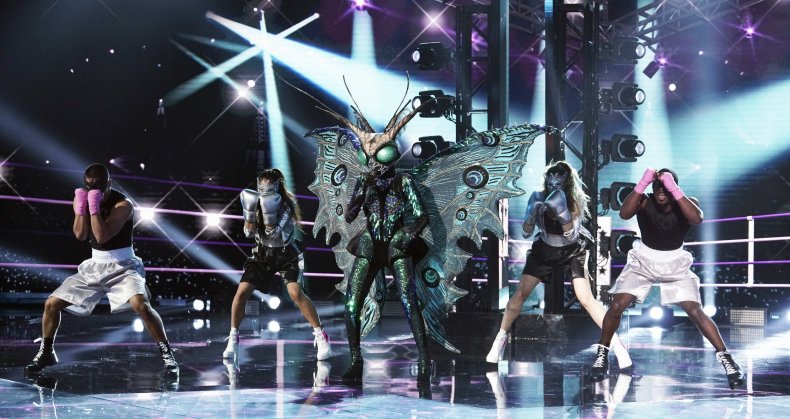 Another clue related the concept of metamorphosis to growing through changes in one's life and career. This seemed to imply the celebrity has been in a variety of different avenues of entertainment.
A common guess was Kelly Rowland of Destiny's Child. She recently denied involvement in The Masked Singer.
"I promise I'm not doing The Masked Singer," Rowland told Andy Cohen on Watch What Happens Live With Andy Cohen on Sunday. "By the way, I have asked people as well because I've watched, and I've been lied to too," Rowland said of Patti Labelle, revealed last week as Flower. "So, we stand in the same position."
Before the reveal of Labelle under the Flower mask, the singer denied being part of the singing competition while visiting Cohen's show.
Rowland isn't the only celebrity to deny involvement with The Masked Singer. Adrienne Bailon is a popular guess for Flamingo, and one agreed upon by both judges and fans. Bailon has twice said that she is not on the show, but that hasn't stopped fans from thinking she's under the mask.
Another popular guess for Butterfly's identity is Michelle Williams. Also a member of Destiny's Child, Williams has a few relating traits to Butterfly's clues. First, many pointed out Williams famously fell during a 2004 performance on 106 & Park. Butterfly also said they've lived in London, which Williams has.