Who Is Buying Online Political Ads? We Need to Know
The team I led as Director of Digital Advertising on Hillary Clinton's campaign invested over $100 million in digital advertising during the 2016 election.
At the time, we knew we were competing with the Trump campaign, RNC, and typical array of Republican Party groups to persuade and mobilize voters.
But we didn't know that the Russians were competing with us, too.
Despite the rapid change we've experienced to date, we're still at the beginning stages of understanding how the Internet impacts our society.
We've needed a solution to knowing who's behind political digital advertising buys for years. Broadcast and cable operators have mandatory and self-imposed disclosure systems for ads run on their networks, which go even further to impose standards of accuracy and truth in advertising they oversee. But online, the public is left out in the cold.
The 2016 election has only underscored the need for the tech industry to join these operators in at least increasing the level of transparency—a value Silicon Valley purports to champion. Indeed, this moment offers a chance to take the first step in increased transparency and create a disclosure system that allows Americans to see who is spending what to buy political ads online.
Let's set aside the debate, for a moment, on whether or not these Russian orchestrated advertising campaigns determined the outcome of the election. If we acknowledge that Russia's primary goal in their 2016 interference was to seed distrust in the American elections and in our democracy, which the intelligence community has, then the fact that we're even having this debate means they've succeeded.
I know how something this shocking could have happened. Before joining Secretary Clinton's campaign, I led the Elections and Issue Advocacy media team at Google. We offered our clients—political campaigns for every level of office from city council to beyond—a self-service advertising platform that provides access to 90 percent of people on the Internet. There are virtually no mechanisms in place for the public to see who is buying what. It's not hard to see why that's a problem.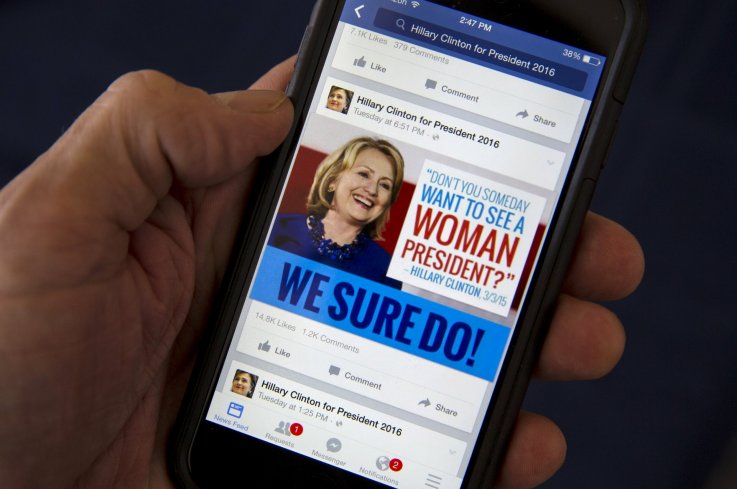 Senators Amy Klobuchar and Mark Warner, and FEC Commissioner Ellen Weintraub, have recognized this. Their advocacy for a system that would at least offer transparency similar to television advertising should be commended.
However, it's clear that the current era is marked by an extremely partisan environment that doesn't lend itself to solutions from either Congress or regulatory agencies. Not to mention, any kind of regulatory solution would likely lack the resources and technology needed to enforce it, and that's before addressing the prospect of the Supreme Court potentially blocking any regulations.
It's incumbent upon Silicon Valley to act in crafting a solution as they have a responsibility to lead. At the same time that Facebook CEO Mark Zuckerberg's company was making sales pitches to advertisers about the imperative to be present on the platform to reach people in the "moments that matter", Zuckerberg said the notion that content like fake news on Facebook could've played any role in influencing the 2016 election was a "crazy idea". Recently, he's walked back those words, but tech leaders have yet to take steps toward any meaningful action.
Silicon Valley certainly has the resources and technology to tackle this in a smart and thoughtful way. For example, Google and YouTube have made marked strides in identifying extremism online using artificial intelligence technology and machine learning capabilities they've developed. It's not hard to imagine these capabilities being developed further to aid in the creation of an ads disclosure system so Americans can know who is buying political ads to influence their votes in each election.
If we can't stop foreign adversaries from spending vast sums to influence American elections, then the public at least deserves to know how much and what kind of ads are being bought by whom. This task presents formidable obstacles. But technology companies are equipped with the talent and technology to address them, create a system that engenders public confidence and can prevent foreign actors committed to circumvent it. The question is whether they have the will.
Until we address this issue, anyone—Russian-backed entities or otherwise—can pull a page from the 2016 playbook to influence our elections, and seed and foster instability without anyone realizing it until it's too late. This is Silicon Valley's time to carry the torch forward and prove they're not ceaselessly idealistic without a commitment to pragmatic responsibility to balance it out. In the future, the ability to guarantee fair and free elections that determine so much for all Americans—Republicans, Democrats, and Independents alike—may well depend on it.
Jason Rosenbaum is former Director of Digital Advertising at Hillary for America and former Director of Elections & Issue Advocacy at Google.
Who Is Buying Online Political Ads? We Need to Know | Opinion