Who is Catt Sadler? E! Host Quits After Discovering Male Colleague Made Nearly Double Her Salary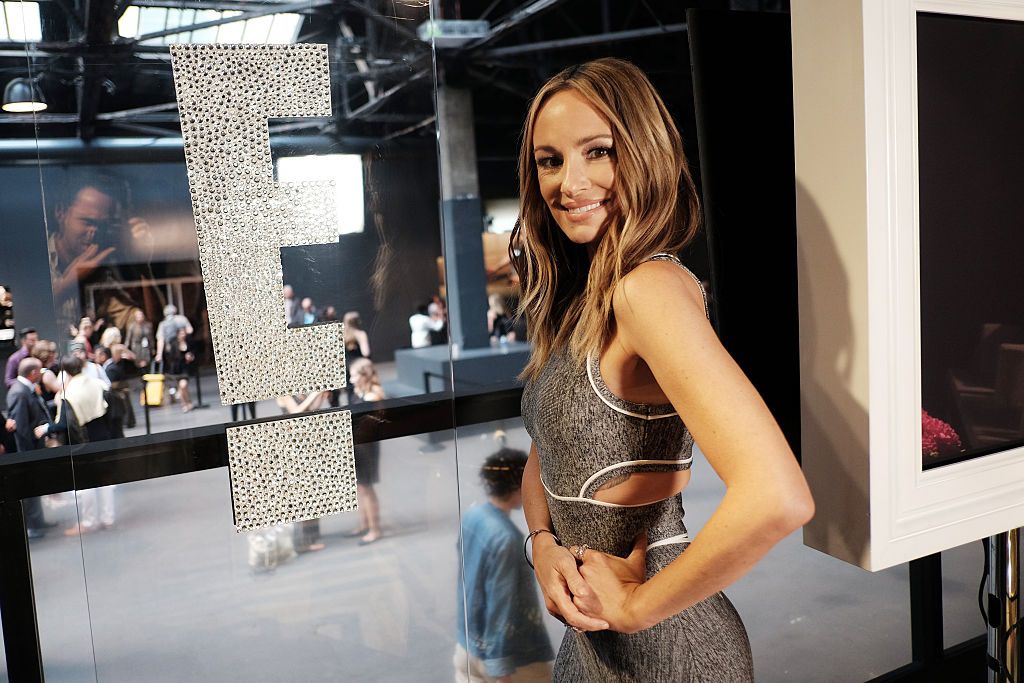 Catt Sadler hosted shows on the E! network for more than a decade, becoming a familiar figure on the small screen for E! News, red carpet specials and, more recently, the new daytime talk show Daily Pop.
But on Monday the well-known host left the network that has been her home since 2006. Immediately after her last turn hosting E! News, she explained why.
Sadler's younger male colleague, who started at E! around the same time she did and had similar roles on some of the same shows, made more than her, she said. And not just a little more, nearly double. E! wanted her to stay on when her contract came up for renewal, but she said the network refused to raise her salary to match—or even to come close to matching—what her "tv husband" earned.
"Information is power. Or it should be. We are living in a new era. The gender pay gap is shrinking, although admittedly we have a long way to go. And well, I learned this first hand. My team and I asked for what I know I deserve and were denied repeatedly," Sadler wrote in the letter on her website Tuesday explaining why she left. "How can I operate with integrity and stay on at E! if they're not willing to pay me the same as him? Or at least come close?" she wrote. "How can I accept an offer that shows they do not value my contributions and paralleled dedication all these years?"
Sadler, from Martinsville, Indiana, got her start as an intern at Fox 59 in Indianapolis, where she then worked part-time during college and went on air for the first time on the 10 p.m. news segment "Youth Matters." She spent four years in San Francisco as an entertainment reporter for KBWB/KNTV, then returned to Indianapolis to host Indiana Lottery's Hoosier Millionaire and emcee at Indiana Pacers games.
In 2006, E! hired Sadler as one of three hosts on The Daily 10. She remained at the network until this week, hosting other shows even after The Daily 10 was canceled in 2010.
When she found out that her dream job paid her so much less than E! News and red carpet co-host Jason Kennedy, she was hurt.
"It's almost insulting because you know you work really hard," Sadler told People magazine on Tuesday. "I'm a single mom of two kids. I've given my all to this network. I've sacrificed time away from my family and I have dedicated my entire career to this network. And when you learn something like that, it makes you feel very small and underappreciated and undervalued," she added. "It's heartbreaking."
The network, at least publicly, wished Sadler a loving farewell on Tuesday as she hosted her last episode of E! News.
"E! compensates employees fairly and appropriately based on their roles, regardless of gender," a spokesperson for the network said in a statement to People. "We appreciate Catt Sadler's many contributions at E! News and wish her all the best following her decision to leave the network."
Sadler promised her fans she would be back on screen soon.
"It was important for me to explain my departure. I did not want to disappear from your television screens and have you wonder why," she wrote on her website. "I will find more work. I will create content with meaning," she added. But "the way I see it," she added, "I have an obligation to be an agent for change."
She told People she was inspired by women such as Jennifer Lawrence and Oprah Winfrey, who have both spoken out about pay disparities. But the E! veteran emphasized she didn't want the situation to "reflect poorly" on Kennedy.
"Jason Kennedy is one of my best friends in the whole wide world. He is like a brother to me," she told People. "He has been such a champion for me in every sense. But it's not his decision. It's important that people don't vilify him because he isn't the problem—the system's the problem, the structure's the problem."