Who Is Chadwick Boseman's Wife, Taylor Simone Ledward?
On Friday, Chadwick Boseman, the 43-year-old actor who played the titular hero in the 2018 Marvel superhero film Black Panther, died of colon cancer at 43, leaving behind his wife, Taylor Simone Ledward.
Ledward is a singer who graduated from California State Polytechnic University Pomona in 2014 with a bachelor's degree in Music Industry Studies. During her studies, she was the lead singer of the school's jazz band.
Paparazzi first saw Boseman and Ledward together in 2015 inside Los Angeles International Airport and then again in June 2017 outside the studio of the late-night talk show "Jimmy Kimmel Live!" where Boseman appeared as a guest.
The two have been somewhat secretive about the details of their relationship. In fact, their relationship was first confirmed by Ledward's grandmother during an interview with the celebrity magazine In Touch in 2018.
The couple began attending red carpet events following Black Panther, however.
They attended the 91st Annual Academy Awards at Hollywood and Highland on February 24, 2019, in Hollywood, California, and also the 21 Bridges screening at AMC Lincoln Square Theater on November 19, 2019 in New York City.
In 21 Bridges, Boseman played a police detective who shuts down the titular 21 bridges of Manhattan while hunting down two suspected cop killers.
Boseman first publicly acknowledged his relationship to Ledward on March 30, 2019 at the 50th NAACP Image Awards in Los Angeles, California.
While accepting the award for Outstanding Actor in a Motion Picture, Boseman kissed Ledward before proceeding onstage. During his acceptance speech, he said, "Simone, you're with me every day. I have to acknowledge you right now. Love you." She mouthed back the words, "I love you."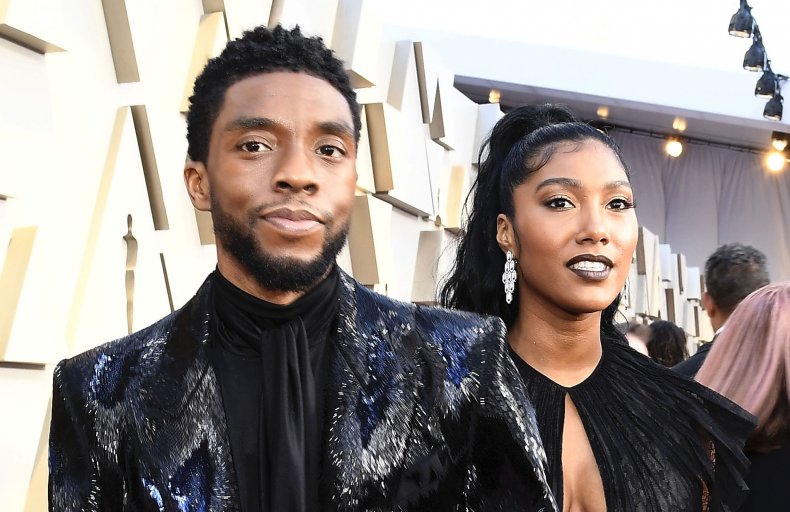 In October 2019, it was revealed that the two had become engaged. Boseman reportedly proposed to her while the couple vacationed in Malibu, California.
The last publicly available photos of the couple show them sitting courtside at the 69th NBA All-Star Game at United Center on February 16, 2020, in Chicago, Illinois.
It's unclear when two might have married as they had reportedly planned for a wedding sometime in 2020. Nevertheless, the statement released by Boseman's press team after his death referred to Ledward as his "wife."
"It was the honor of [Boseman's] career to bring King T'Challa to life in Black Panther. He died in his home, with his wife and family by his side," the statement read. "The family thanks you for your love and prayers, and asks that you continue to respect their privacy during this difficult time."