Who Is Chasen Nick on 'The Bachelorette' and Does Tayshia Adams Send Him Home?
There's some drama brewing in the Bachelorette bubble, and two men are at the center of it all. Tuesday night's episode will revolve around Chasen Nick and Ed Waisbrot, apparently, because one of them (wait for it) may not be there for the right reasons.
Tayshia Adams is in for not only a dramatic group date but an equally dramatic rose ceremony mid-episode, according to Reality Steve, because Nick and Waisbrot can't keep the peace. It will begin with something called the "Grown A** Man Challenge," a group date that puts the men's relationship skills to the test. Then, Waisbrot will be given a not-so-flattering award called the "man-child award," which may contribute to the odd interactions.
In Waisbrot's mind, Nick "isn't there for the right reasons," according to Reality Steve. It's a line viewers have heard hundreds of times since the Bachelor franchise was born. What it really means? Nick might be on the show to promote his personal brand. While that's a waste of Adams' time, it certainly wouldn't be the first time someone came on the show just to boost their career (*cough* Jed Wyatt *cough*).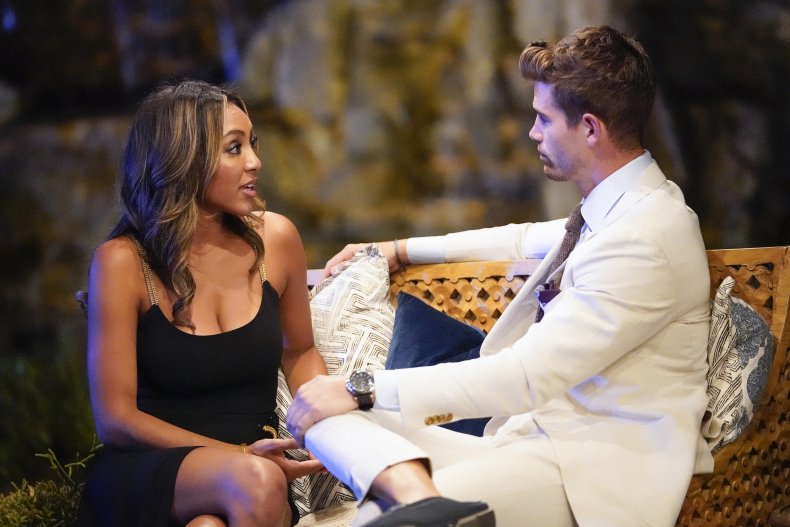 Things apparently accelerate to a point where Adams must get involved. She'll speak to Nick at the cocktail party, but ultimately, neither Nick or Waisbrot will be sent home on Tuesday night. We'll just have to see how willing Adams is to believe that Nick is sincere, and Waisbrot isn't just starting drama for the fun of it.
Nick's Bachelorette biography lists some interesting facts about him. First, "Chasen's nickname is 'Wolverine' because, according to his friends, he recovers and heals quickly," it explains.
He's a 31-year-old IT Account Executive who calls his time on The Bachelorette his "latest adventure." But Nick didn't have the easiest past when it comes to romance. "After ending a two-year toxic relationship with his co-worker, Chasen says he is finally in the right headspace to find his future bride," the bio says. "Chasen's dream girl is the perfect combination of beauty and brains. He loves women who take pride in staying fit and can carry on a meaningful conversation without any awkward silences."
As for Waisbrot, the 36-year-old healthcare salesman, he appears to be more interested in physical qualities than personality. His Bachelorette bio reveals that Waisbrot's "biggest turn on is a woman with beautiful eyes."
His bio also reads: "Ed is looking to find a woman who has natural beauty without looking overly fake. He has a weakness for women who can joke around and be playful, and would love to find someone to enjoy one of his many aquatic hobbies with, like kayaking or paddle boarding."
In terms of being there for the right reasons, Waisbrot may have some explaining to do, too. Apparently, he "loves all-inclusive resorts." If that's the case, we're sure he's finding his Bachelorette time at La Quinta more than comfortable.