Who Is Chris Jordan? Julius Jones Claims Co-Defendant Murdered Paul Howell
Julius Jones, whose death sentence was commuted Thursday just hours before he was scheduled to be executed for the 1999 murder of Paul Howell, has long maintained he didn't commit the crime. Instead, he has said, Christopher Jordan is responsible. Jordan, a co-defendant during the 2002 trial, testified against Jones for a plea deal that gave him a lesser sentence.
In early November, Jones appeared before the Oklahoma Pardon and Parole Board to make his case for clemency. He told the board, "I am not the person responsible for taking Mr. Howell's life," according to local NBC affiliate station KFOR-TV.
"I was not present during this robbery, and I did not know that anyone had been killed until the day after Mr. Howell was murdered," Jones added.
Jones and his lawyer said they believe Jordan was the person who killed Howell in Edmond, Oklahoma, in 1999. During the trial, Jordan was alleged to be Jones' accomplice.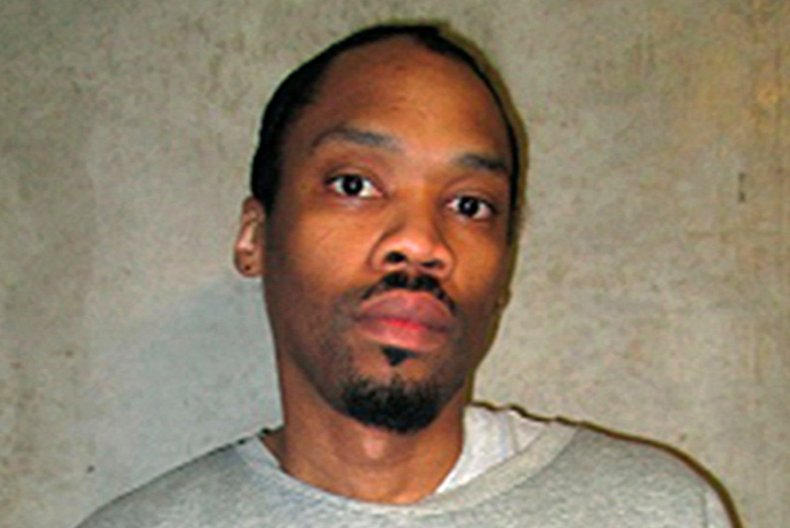 Jones and his attorney told the pardon and parole board that Jordan planted the gun and the red bandana that Howell's shooter was wearing in Jones' closet, where it was found by police.
"Chris picked me up between 11-11:30 that night," Jones told the board. "He told me he got into it with some guys and shot at them."
Attorneys at the Oklahoma attorney general's office and the Howell family still believe Jones is guilty. They point to DNA evidence from the bandanna that linked the garment to Jones. Nonetheless, the pardon and parole board voted 3-1 to recommend clemency for Jones, which Oklahoma Governor Kevin Stitt granted Thursday. Jones' sentence was commuted to life in prison without the possibility of parole.
Jordan was the state's key witness against Jones in the murder trial. His agreement with the prosecution gave him a 30-year sentence for his testimony, but he was released after about half that time, according to Oklahoma Department of Corrections records.
Jones' clemency petition also cited statements from three different people who were incarcerated with Jordan. All three men said Jordan had separately confessed to them that he had killed Howell and framed Jones.
Jordan has since maintained a low profile. But in September his attorney released a statement to ABC News in regards to the Jones' case.
"Chris Jordan maintains his position that his role in the death of Paul Howell was as an accomplice to Julius Jones," the statement from the lawyer, Billy Bock, said. "Mr. Jordan testified truthfully in the jury trial of Mr. Jones and denies 'confessing' to anyone."