Who is Christopher Nixon Cox? Richard Nixon's Grandson is Reportedly Joining the Trump Administration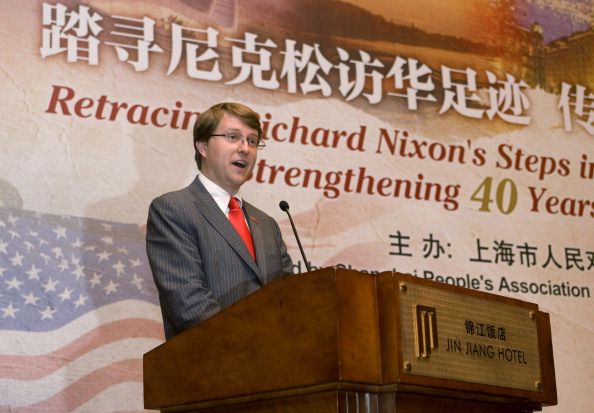 The grandson of late President Richard Nixon may be joining the Trump administration as an economic staffer, according to a recent report by Bloomberg.
Christopher Nixon Cox is currently a managing partner and co-founder of OC Global Partners LLC. The financial services company focuses on international consulting and investment advising. Cox is in charge of advising American companies on selling products in foreign markets.
Before joining OC Global Partners LLC, Cox was a corporate associate at the law firm of Weil, Gotshal & Manges. At the firm he was responsible for working with major private equity fund clients on business acquisitions.
The grandson of late President Nixon, Cox, 39, grew up in New York. He holds a bachelor's degree in politics from Princeton University and a juris doctor degree from New York University School of Law. He also went on to earn a certificate in finance from New York University Stern School.
In 2008, Cox served as the executive director for New York in Senator John McCain's 2008 presidential campaign. In 2010, Cox was a political candidate himself, running for office in New York's 1st congressional district but ended up finishing third in the Republican primary race.
In 2016, Cox was elected to the board of directors of the Richard Nixon Foundation. The foundation works with the National Archives and Records Administration to collect and preserve documents from Nixon's presidency.
According to Bloomberg, Cox would be joining Trump's economic team to help on trade with China. Two people familiar with the situation said discussions about Cox's portfolio are ongoing but the hiring is not yet official.
Trade tensions with China are high as Trump and his top officials continue to slam the country with tariffs. The latest round of trade penalties amounted to $200 billion on Chinese products, which resulted in Beijing retaliating with levies on $60 billion worth of U.S. goods.
But the White House announced on Thursday that it is moving forward with plans for the president to meet with Chinese leader Xi Jinping at a summit in late November during the Group of 20 leaders' summit in Buenos Aires.
Trump warned on Thursday that he could do much more that would hurt China's economy in an interview with Fox News.
"It's had a big impact," Trump said of the tariffs imposed on the nation. "Their economy has gone down very substantially, and I have a lot more to do if I want to do it.