President Donald Trump declared his support for Cindy Hyde-Smith ahead of the fiercely contested Mississippi Senate special election. In a series of tweets, Trump described Hyde-Smith as a candidate who "helped me put America first!"
"She's strong on the Wall, is helping me create Jobs, loves our Vets and fights for our conservative judges," he wrote.
The endorsement will likely be a major boost in Hyde-Smith's campaign following her opponents' questions about her Republican credentials. Before switching to the GOP in 2010, Hyde-Smith spent most of her political career as a Democratic state senator, although she frequently voted with Republicans on major issues, reported the Mississippi Clarion-Ledger.
Since then, Hyde-Smith has been a major supporter of Trump, and is currently the only senator who has voted 100 percent in favor of his legislative agenda items. Her loyalty did not go unnoticed by the president.
"Cindy has voted for our Agenda in the Senate 100% of the time and has my complete and total Endorsement. We need Cindy to win in Mississippi!" Trump said.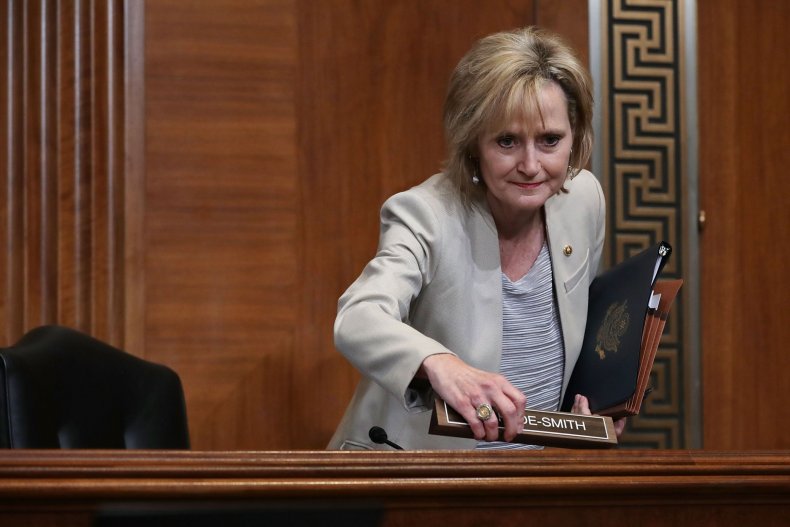 In April, Hyde-Smith was appointed by Governor Phil Bryant to succeed longtime Republican senator Thad Cochran after he stood down due to health problems.
Later that month, Hyde-Smith's campaign team appeared to prematurely announce the endorsement from the president and Vice President Mike Pence. The Clarion-Ledger reported that a fundraising letter containing the Trump administration's support for her was drafted and accidentally emailed by an outside vendor hired by her team.
Earlier this month, the National Rifle Association (NRA) announced it was backing Hyde-Smith in November's election, which also features Republican Chris McDaniel and Democrat Mike Espy.
"Cindy Hyde-Smith is an ardent supporter of the Second Amendment and will work to ensure that our constitutional rights are protected," said Chris W.Cox, chairman of the National Rifle Association Institute for Legislative Action. "Hyde-Smith will protect our right to keep and bear arms in the U.S. Senate and vote to confirm Supreme Court justices who respect the Second Amendment."
Following the show of support from the pro-gun lobbyists, Hyde Smith tweeted: "I understand that our right to bear arms is essential to American Liberty—and no law-abiding Mississippian should EVER be denied their constitutional rights. Proud to be the ONLY NRA-endorsed candidate in this race."
Hyde-Smith, who was a candidate for Trump's agriculture secretary and co-chaired the campaign's Agriculture Advisory Committee, won the battle for his endorsement despite the president backing McDaniel in the previous race in 2014. "I could not be more honored to have your endorsement," she said.