Who Is Cindy McCain? John McCain's Widow Is Among Candidates for His Arizona Senate Seat
Senator John McCain's death on Saturday at the age of 81 has left open the question of who could take his seat in Arizona. According to reports, it could be his widow and mother of several of his children, Cindy McCain.
Arizona Republicans told The New York Times that she is under consideration for the seat, along with former Arizona House representatives John Shadegg and Matt Salmon, who served five terms.
Cindy McCain, 64, is a philanthropist and businesswoman who had been representing her husband at public events in recent months while he battled brain cancer. If selected by Arizona Governor Doug Ducey, she would be the first woman to represent the state in the Senate.
She formerly served as chairwoman of the humanitarian group HALO USA that focuses on cleaning up landmines and other explosives in war-hit areas. In recent years, she called for state and federal legislation to prevent human trafficking through the McCain Institute's Human Trafficking Program, and has spoken out for victims.
Cindy McCain was considered for a role as a State Department "ambassador-at-large in Washington, focusing on a specific issue such as human trafficking," according to The Arizona Republic, but she was not ultimately selected.
The late senator's wife of more than 37 years has accepted various awards on behalf of her husband, including the Munich Security Conference's Ewald von Kleist Award in February. The following month, she read a statement for him at the Salt River development unveiling ceremony. She also stood in for him at a ceremony recognizing him at Grand Canyon National Park.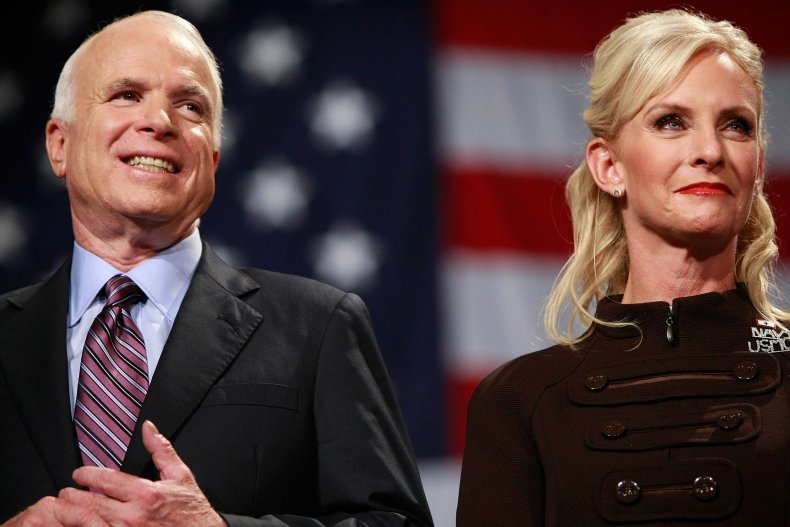 Cindy McCain serves as chairwoman of her family's beer distribution company Hensley Beverage Co. and is the majority owner.
Ducey must choose a Republican to fill John McCain's seat, and the person would serve until a November 2020 special election. The victor of the special election would then serve until 2022. Ducey declined to comment on who he would select for the Arizona seat as John McCain's health worsened over the past several months, and said he will not make an announcement until after the funeral.
Cindy McCain tweeted a statement from her family on Friday on her husband's decision to discontinue treatment. After he died Saturday, she tweeted: "My heart is broken. I am so lucky to have lived the adventure of loving this incredible man for 38 years. He passed the way he lived, on his own terms, surrounded by the people he loved, in the…place he loved best."