Police have named Connor Betts, 24, of Bellbrook, Ohio, as the suspected gunman in a mass shooting that killed 9 people and injured 27 more in Dayton, just after 1:00 a.m. local time, the Associated Press confirmed.
At 12:20 local time, Assistant Chief of the Dayton Police Department Matt Carper confirmed the suspect's identity his date of birth was Oct. 28, 1994.
Betts was killed by police shortly after the shooting began.
At the noon press conference, officials also provided the names of the nine victims allegedly killed by Betts, including the suspected gunman's sister, Megan Betts, 22.
Carper declined to comment on whether the Betts family was cooperating with the ongoing police investigation.
Police and FBI agents executed a search warrant at Betts's family home in Bellbrook at 10:30 a.m. local time according to Bellbrook Police Chief Doug Doherty.
According to reporters from local TV station WRGT, investigators removed large amounts of evidence from the scene.
Doherty became emotional as he told reporters that he knew some of the alleged gunman's neighbors in the "small-town friendly" community of 7,000 residents.
On LinkedIn, a profile that appears to belong to Betts lists him as a student at Sinclair Community College and a crew member at Chipotle Mexican Grill. In the "About" section he describes himself as "Good under pressure. Fast learner. Eager to overachieve."
Public records indicate that Betts was registered to vote, listing his party affiliation as Democrat. His only prior offenses were two speeding tickets in 2013 and 2014.
The attack lasted less than a minute. A gunman, allegedly Betts, armed with a .223 caliber high-capacity magazine, additional magazines, and a long gun, was able to strike 35 people outside of the Ned Peppers bar on East Fifth Street before nearby police could respond.
Bystander Izack Johnson recorded a video near the scene of the violence. A barrage of gunfire can be heard as more than 20 shots ring out during the 46-second clip.
Police confirmed at an earlier press conference that the suspect was shot by responding officers who prevented him from entering the bar, where he could have done more harm.
"While this is a sad day for the city, I am amazed by the quick response of the police that saved literally hundreds of lives," Dayton Mayor Nan Whaley told reporters earlier in the day.
It remains unclear what the motive was for the shooting. At noon, Carper was still unable to provide an explanation, saying that investigators were interviewing dozens of people and reviewing a large amount of evidence. "Speculating at this point would be premature," he told reporters, promising to provide more information at 4 p.m.
While the motive remains unclear, Carper did say that victims appeared to be shot at random, adding, "Due to the short timeline of the violence it's hard to imagine there was much discrimination in the shooting."
Carper also declined to comment on speculation circulating on social media that the alleged shooter was photographed in clothing with satanic symbols.
"Today is the 250th mass shooting in America. It's sad that it was in the city of Dayton," Whaley said.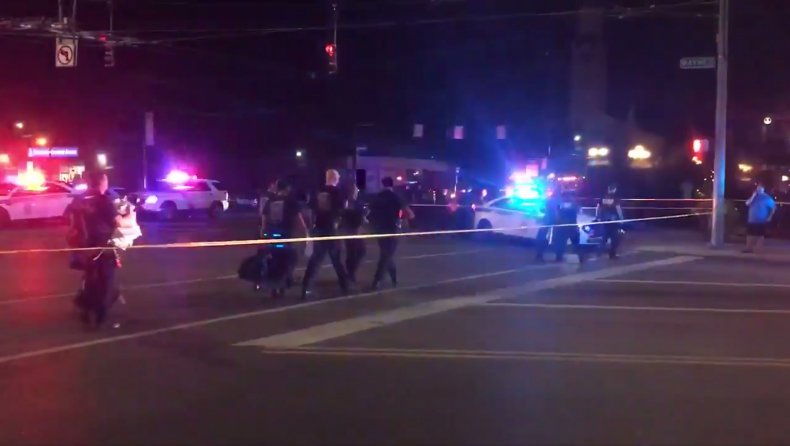 This story will be updated as more information becomes available.