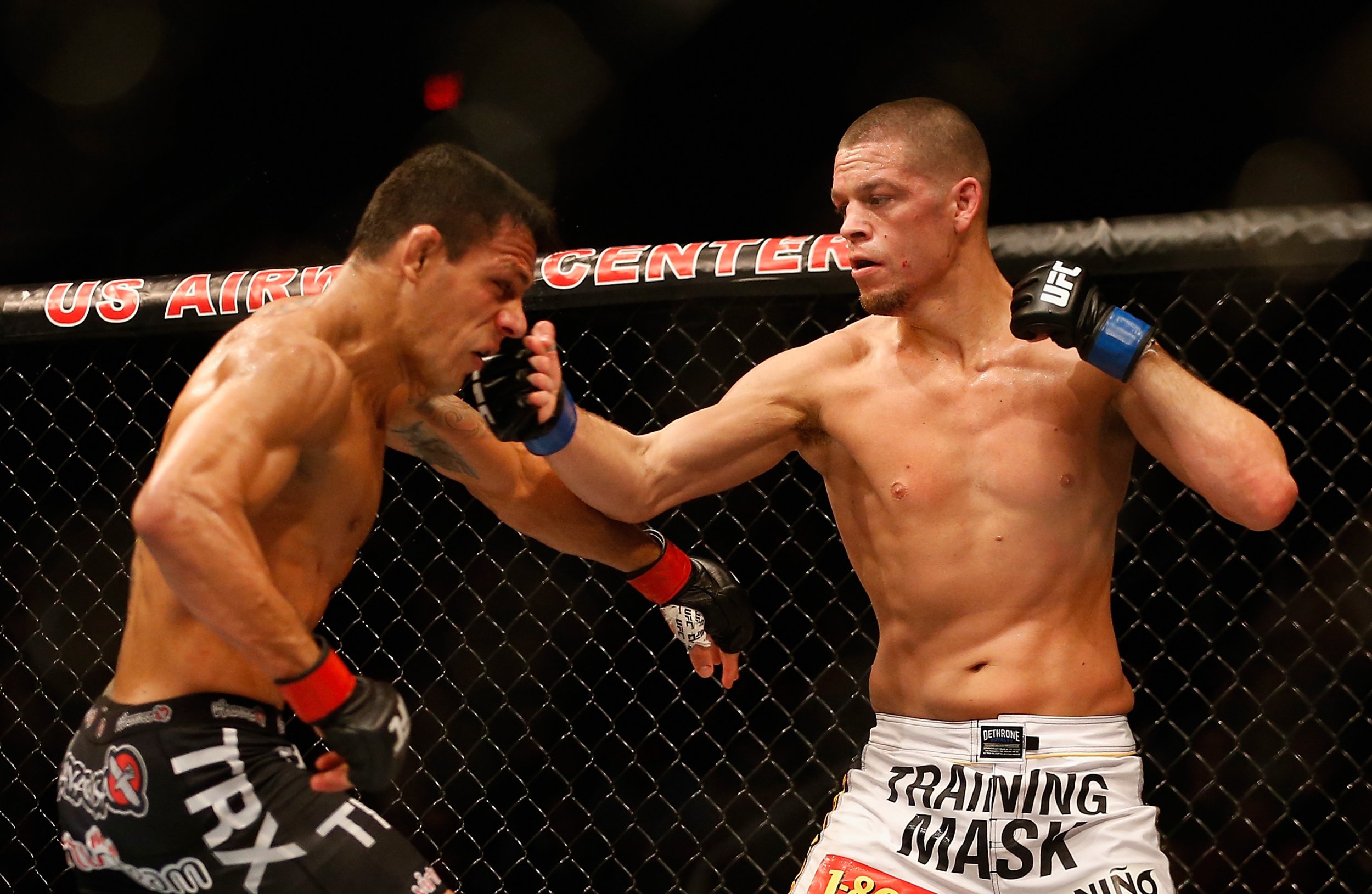 Conor McGregor may no longer be fighting Rafael Dos Anjos at UFC 196 in Las Vegas on March 5, but in the Brazilian's place comes a challenge that presents very different difficulties.
Dos Anjos, the Brazilian, has broken his foot and been forced to pull out of the bout against McGregor at the MGM Grand Garden Arena in which he was set to defend his lightweight belt against the Irishman.
He has been replaced by Nate Diaz, news confirmed by UFC President Dana White on Tuesday night. Diaz was the third-choice stand-in, after Frankie Edgar and Jose Aldo, the man McGregor knocked out in 13 seconds in December 2015 to win the UFC featherweight belt; both turned down the opportunity to step in at late notice, according to White.
Diaz has 10 defeats on his mixed martial arts record, but he has a well-deserved reputation for being an exciting fighter, with six "Fight of the Night" honors earned during his UFC career.
More worryingly for McGregor, Diaz, a former UFC lightweight title challenger, is used to fighting at welterweight. That is where the McGregor fight will now take place—at 170 pounds, two weight classes above the Aldo fight and one above the weight at which the Dos Anjos contest was scheduled to take place.
That is not necessarily a problem for McGregor, who was naturally big for a featherweight and feels more comfortable, and powerful, at lightweight.
More of an issue is Diaz's experience. The 30-year-old Brazilian jiu-jitsu expert from Stockton, California, has fought four times at welterweight, winning twice and losing twice. McGregor has never had a welterweight bout.
Still, the Irishman comes into the fight as the betting favorite, given Diaz has taken him on at such short notice.
There is another reason why Diaz is a fascinating opponent for McGregor, aside from having a markedly different style from the Dublin man. He talks as violently as he fights. After his victory over Michael Johnson at UFC on Fox 17 in December 2015, he launched into an unprintable tirade against McGregor on live television, accusing McGregor of taking on a "clown" in Dos Anjos.
In other words? Like McGregor, Diaz knows how to sell a fight, which is good news for White because there is only a short window now in which to do that.
McGregor has not got the opponent he was training for. Diaz brings wildness into the octagon, which could be a good thing for McGregor if he keeps his cool. But therein lies the strange excitement engendered by Dos Anjos' withdrawal. Suddenly, no one can claim to know what is going to happen in "Sin City" in March.
About the writer
Sportswriter at Newsweek.