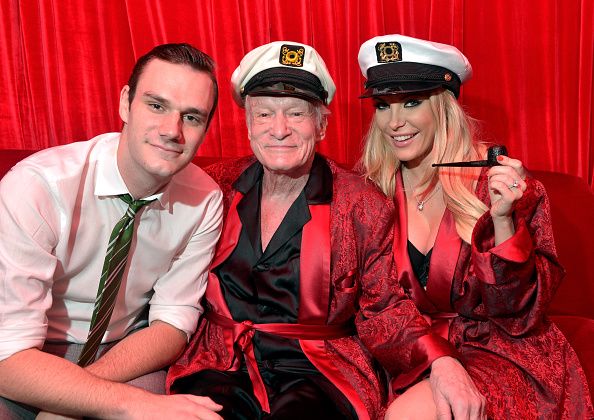 Even before Hugh Hefner died Wednesday at age 91, his son Cooper was poised to take on his father's legacy. Last October, the Playboy magazine founder stepped down from his role as chief creative officer of Playboy Enterprises and Cooper stepped in. At the time he was only 25 years old. His father remained involved with the magazine at least until August, when Cooper said he still received input from him about the monthly. But now Cooper will have to mourn his father and run with his own vision alone.
Here are 14 quick facts about Cooper Hefner:
He's 26 years old: Cooper Hefner was born to Hugh Hefner and Kimberley Conrad on September 4, 1991, in Los Angeles.
There was a nude portrait of his mother in the library growing up: "Yeah, that was weird," Cooper told The Hollywood Reporter for a profile published in August. "It was like the elephant in the room." Conrad was named Playmate of the Year in 1989, the same year she married Hefner. On Mother's Day in 2016, Cooper asked his mom to re-create her cover from August 1988 as part of a series looking back at former Playmates from the 1970s through the 1990s.
He attended Ojai Valley School and Chapman University: He attended the private, college-prep school in Ojai, California. Though it was a boarding school, he emphasized to LA Weekly that "I had a great childhood, and I was always home on the weekends." He went on to major in film production at Chapman University in Orange, California.
His politics are progressive: He's a liberal from a family of liberals. "I'm a liberal, and I have a real issue with the conservative side feeling like they own the military," he said. He joined California State Military Reserve in January. He's said he wants Playboy to have a voice on issues like "Free the Nipple" and thinks the company should be a major, if not the major, philanthropic force for breast cancer awareness. "Talk about a relevant Playboy Foundation," he said.
Just this past week he tweeted "a reminder for all as there's a tremendous amount of hate permeating the news cycle throughout the US these days," he said. "Freedom and acceptance of others will always end up on the right side of history. No ands, ifs, or buts about it."
He's a big proponent of the First Amendment: "One of the reasons why I respect my dad so much was that he fought for the First Amendment," he said. "He spent his life fighting for freedom of the press, freedom of expression."
He's even considered running for office (as a Democrat): "If I wasn't doing what I was doing, I would pursue a career in politics," he said. "I actually almost ran for Congress this past election in the 37th District. It's still something I want to do." However, he's also said he thinks he might not be electable because of his affiliation with Playboy.
He isn't a Trump fan: And apparently, neither was his father. "We don't respect the guy," he told THR. "There's a personal embarrassment because Trump is somebody who has been on our cover." He added: "Yes, there are lifestyle components to Playboy, but it's really a philosophy about freedom. And right now, as history is repeating itself in real time, I want Playboy to be central to that conversation."
He founded and served as CEO of Hefner Operations & Productions (HOP): A media startup targeting the "cool nerd," Cooper integrated HOP with Playboy Enterprises when he returned to his father's company in 2016.
He's pro-nudity in Playboy magazine: Cooper vehemently disagreed with the decision to abolish nudity in the pages of Playboy magazine. "When you have a company and the founder is responsible for kick-starting the sexual revolution," he said, "and then you pluck out that aspect of the company's DNA by removing the nudity, it makes a lot of people including me sit and say, 'What the hell is the company doing?'" He insisted that the issue wasn't the existence of nudity in the glossy print magazine, but rather "the way in which the nudity and the girls were portrayed."
He's engaged to Scarlett Byrne: Byrne—an actor who appeared in the last three Harry Potter movies and the television series The Vampire Diaries—posed nude for Playboy and penned an accompanying manifesto titled "The Feminist Mystique" (a clear allusion to Betty Friedan's iconic 1963 book The Feminine Mystique). In it she explained that she did the shoot to support Cooper and because she saw it as an "opportunity to make a statement about equality between the two sexes." Cooper first saw her in the Potter movies, and his little crush led him to try to get his friend Scout Willis (daughter of Bruce Willis and Demi Moore) to introduce them.
He seems to be a pretty big Harry Potter fan: And the fact that he obviously saw the movies and is engaged to Byrne is not the only indication. One of his most recent tweets, from Wednesday evening, is a home video from when he was still a teenager and turned his home into Hogwarts. It's hard to imagine anyone who's not a big fan going to the trouble. "Throwback to when we turned my home into Hogwarts. I may have worn a cloak, and we may have been a bit too old, but we had a great time," he tweeted. Then he added: "Thank you to the Internet & iMovie of eight years ago for the box office quality special effects. #stupify #blockbusterhomemovies."
He's not a big sports fan: Cooper plays Ping-Pong but otherwise doesn't participate in or watch sports much. "If you ever want to shut yourself off to an intellectual conversation, talk about sports," he said.
He's trying to revamp Playboy for new generations: "Creating something that resonates with my generation and the generation that comes after mine is how I'll measure my accomplishments," he told THR. He added that for a time, Vice Media had turned the heads of the demographic he wants to appeal to, but that "nobody is viewing them as some pirate ship any longer."
He also doesn't want the company to feel like a fraternity. "Playboy went too 'bro-y,'" he told LA Weekly, recalling a time when the company was going in a direction he didn't like. "It was appealing to the frat guy, instead of doing a better job of catering to my friends, the creatives and current tastemakers of this generation."
Cooper found it difficult to watch his father's health fading: "It's tough to watch him struggle," he told THR for the August profile. "But I'm just happy it's physical and not mental."