Who Is Corey Feldman's Wife, Courtney Anne Mitchell? 'Angel' Offers Support Amid Abuse Allegations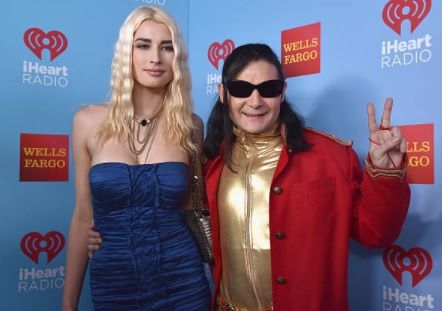 While people like Corey Haim's mother accused Goonies star Corey Feldman of lying about the alleged abuse he endured as a child, Feldman's wife, Courtney Anne, stood by her husband's side. The actor went on The Dr. Oz Show Thursday and accused John Grissom of molesting him in the '80s. Mitchell supported Feldman on Instagram days before he accused Grissom of molestation.
"I am beyond proud of the way my Husband handled the hard hitting questions dolled out by NBC's Matt Lauer yesterday morning," she wrote Tuesday. "You handled yourself like a pro and put him in his proper place all whilst maintaining your composure. God Bless You for staying true to yourself and not backing down. I am so proud to be by your side as your wife."
Mitchell, who describes herself as one of Feldman's "main angels," plays keyboards in his band, Corey Feldman & the Angels. She is also a model, a vegan and a nutritional coach.
The couple married at Caesars Palace in Las Vegas in November 2016 after four years of dating. Feldman proposed a few days before they made things official.
"I was, of course, a bit nervous, as any man will admit; you never truly know what a woman is thinking," he told People magazine last year after proposing. "She was surprised because we had both been so anti-marriage since we met. But seeing as she's Canadian and with [Donald] Trump coming in, we didn't want to risk being separated by new immigration laws."
Feldman's marriage to Mitchell is his third.
The Goonies star created the Truth Campaign, where he asked for $10 million in donations to create a documentary for which he promised to expose the men allegedly involved in Hollywood's "pedophile ring."
The first person he named was actor John Grissom, who starred in the 1988 movie License to Drive and Dream a Little Dream in 1989, alongside Feldman and Haim.
Haim's mother, Judy, accused Feldman of being a fraud. While Feldman has long said that Haim was abused by multiple men frequently, Judy claims it was one incident with one man.
"He's been talking about revealing the names of his and other abusers for seven years, since my son died," Haim's mother told The Hollywood Reporter Saturday. "Now he wants $10 million to do it? Come on. It's a long con. He's a scam artist. If he was serious about this, he'd share the information he has with the police."
But Feldman did contact police when he appeared on Dr. Oz's television show Thursday. He filed a report with the Santa Barbara Police Department.
Grissom did not immediately respond to the accusations.