Who Is Current CEO of Starbucks? About Kevin Johnson After Howard Schultz Announces Potential 2020 Presidential Run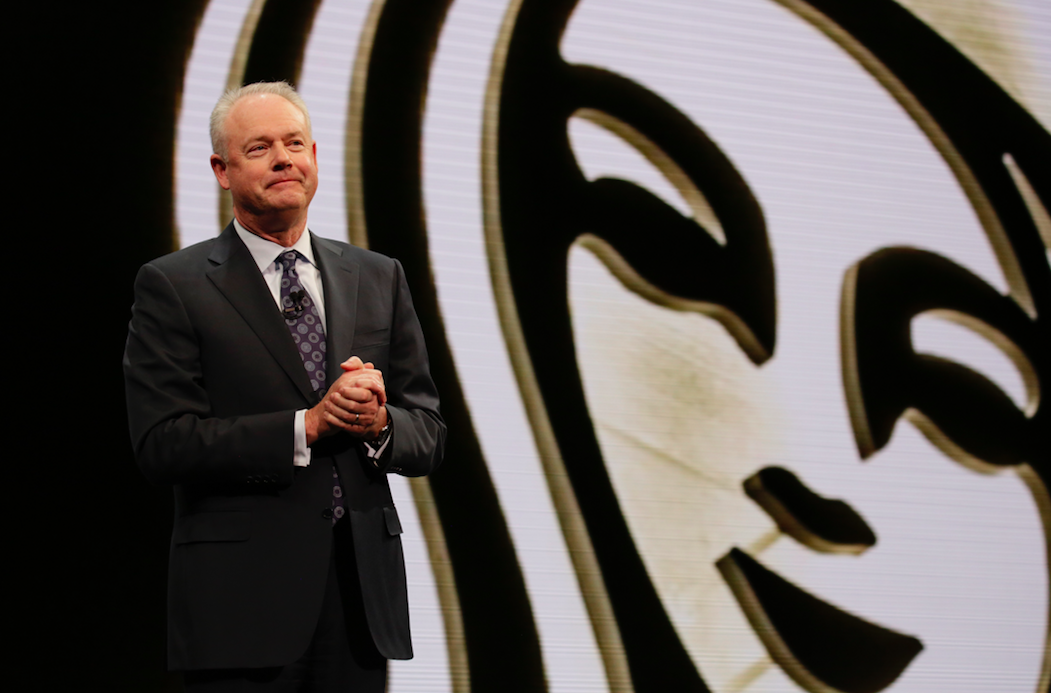 Some people wondered about Kevin Johnson, the current CEO of Starbucks, after company's former CEO, Howard Schultz, revealed he might run for president in 2020.
In a statement through Starbucks, the coffee giant said they do not get involved in political affairs. "As a company, we don't get involved in national political campaigns. And nothing changes for Starbucks," they statement said. "As we have for the past 48 years since Starbucks was founded, we will continue to live Our Mission and Values and create a great Starbucks customer experience in each of our stores."
Johnson, 58, joined Starbucks in 2009 and served on the board of directors during a time of "record-setting" renovation and development at the company. Johnson, who studied at New Mexico State University, transitioned into his next role in March 2015, where he became president and chief operating officer. Following that move, in April 2017 he was promoted to president and CEO, where he took over for Schultz.
"I believe that success is defined by how we enhance the human experience not just for ourselves, but for others as well," Johnson wrote in a LinkedIn post.
"That is why Starbucks has been a gift in my life journey. As CEO, I serve the 330,000 Starbucks partners around the world who proudly wear the green apron, a purpose that brings me joy," he continued. "In turn, Starbucks partners have the privilege of serving over 90 million customers a week, and I believe that they, too, are finding purpose in their work."
For his part, Schultz revealed on Monday he was considering a presidential run. Though a longtime Democrat, he said he would run as a "centrist independent" because there were "extremes" on both sides of the Democrat and Republican parties.
"We're living at a most fragile time," Schultz explained to Scott Pelley on CBS's 60 Minutes on January 27. "Not only the fact that this president is not qualified to be the president, but the fact that both parties are consistently not doing what's necessary on behalf of the American people and are engaged every single day in revenge politics."
President Donald Trump certainly wasn't afraid of potentially going up against Schultz in 2020. "Howard Schultz doesn't have the 'guts' to run for President!" he tweeted Monday. "Watched him on @60Minutes last night and I agree with him that he is not the 'smartest person.' Besides, America already has that! I only hope that Starbucks is still paying me their rent in Trump Tower!"
Update 1/29 at 12:42 p.m. ET: This story has been updated to clarify that Starbucks issued a statement after Schultz announced his potential 2020 presidential bid. The headline has been charged to reflect this update.