Who is Cyril Ramaphosa, Jacob Zuma's Likely Successor?
As the liberator of South Africa from almost 50 years of enforced racial segregation, the African National Congress (ANC) is held in an almost divine esteem among many voters in the country.
But the party's reputation has been hit by its worst election result since 1994 and multiple scandals involving its current leader, President Jacob Zuma, have left many ANC insiders questioning his viability to lead and looking to other candidates.
One of the leading candidates, Deputy President Cyril Ramaphosa, received a huge boon to his presidential ambitions on Thursday when South Africa's largest trade union group threw its backing behind him to become the next ANC leader.
The Congress of South African Trade Unions (COSATU), which claims to represent 1.8 million workers, said that although it was not part of the ANC's voting structure, it represented "members and supporters" of the party.
COSATU added that it would "work to lobby and influence the ANC structures" ahead of the party's scheduled leadership conference in December 2017, when Zuma is expected to step down and a successor will be elected. While Ramaphosa has not yet declared his candidacy, he now looks poised to succeed the man he has served as deputy since 2012.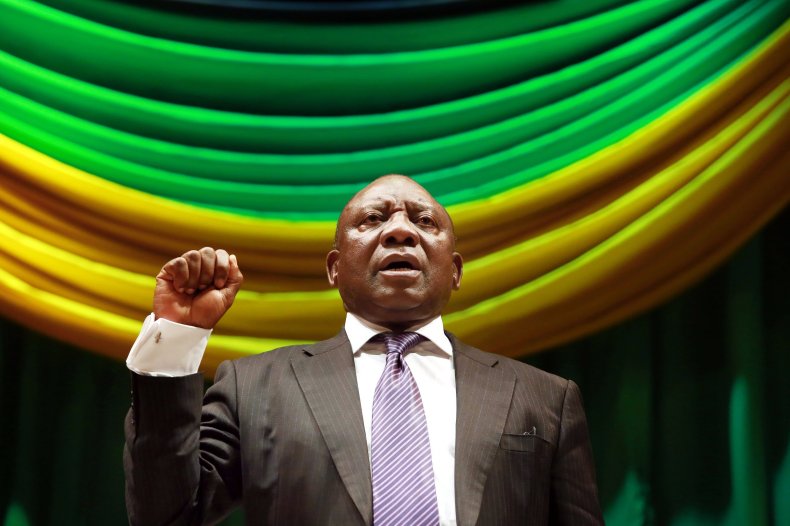 COSATU's endorsement of Ramaphosa is not entirely unexpected. The deputy president founded the National Union of Mineworkers—one of COSATU's affiliates—in 1982 and was a key figure in the struggle against apartheid. Ramaphosa was elected as the ANC's secretary-general in 1991 under Nelson Mandela, who would go on to be elected president in 1994, signalling the end of apartheid.
After Mandela's victory, Ramaphosa took the lead in drafting South Africa's prized constitutions. He was thought to have harbored ambitions to assist Mandela as his deputy, but the latter chose the more experienced Thabo Mbeki, who went on to succeed him as president. Ramaphosa opted to take a period out of politics (reportedly on the advice of Mandela's former physician, Dr Nthato Motlana) and pursued business interests.
The Soweto-born politician went on to become one of the most successful black South African businessmen in the post-apartheid period. Forbes estimated Ramaphosa's wealth at $450 million in 2015, making him the second-richest black South African behind mining magnate Patrice Motsepe.
The ANC deputy leader has a wide variety of business interests through his investment firm, the Shanduka Group, although he stepped down as the firm's chairman in May 2015 and has sidelined his business interests since returning to politics in 2012. Nevertheless, under his leadership, Shanduka took a controlling stake in the McDonald's franchise in South Africa and also had interests in mining, real estate, banking and telecoms. Ramaphosa's business acumen is well-acknowledged and he sits on various business boards, including Coca-Cola's international board of advisors.
But his business interests have led him into controversy. The 2012 Marikana clashes—in which South African police killed 34 people after firing on allegedly armed miners striking over pay at the Marikana mine in the country's northeast—has continued to dog Ramaphosa. The Marikana mine was owned by Lonmin and Ramaphosa sat on the company's board.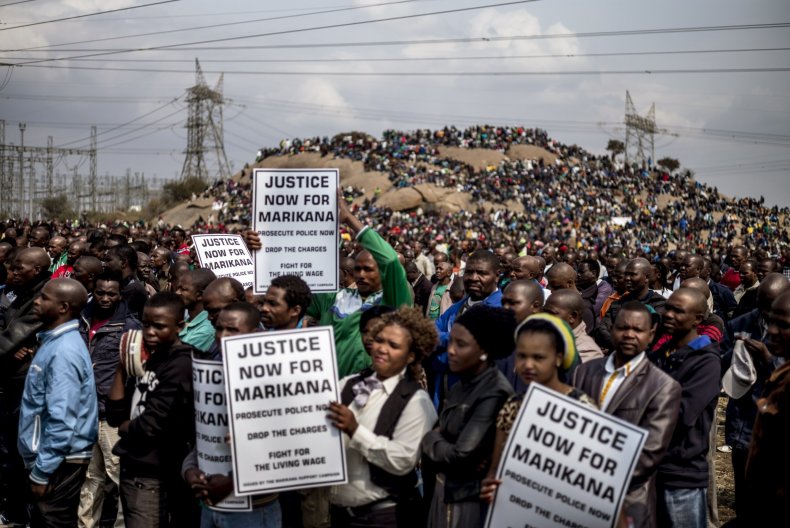 Emails written by Ramaphosa and later shown to an official commission of inquiry into the killings showed that the deputy president had called for "concomitant action" against the striking miners on the eve of the incident. "They are plainly dastardly criminal and must be characterized as such," Ramaphosa wrote to another senior Lonmin official. The revelation led to accusations that Ramaphosa had abandoned his roots in the mining community. A statement from the National Union of Metalworkers on Friday reflected that ill feeling, as the union criticized COSATU's endorsement of Ramaphosa and said he was "directly implicated in the massacre" of the Marikana miners.
After returning to active political office in December 2012—when he became Zuma's deputy—Ramaphosa has sought to increase the party's appeal to the white middle class, as well as putting out political fires started by Zuma. He has also shown himself to be willing to stand against the president at times. Ramaphosa recently expressed his backing for South African Finance Minister Pravin Gordhan, who was facing charges of fraud in what many thought was a manifestation of the power struggle between Zuma and the Treasury. The charges were later dropped.
As opposition attempts to dislodge Zuma have proved unfruitful and the ANC is resisting pressure to remove him for now, the South African president is likely to have another year in power. But the issue of who will succeed him is growing in prominence each day. With COSATU's endorsement, Ramaphosa is likely to be near the head of the pack.