'The Bachelorette' 2020 Premiere: Who Is Dale Moss? Meet The Man That Totally Changed the Show
The Bachelorette has yet to begin, and it already seems to be more than dramatic. Spoilers imply this season of the dating show won't look like anything viewers have seen in the 15 seasons that have come before Clare Crawley takes over on Tuesday night.
Apparently, Crawley won't be the only Bachelorette on Season 16, and her time on the series won't last long. It's all because of one man: Dale Moss.
Spoilers crept into the public eye over the summer and claimed Crawley stopped filming when she fell in love with Moss early in the show. This kind of plot twist will be a first for viewers who have always wondered why a Bachelor or Bachelorette hasn't yet run happily into the sunset with their soulmate before the season's end.
Well, it's about to happen.
While it's definitely possible that Crawley and Moss had instant chemistry on the show, fan theories suggest the pair may have started communicating digitally before the season began filming. This is because of a delay in production due to COVID. Some of Crawley's suitors were already revealed when filming halted, meaning she could have connected via social media. And who would blame her?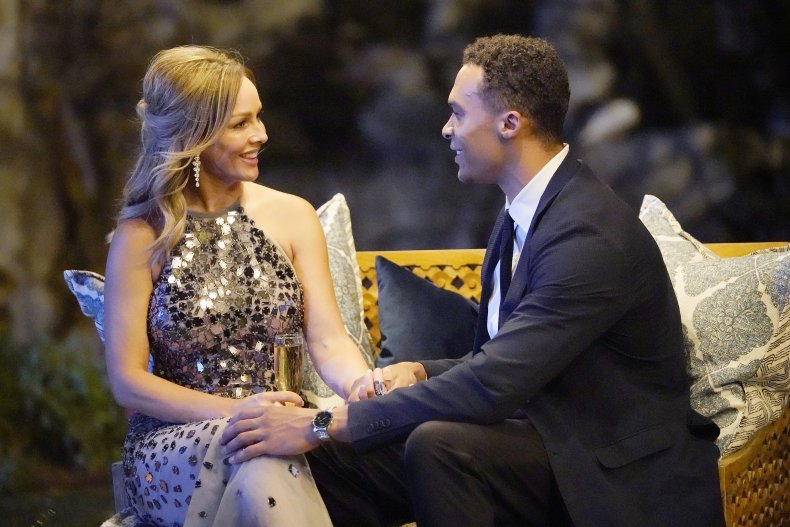 The "love at first sight" idea still holds some weight, though. In a clip of their first meeting, Crawley admits Moss could be her husband. "I definitely feel like I just met my husband," she said before adding: "I'm shaking."
So who is Moss? He's a 32-year-old American football player who is currently a free agent in the NFL. Football isn't his only career path, though. Moss has an impressive resume filled with philanthropic works and modeling campaigns. His website boasts speaking with congressional leaders for things he cares about, too.
"I continue to advocate for youth development, inclusive initiatives and diversity to athletes with intellectual disabilities as a Special Olympics Global Ambassador," his website bio reads. "My other philanthropic endeavors include working with The Tiger Woods Foundation, Wounded Warriors Project and NFL Play 60 to name a few."
At 39, Crawley is the oldest Bachelorette who has appeared on the series. Spoilers from Reality Steve show Tayshia Adams will swoop in and start her own journey to find love once Crawley leaves the position with Moss by her side. How, exactly, that will look, is still unknown.
The Bachelorette will premiere Tuesday night at 8 p.m. ET on ABC.