President Donald Trump announced Friday that he will nominate Dan Brouillette to replace Energy Secretary Rick Perry, who will be leaving his post at the end of the year.
"I want to thank Secretary of Energy Rick Perry for the outstanding job he has done. He will be leaving at the end of the year to pursue other interests. Rick was a great Governor of Texas and a great Secretary of Energy. He is also my friend!" Trump tweeted.
The president added in a follow-up post: "At the same time, I am pleased to nominate Deputy Secretary Dan Brouillette to be the new Secretary of Energy. Dan's experience in the sector is unparalleled. A total professional, I have no doubt that Dan will do a great job!"
Brouillette has been serving as the deputy secretary of energy since August 2017. He was nominated by Trump for the role and was confirmed by the Senate in a 79-17 vote.
Before joining the Trump administration, Brouillette was the senior vice president and head of public policy for the United Services Automobile Association. Prior to that, Brouillette had been the vice president of Ford Motor Company.
Perry reportedly informed Trump of his plans to resign on Thursday. Perry had become a key figure in the administration's alleged efforts to pressure Ukraine into investigating former Vice President Joe Biden and other political foes of Trump. He was subpoenaed by House Democrats to hand over documents related to the Ukraine scandal by October 18.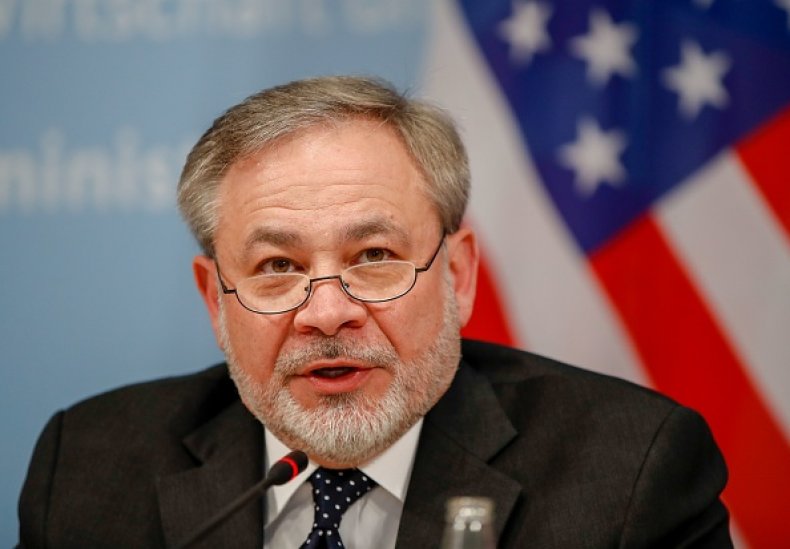 Brouillette also has experience working in the federal government before joining the Trump administration. He served as the chief of staff to the House of Representatives Committee on Energy and Commerce from 2003 to 2004. He also served as an assistant secretary of energy for congressional and intergovernmental affairs under President George W. Bush.
Brouillette thanked Perry in a series of tweets on Friday for his "dedicated and unwavering leadership" at the Department of Energy and said it was "one of the great honors of my life to serve with you these last few years."
"Under your leadership, we've achieved true energy independence and have shared the benefits of this success story with the American people and the world," Brouillette added.
In an interview with Fox News on Friday, Perry said that his decision to leave the Trump administration had nothing to do with the Ukraine controversy. The scandal has sparked an ongoing impeachment inquiry against the president.
"It has absolutely nothing to with Ukraine; it has everything to do with the last eight or nine months. I've been looking back to Texas on a pretty regular basis.… My wife, my dogs and kinda going on to the next adventure in life," Perry said.