Who Is Dareen Tatour? Israel Sentences Palestinian Poet to 5 Months in Jail Over Poem
An Israeli court has sentenced a Palestinian poet to five months in jail on charges of inciting violence and supporting terrorist groups via her social media accounts.
Dareen Tatour, 36, was handed her sentence Tuesday. An Israeli citizen, the poet was convicted in May in connection with three posts, including a video in which one of her poems—"Resist, My People, Resist Them"—was set over video footage of Palestinian demonstrators.
According to Haaretz, Tatour said she was not surprised at the decision. "I expected prison and that's what happened. I didn't expect justice. The prosecution was political to begin with because I'm Palestinian, because it's about free speech and I'm imprisoned because I'm Palestinian."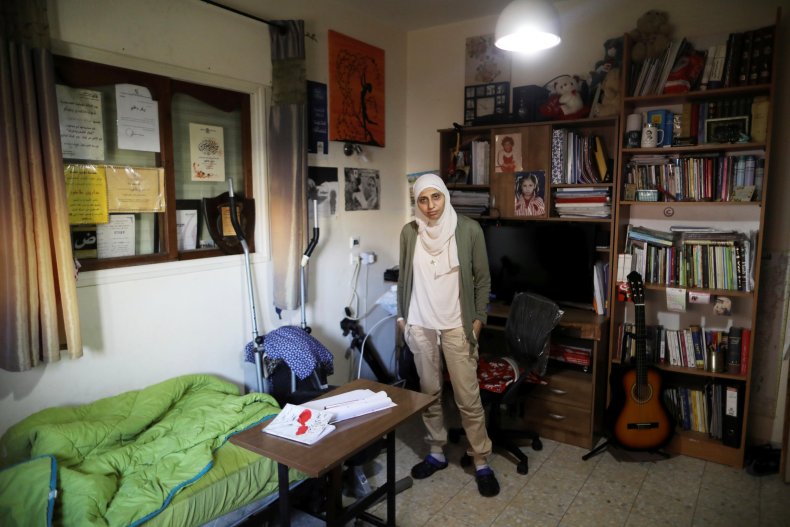 Tatour was arrested in connection with her social media activity in October 2015, and has already spent almost three years under house arrest. During this time, she was only allowed to leave the house for two hours on weekends, and never alone. Tatour was prohibited from using a mobile phone or internet, which her lawyers said were punishments without precedent.
Tatour's indictment quoted several lines of one of her poems, which declared, "I will not succumb to the 'peaceful solution,' never lower my flags until I evict them from my land."
After being found guilty in May, Tatour claimed her trial "ripped off the masks" worn by Israel security services. She added, "The whole world will hear what Israel's democracy is. A democracy for Jews only. Only Arabs go to jail."
Tatour was detained during a spike in lone-wolf attacks by Palestinians on Israeli citizens, police and soldiers. Prosecutors alleged she had published posts on "various publications that call for violent acts or terrorism" and "praising and identifying with acts of violence or terrorism."
Court documents note the video that included the "Resist, My People, Resist Them" poem had been viewed more than 200,000 times and had prompted many supportive comments. According to investigators, "The content, its exposure and the circumstances of its publication created a real possibility that acts of violence or terrorism will be committed."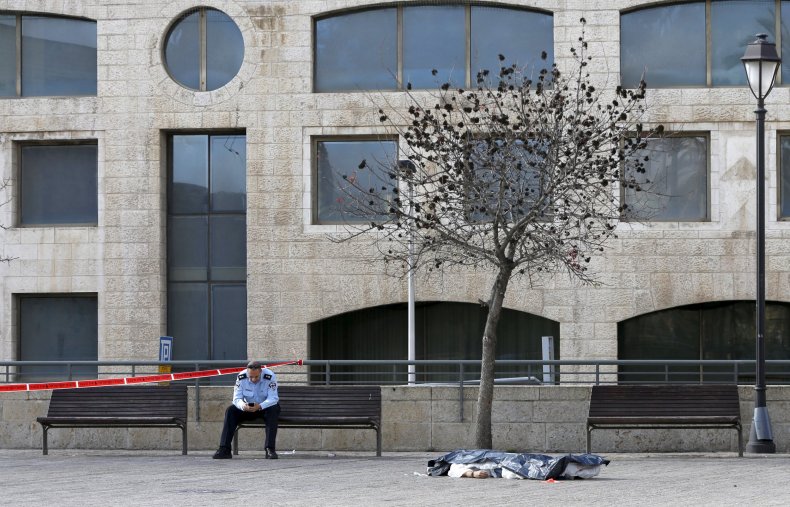 Two other poems were included on the indictment, one of which read, "Allah Akbar and Baruch Hashem, Islamic Jihad declared intifada throughout the whole West Bank and expansion to all Palestine. We should begin inside the Green Line." The second showed the wedding of Asra'a Abed, a Palestinian who was shot and wounded while drawing a knife at a bus station in the northern Israeli city of Afula. Text accompanying the post declared, "I'm the next martyr."
Tatour's defense went through several stages. First, she denied being linked to the posts. After switching lawyers in 2016, she said she had indeed published the poems but said mistranslations took the verses out of context and lent them a more threatening character. Prosecutors dismissed her allegations, and said the officer responsible for the translation speaks Arabic as his mother tongue.
But according to Tatour's lawyer Gaby Lasky, "The trial was designed entirely to intimidate and silence Palestinians in Israel, to make them censor themselves for fear of being put on trial and criminalization of poetry," which she argued "derogates from the cultural richness of all society."
When Tatour was charged, Israel's Culture Minister Miri Regev posted an edited version of the poet's video, writing underneath, "Where do you think this video was screened? At a Hamas event in Gaza? ISIS in Syria? Hezbollah in Beirut?"
The sentence comes as Israel's government—led by the right-wing Likud party—faces criticism for passing the "nation-state" law, which dictates that only Jews have the right to self-determination in the country. Arab and Druze minorities consider the bill an attack on their freedoms, and critics have cited the legislation as evidence of racism and apartheid practice in the Israeli government.
Who Is Dareen Tatour? Israel Sentences Palestinian Poet to 5 Months in Jail Over Poem | World