Who Is Darrell Hammond? Watch His Best 'SNL' Sketches as Donald Trump
President Donald Trump said Friday that comedian Darrell Hammond was better at impersonating him than Alec ("Alex") Baldwin, who has won an Emmy for his performances, which began in 2016.
Hammond served as a regular cast member on Saturday Night Live for 14 seasons, from 1995 to 2009. During his time on the NBC series, the now 62-year-old was a standout for his ability to impersonate 107 celebrities, including Bill Clinton and John Travolta. Indeed, The Washington Post has called him "the greatest impressionist in SNL history." Even Trump, who doesn't like many people—particularly those mocking him—has now praised him.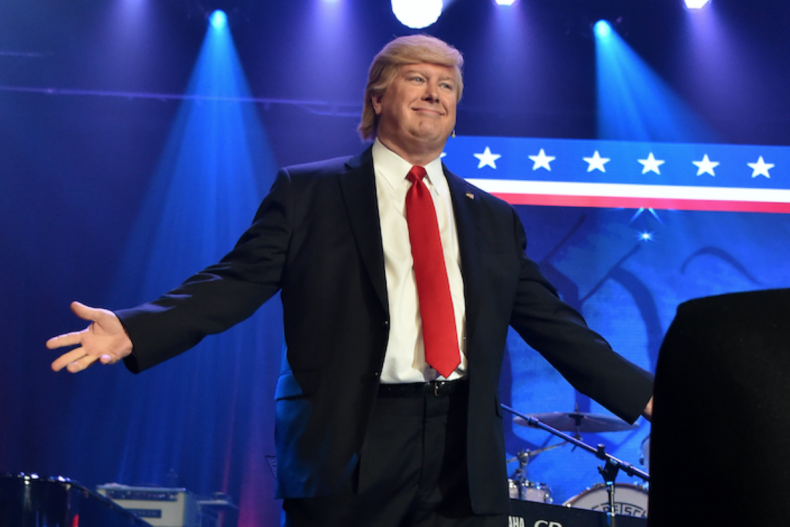 "Alec Baldwin, whose dying mediocre career was saved by his terrible impersonation of me on SNL, now says playing me was agony," Trump tweeted on Friday morning. "Alec, it was agony for those who were forced to watch. Bring back Darrell Hammond, funnier and a far greater talent!"
In 1988, former SNL cast member Phil Hartman first portrayed Trump. Hammond succeeded him, followed by, briefly, Jason Sudeikis and Taran Killam, before Baldwin eventually took over.
It was SNL creator Lorne Michaels who pulled Hammond from the Trump role; he didn't feel it was the version of Trump the show needed. Hammond has said that he didn't take the news well, telling The Washington Post in September: "I just started crying. In front of everyone. I couldn't believe it. I was in shock, and I stayed in shock for a long time. Everything wiped out...and all of it was apparent to me in one breath. That ends me."
Fortunately, nothing ends on the internet. Here are Hammond's best moments as Trump:
GOP Debate Cold Open
During this 2015 sketch, Hammond's Trump participated in a Republican debate with fellow presidential candidates Sen. Ted Cruz (Taran Killam) and Sen. Marco Rubio (Pete Davidson), among others.
Trump's Press Conference Becomes About Rosie O'Donnell
In 2013, Hammond was the now-president at a press conference that was supposed to talk about the upcoming season of Celebrity Apprentice. Trump, however, was more interested in repeatedly insulting Rosie O'Donnell.
Apprentice Halloween Promo
In a 2004 sketch, Hammond's Trump wore a Dracula cape as he filmed a promotional video for an episode of The Apprentice. Naturally, he guaranteed his promo would get the highest ratings in the history of NBC and television.
Trump's 2015 Monologue
During an SNL hosting stint in 2015, the now 45th president was joined by both Hammond and Killam, each performing their own impressions of him. The trio later encounter Larry David, who yells out, "You're a racist!"