Who Is Dave Chappelle's Wife, Elaine? About Comedian's Wife After 'Sticks & Stones' Debuts on Netflix
Comedian Dave Chappelle might be making headlines after the release of his controversial Netflix special Sticks & Stones, but his long-time wife, Elaine Chappelle, has preferred staying out of the spotlight during the course of their 18-year marriage.
Born on August 31, 1974, Elaine Mendoza Erfe was raised in Brooklyn, New York. The borough is also where the two met.
The 45-year-old was born to devout Christian Filipino parents and is rarely seen in public with her husband, according to an August report by Netline. She was most recently spotted at the NBA All-Star game at the Staples Center in 2018.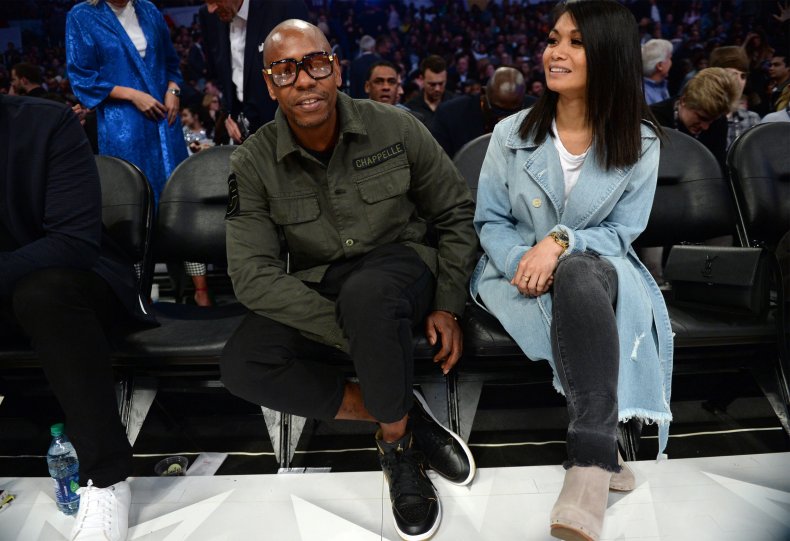 Elaine and Dave Chappelle live in his hometown, Yellow Springs in Ohio, with their three children: Suleyman, Ibrahim, and Sanaa. In a plush 39-acre home, the family of five have been residents in the farmland since 2005, according to USA Today's 2006 report.
The house is over 3,000 square feet with three bedrooms. The couple had moved to the house shortly before the third season of The Chappelle Show was about to air which the comedian infamously left citing burnout for a hiatus from comedy that lasted years.
In his press interviews, Chappelle has kept away from speaking about his wife. She also does not have any public social media accounts.
Chappelle, however, has talked about their Yellow Springs home, and how the locals have welcomed their family.
"Turns out you don't need $50 million to live around these parts, just a nice smile and a kind way about you," the comedian said at a jazz festival in 2006. "You guys are the best neighbors ever... That's why I came back and that's why I'm staying."
Reports suggest Elaine Chappelle wanted to be a chef, but instead decided to take care of their children. "My wife is Asian, and my kids have somehow turned out to be Puerto Rican," the New Yorker quoted the comedian saying in a 2014 report.
Chappelle and his wife have an estimated net worth of $47 million, according to report by Forbes from 2017.
Chappelle's new release Sticks & Stones is his fifth comedy special for Netflix. On Sunday Chappelle hosted "Gem City Shine, A Benefit Concert" in Dayton, Ohio, a benefit for the victims of the mass shooting that left nine dead and 27 injured. Stevie Wonder, Chance the Rapper, Jon Stewart and Kanye West also participated in the benefit show.