What is David Cassidy's Cause of Death? Former Teen Heartthrob Dies After Massive Organ Failure
Former teen idol David Cassidy has died at 67 from "complications from dementia," Variety reported. People magazine said the cause was organ failure.
"On behalf of the entire Cassidy family, it is with great sadness that we announce the passing of our father, our uncle, and our dear brother, David Cassidy," his family said in a statement Tuesday. "David died surrounded by those he loved, with joy in his heart and free from the pain that had gripped him for so long. Thank you for the abundance and support you have shown him these many years."
The news came just days after the report that the singer was in critical condition with liver and kidney failure. He was being treated in the intensive care unit of a hospital in Fort Lauderdale, Florida. "He is conscious and surrounded by family and friends, nothing is imminent and we are taking it day by day," his publicist Jo-Ann Geffen told CNN. The cause of the organ failure was unclear at the time.
Born to the actor and singer Jack Cassidy and the actress Evelyn Ward in New York City in 1950, Cassidy is perhaps best known for playing Keith Douglas Partridge in the television series The Partridge Family, which originally aired from 1970 to 1974. The cast of the show included his stepmother, Shirley Jones, as his fictional mother—Cassidy's parents had divorced when he was young—as well as Susan Dey, Danny Bonaduce and Suzanne Crough. The show spawned songs like the number-one hit "I Think I Love You" and the Top 10 tracks "Doesn't Somebody Want to Be Wanted" and "I'll Meet You Halfway."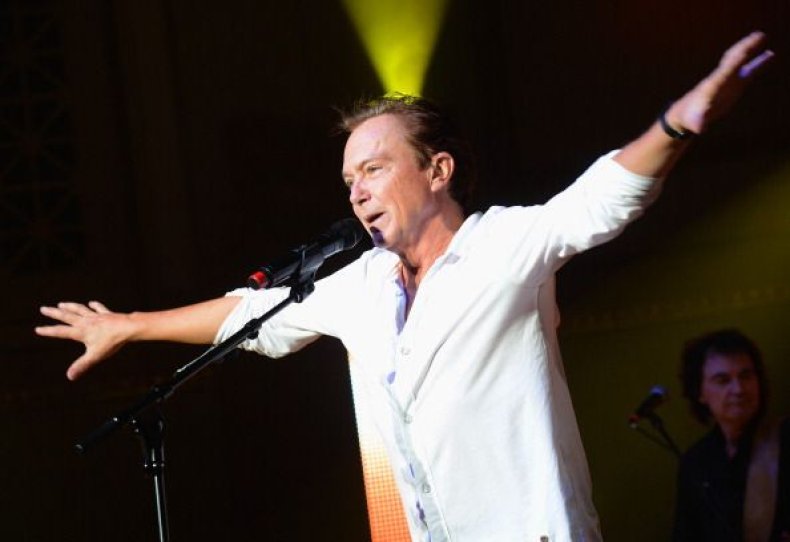 Following the end of The Partridge Family's run, Cassidy recorded a couple albums and later got his own show, David Cassidy - Man Undercover, but it was canceled after just one season. He went on to perform in musical theater productions, appearing in the West Coast run of Little Johnny Jones, the Broadway production of Joseph and the Amazing Technicolor Dreamcoat and the rock musical Time in London.
Cassidy's appearances on television became more sporadic after the early 1970s. But he played a nostalgic aging musician and father to a teenaged girl in Ruby & the Rockits in 2009 and guest starred on an episode of CSI: Crime Scene Investigation in 2013.
Though he has continued touring as a musician, the former Partridge Family heartthrob made the news for personal reasons more often than professional ones in the last decade. After he revealed he had issues with alcohol in 2008, Cassidy was arrested for with driving under the influence in 2010, 2013 and 2014. In February 2015, he filed for Chapter 11 bankruptcy protection in Florida while also going through a divorce from his third wife, Sue, whom he'd married in 1991. Later that year, he was charged for a hit and run accident in which he side swiped a truck on a highway in Florida.
More recently, Cassidy revealed he had been diagnosed with dementia, a disease he had watched overtake both his mother and his grandfather. "I was in denial, but a part of me always knew this was coming," he told People magazine in February. He has remembered the devastation of watching his mother's decline. "Mom was a wonderful singer, actress and dancer. So full of life," he said. "To watch someone who raised you who was so vibrant is the most painful thing I ever experienced."
The same week the interview was published, he had given a concert in Agoura Hills, California, footage of which showed him slurring words, forgetting lyrics and even falling over. "I was concerned people would mistake my alcoholism with my diagnosis," he told People. TMZ had indeed written that the singer appeared intoxicated, speculating that he had "fallen off the wagon."
The musician had previously told his fans he planned to perform through the end of the year. But speaking of his diagnosis publicly for the first time with People, he explained why he had decided to stop touring even earlier than he had anticipated.
"I want to focus on what I am, who I am and how I've been without any distractions," he said. "I want to love. I want to enjoy life."