Who Is David Linthicum? Suspected Police Killer Held in Baltimore
Authorities have identified the suspect who allegedly shot two Baltimore County Police Department officers within 36 hours in Maryland this week as 24-year-old David Emory Linthicum.
Linthicum, according to the Harford County Sheriff's Office, was located on Thursday evening by police who had the suspect identified within a "perimeter" in Fallston. He was arrested early on Friday morning after an hours-long standoff with officers, ending a three-day manhunt for the suspect.
The suspect had been eluding authorities since Wednesday afternoon when police were called to a home on Powers Avenue in Cockeysville—some 20 miles north of Baltimore—for a report of a "person in crisis." At the scene, a family member of the suspect led officers to the home's basement, where they found Linthicum.
Police said that Linthicum was armed and shot one of the responding officers, who was hospitalized for a few hours and released the same day. After the incident, Linthicum managed to escape the home, sending Baltimore police on his chase.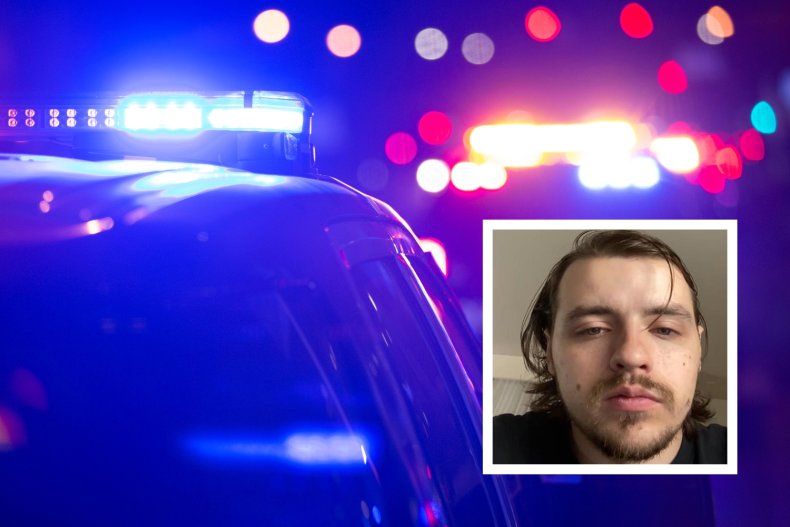 Police described Linthicum as a 24-year-old white male with long auburn colored hair, brown eyes, and a beard. Before his arrest, he was seen wearing a black hooded sweatshirt and black pants.
Curiously, Linthicum lives in the same house where 15-year-old Nicholas Browning shot and killed his parents and two younger brothers while they were sleeping on February 1, 2008. Browning, who was just about to turn 16, was arrested and convicted of four counts of first-degree murder.
As the suspect was considered "armed and dangerous," county schools were closed around the town and residents were asked to remain indoors while he was on the loose. Police went door to door looking for Linthicum and helicopters circled the area.
On Thursday, police said a second officer was shot multiple times by Linthicum as they were closing in on the suspect during what authorities described as a "very quick encounter" with an "individual that we believe was involved in a police-involved shooting." The officer was put on life support at a local hospital.
"An officer with #BCoPD was seriously injured in a shooting earlier this evening," tweeted Baltimore County Police on Thursday. "At this hour, David Linthicum is still being sought by members of law enforcement. Updates regarding this investigation will continue to be provided on social media."
According to reports, the officer was shot in multiple locations on his torso and extremities. He's now in stable condition, though Shock Trauma physician-in-chief Dr. Thomas Scalea said he's "going to need a significant amount of reconstruction," Baltimore news station WBAL reported.
After the shooting on Warren Road in Fallston, Linthicum reportedly drove off with a police car. Enforcement agencies chasing him were able to disable the car with spike strips, but the suspect managed to escape once again into the woods, where he hid.
The suspect was then pinned down in an area near Fallston Mall and eventually arrested. "We have a person we believe is the suspect, a perimeter is set, and we are working to bring this incident to a peaceful resolution," Harford police tweeted on Thursday evening.
Linthicum is now in custody, the Harford County Sheriff's Office tweeted on Friday.
In another tweet on Friday morning, the sheriff's office thanked "our federal, state, and allied agency partners who are working tirelessly to maintain the safety of our community" as well as the citizens of Fallston.