Who Is Deb Haaland? New Mexico Democrat and ICE Abolitionist May Become First Native American Congresswoman
Former Democratic state party leader Deb Haaland could potentially become the first Native American woman in Congress after winning the primary for New Mexico's 1st Congressional District on Tuesday.
"Tonight, New Mexico made history," Haaland, who is an enrolled member of the Pueblo of Laguna, said in a statement on Tuesday evening. She called the win a "victory for working people, a victory for women and a victory for everyone who has been sidelined by the billionaire class."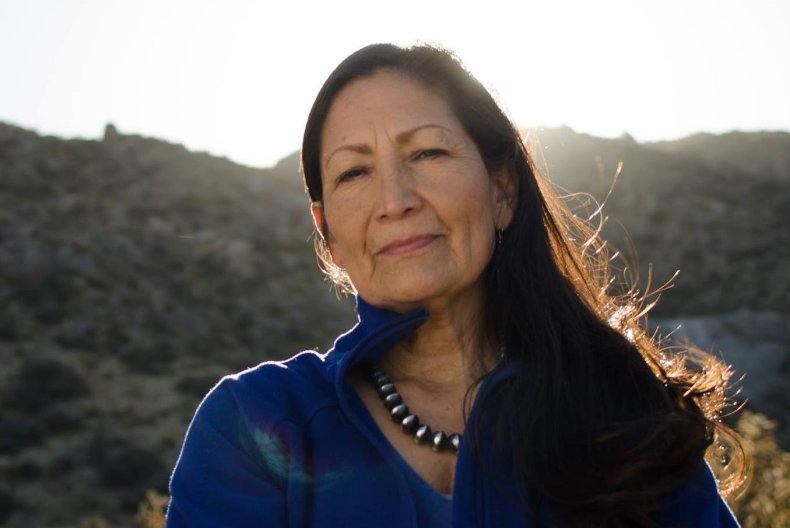 Included in that billionaire class was President Donald Trump, who Haaland warned "should consider this victory a warning shot" that the "blue wave is coming."
Haaland will be running against Republican Janice Arnold-Jones, who ran unopposed in November to replace Representative Michelle Lujan Grisham, who is stepping down from the post to run for governor.
Mostly held by Republicans since the district was created in January 1969, New Mexico's 1st Congressional District has had a Democratic representative since January 2009, when Martin Heinrich was elected. He retired to run for U.S. Senate in 2013 and was succeeded by Lujan Grisham.
If elected as the next Democrat to represent the district, Haaland would also become one of the first sitting members of Congress who supports an emerging movement calling for the U.S. Immigration and Customs Enforcement (ICE) agency to be abolished.
The politician has joined a number of 2018 candidates in demanding that the increasingly contentious agency be defunded and dismantled.
"It is time to pull our tax dollars from an agency whose policies demean and abuse people," Haaland recently told Newsweek in a statement.
"The role of Immigration and Customs Enforcement should never include killing people, ripping children from their parents' arms, or sexual assault. Until we can stop this violence and dehumanization, we must stop ICE," she said, referring to the recently announced practice of separating parents and children at the southern border and to reports of abuse by ICE agents and officers against undocumented children.
Haaland said the issue is a personal one for her as a Native American woman who views ICE's practices as a continuation of the state-sponsored violence endured by those in the Native American community, including her grandparents, who were "torn from their families" by the U.S. government.
"The story of brutal family separation—of ripping children from their parents' arms—is as old as America," Haaland said. "But we've had enough. We can rise above our past. Every human life has value and we cannot allow one rogue agency—under the direction of an immoral president—to terrorize people across America."
In a statement posted online, Haaland has said Trump's immigration policies "are downright hateful and must be stopped."
In addition to fighting to see ICE abolished, Haaland has also vowed to work to see the Deferred Action for Childhood Arrivals (DACA) program "protected and expanded into a permanent solution for children and young people who immigrate to the U.S. with their families."
She also said she stands in support of sanctuary cities and would continue to "raise my voice to protect them" in Congress, adding that law enforcement should not play a role in "intimidating and targeting hardworking, taxpaying families to advance an agenda of hate and xenophobia" by working with federal immigration authorities.
She also vowed to fight against the long-promised development of Trump's border wall, separating the U.S. and Mexico, calling the proposed wall "as divisive as the president pushing it."
Her rival Arnold-Jones's stance on U.S. immigration policies are less clear, however. Responding to a Vote Smart 2018 Political Courage Test, Arnold-Jones said she supports the Trump administration's plans for construction of a border wall between the U.S. and Mexico and said she also supports requiring immigrants who are unlawfully present to return to their country of origin before being eligible for citizenship.
She did say that the 10-year waiting period, in some cases, "is excessive."
During a Latino Community Congressional District 1 Candidate Forum on May 16, Arnold-Jones said she would "do the work to make sure we get the best kind of legislation" for New Mexico's "diverse culture."
During the same forum, Haaland said Congress needs "new strong voices." She added, "I have never seen myself in that body, and I should also say that right now, women of color are a drastic minority in any level of government."
"A woman of color should represent this diverse state," Haaland said, also noting, "We've never had a Native American woman in Congress in 240 years."
According to New Mexico's Indian Affairs Department, there are 23 tribes in the state and Native Americans make up nearly 10.5 percent of its population.